The Instagram video editor you won't stop using
Level up your Insta presence with WeVideo's Instagram video editor. Our templates and tools help you get scroll-stopping, brand-boosting results every single time.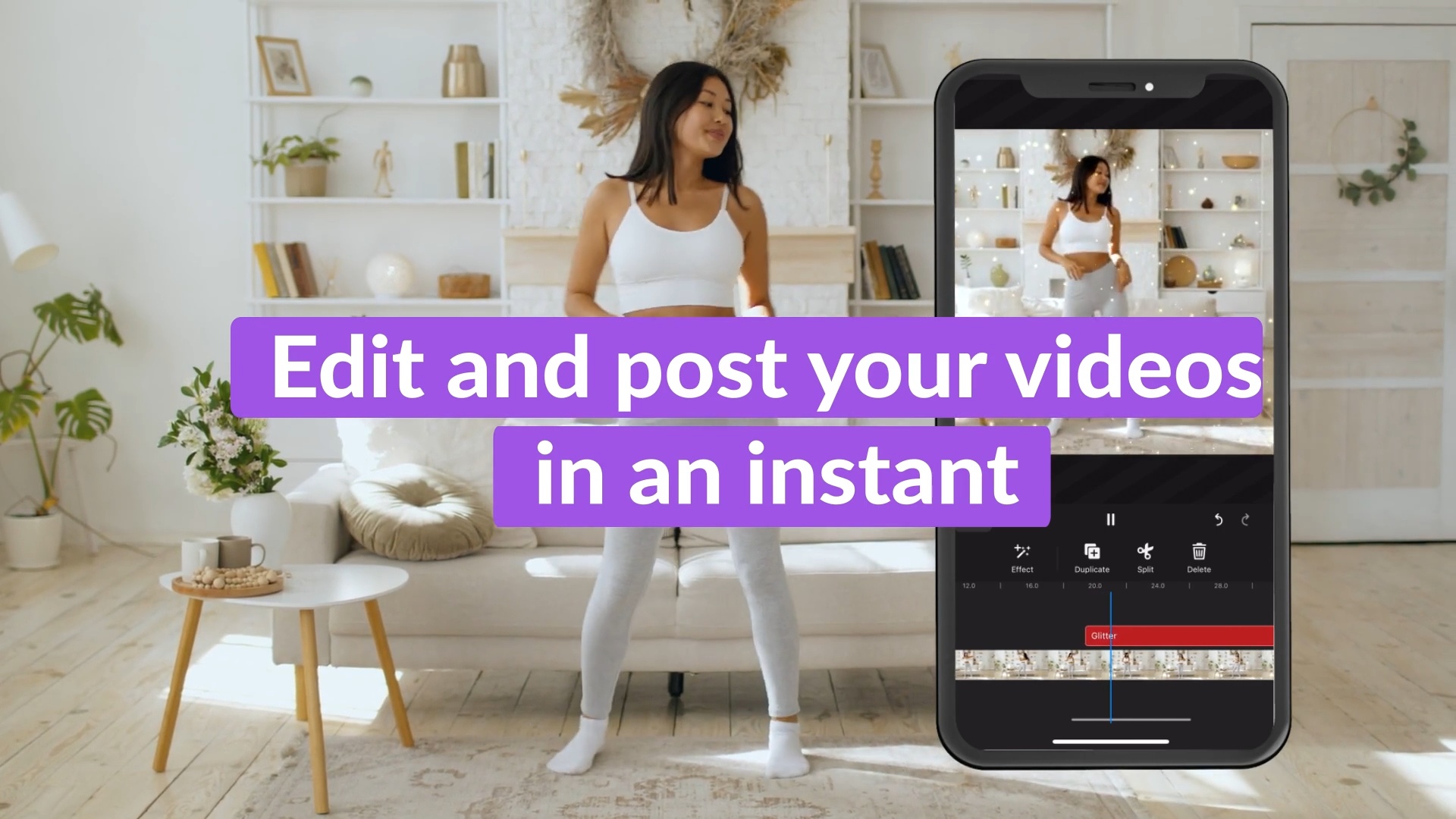 Start fast with designer-made video Instagram templates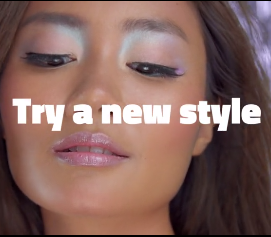 Beauty brand
For beauty brands—empower your followers with this makeup tutorial video template. They'll appreciate you for it.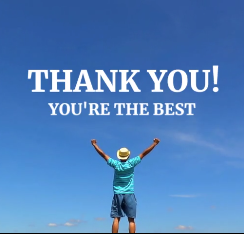 Say thank you
Sometimes a simple "thanks" is all you need. Show your followers how much you appreciate them with this video template.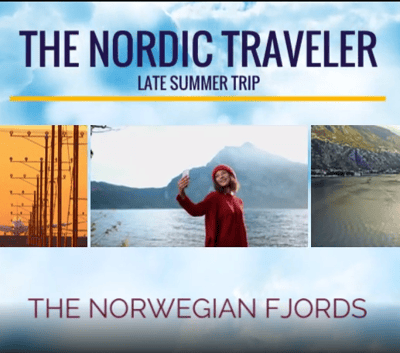 Share your adventure
Got jaw-dropping travel content? We bet you do. Gather all the virtual "oohs" and "ahhs" with this travel video template.
How to make Instagram videos with WeVideo
Upload your photos & videos
Start from scratch or with a video template. Import your own photos and videos, or pull from our stock collection. Then just drag and drop into the editor. Easy-peasy.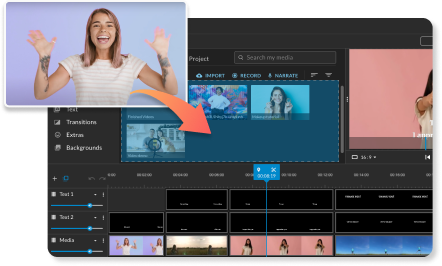 Customize your Instagram video
Add your logo or other branding elements. Customize text (keep it short and sweet!). Add music or other stock footage from our library. You won't be hurtin' for options with WeVideo.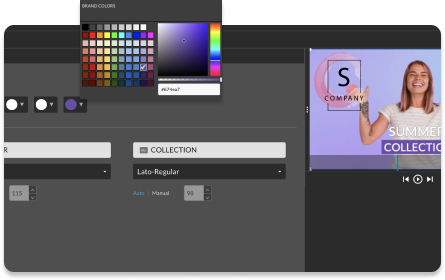 Share your Instagram video
All done? Click Finish in the top right corner. Choose your video resolution and file type, then download and share to the Gram. Professional and Business subscribers can also share directly to Instagram from the WeVideo editor. Lookin' good!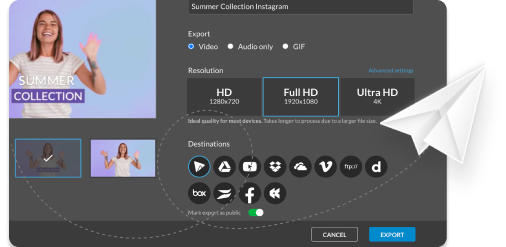 Make next-level video designs
Know your formats

The four main Instagram video formats are feed, Stories, IGTV, and Live. Knowing a bit about each will help you decide what you want and how to make it (plus help you avoid a formatting-gone-wrong horror story). Find everything you need in our Instagram Videos for Small Businesses blog article.

Edit with intent

Just like with formatting, video length depends on the type of content you're creating. Stories? 15 seconds or less. IGTV? At least 1 minute, no more than 15 minutes. Feed? 60 seconds or less. Live? Up to 4 hours. So yeah—all over the place in terms of video length. That's why you need to edit with intent. Familiarize yourself with a video's minimum length requirement, then for every second or minute past that, ask: Do I need this?.

Use text to your advantage

Before adding text to your video(s), reread Goldilocks and the Three Bears. Text is important, but too much text is a big no-no, and too little will leave your viewers guessing. You need juuuust the right amount. What's more, some Instagrammers scroll in silent mode, making it even more important to include text cues that support the great visual content you've made.
Amp up your social brand
Get more for less with WeVideo

Branding doesn't have to be a daunting task. With the right tools and a healthy variety of design templates, you'll be well on your way to Insta[nt] stardom. That's why we recommend our Instagram video editor so highly. There's no reason to spend hours pulling your hair out with impossible-to-use video editing platforms…instead, spend minutes using WeVideo and maximize your content's potential.

Call in a favor from pro templates

Remember—ain't no shame in the template game. Get a headstart with our professionally designed video templates, then customize to speak to your brand. It's as simple as that, and we'll be here to help you every step of the way.

Create cohesive looks

Cohesion is law when it comes to branding. Using a logo and consistent colors/fonts tells your audience, "See these videos? These videos right here? They're ME." Maintain that me-centric narrative no matter what kind of video you're making. And if you use our Instagram video maker, you'll be able to quickly brand your content.
Talk to your crowd
Focus on the narrative

Engaging content comes down to story. Figure out the narrative you want to craft. Then (and only then) can you begin to design your Instagram video. Purpose plays a big role here, too. What will your followers gain from the content you're posting? Give them something they'll love and, spoiler alert: they'll want more and more of it.

Give followers a reason to engage

Maybe one day you post a video to your feed about an upcoming sale, then use Stories to give followers a peek behind the curtains as you prepare for said sale. Perhaps another day you put something longer on IGTV. Hashtags help your content get discovered faster. Unique content keeps your followers interested. Regularly posting keeps them coming back. Well-placed CTAs turn followers into conversions. Win-win-win-win.

Have fun with it

In the end, making content with WeVideo's Instagram video creator and sharing it on social media should revolve around three letters: f-u-n. Let yourself shine through in the content you create. Talk to your Insta peeps as well—maybe they have suggestions on what they'd like to see from you next!
On the Blog
More resources to help you master Instagram video editing
Learn how to edit videos for Instagram in this guide to proper Instagram video length, sizing requirements, and quick tips for getting the most out of your designs…again and again and again.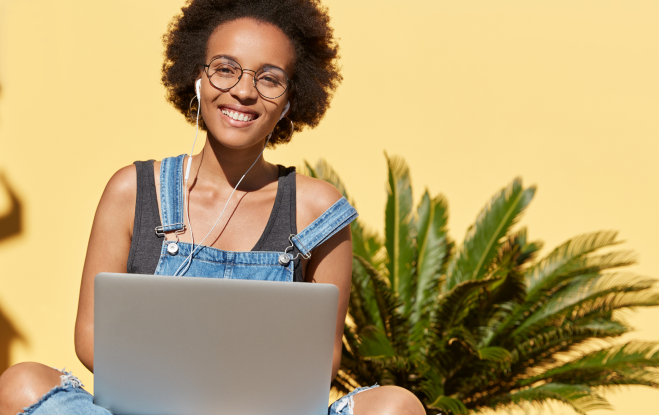 Frequently asked questions
When you're learning how to make videos for Instagram, customizable templates and easy-to-use tools are crucial. That's why we recommend WeVideo's online Instagram video editor. Quickly customize a professional template, or DIY. Either way, our video editing tools make it simple to get the job done right.
The best video format for Instagram is an MP4. Since the max file size for Instagram videos is 4 GB, an MP4 file will help keep your file size at bay, while still providing high-quality output.
The best Instagram video size depends on where you're posting your video. While square videos (1080 x 1080 pixels) have always been Instagram's go-to, you can also post portrait (1080 x 1350 px) or landscape videos (1080 x 608 px) to your feed. If posting an Instagram Story, you'll want a video sized 1920 x 1080 px.
Good Instagram videos do three things: entertain, engage, and encourage (in that order). An entertaining video that speaks to who you are and is catered toward your audience will be engaging. Intentional use of text, hashtags, and a primary CTA will encourage your viewers to take whatever step it is that you'd like them to take.