Free online video cutter
Trim videos online with WeVideo's free video cutter! Available on desktop and mobile and compatible with MP4, MOV, AVI & more. Just upload + trim to get the perfect length for any clip.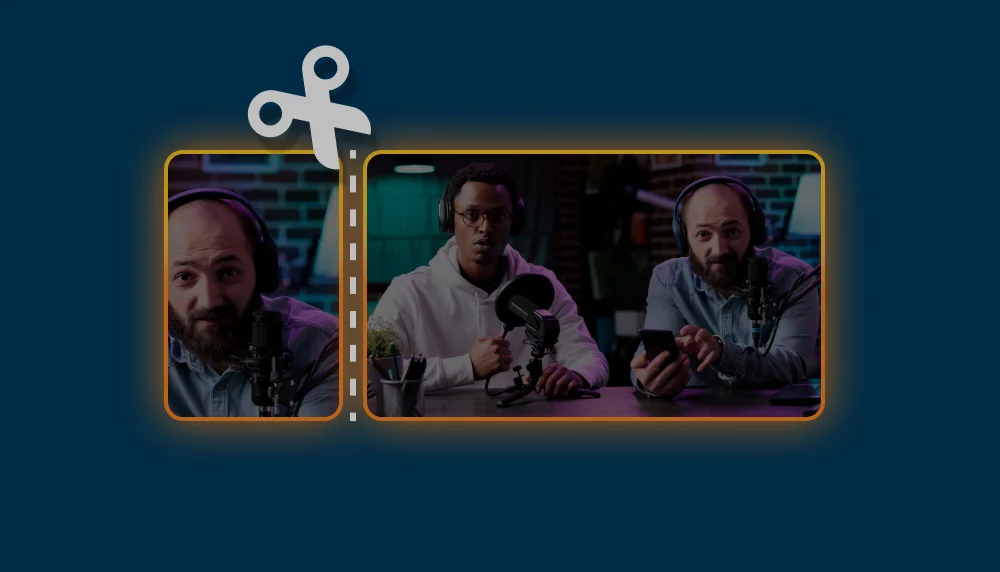 Trim videos in seconds (for free)
Let's face it. In a content-binging time when most of us have the attention of a very distracted goldfish, every millisecond counts. So cut the fluff and get to the good stuff with our video trimmer!

Don't worry — you don't need a great attention span, either. Start and finish in seconds by uploading a file and dragging the ends to cut the length. Done.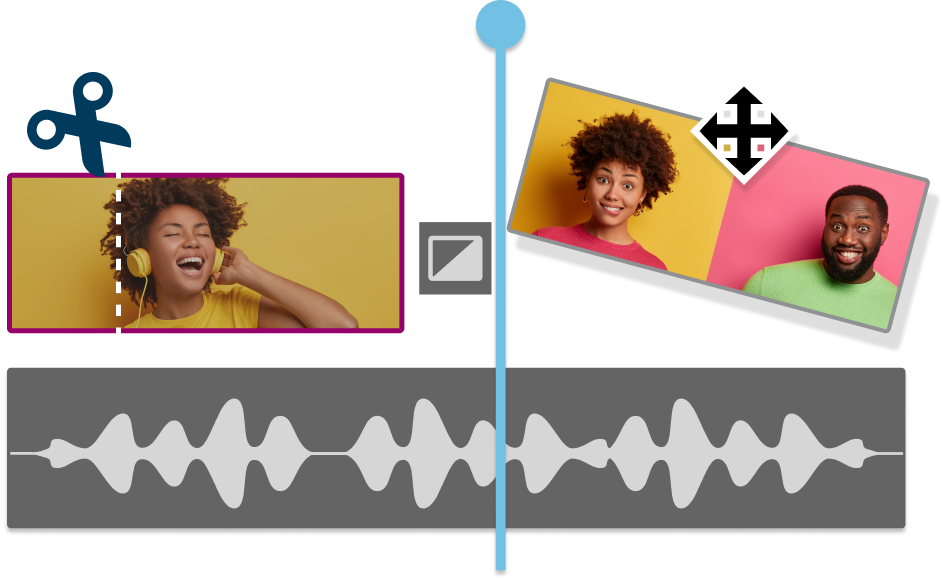 Video trimming + editing all in one
Wanna do more than just trim video length? We've got options for ya! Not only can you cut the length on either end; you can also split clips down the middle, merge them with transitions, and layer them across multiple tracks.
Mix in some music, add some motion titles, and boom — you've got your next product promo, YouTube video, or classroom assignment.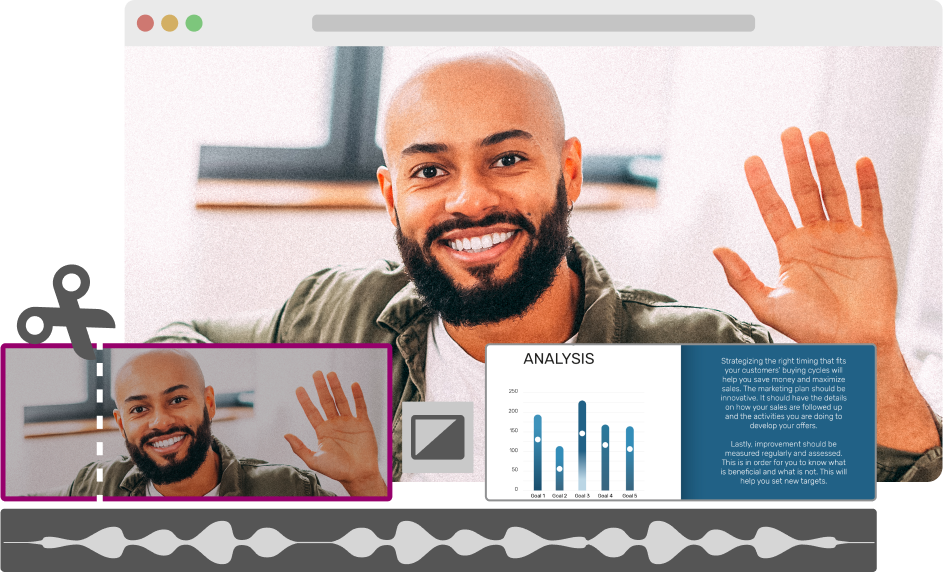 Cut videos on desktop or mobile
Our online video cutter works wherever you do. Use our browser-based video trimmer from any desktop device, or download our free apps for iOS and Android.
And if you have multiple team members working on multiple devices, that's no prob, either! Check out our Business plans and let your entire team collaborate on trimming videos online.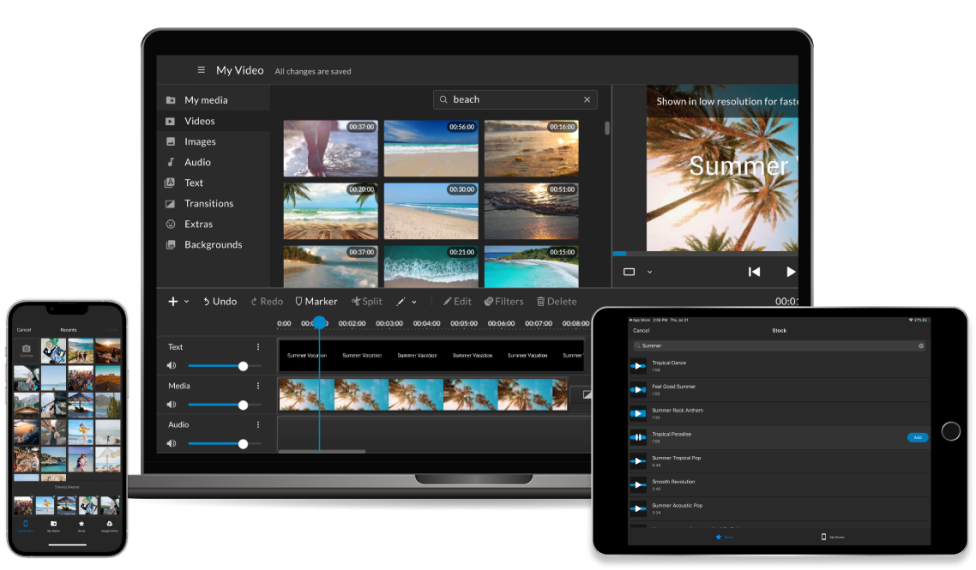 Why use WeVideo's free video trimmer?
Super-precise trimming
WeVideo is the easiest way to cut videos to the perfect length. And by "perfect," we mean it! Zoom into your Timeline and cut videos to 1/100th of a second.
Cut videos of any type
Looking to trim a file that isn't your typical MP4? You got it, captain. Our video cutter accepts 2
0+ popular file types including AVI, MOV, and WMV.
Resize for social + more
Repurpose the same video file for Instagram, YouTube, Facebook & more! WeVideo lets you instantly resize your video into the most common aspect ratios.
Multiple file formats
Export your trimmed video your way. With our online tool, you can set your preferred video resolution and choose between multiple file formats — even a GIF!
Large stock library
Add some pizzazz to create a truly professional-looking video. After you've used our video cutter, throw in your choice of 1M+ stock images and videos!
Video editing in the cloud
No need for a separate photo app or video trimmer software. Cut videos on desktop or mobile and have your projects auto-save to our secure cloud.
How to use our video cutter
Open the WeVideo video trimmer from your desktop or mobile device. Then upload your video(s) or import a file directly from Google Drive, Facebook, Dropbox, and more.
Drag and drop your video(s) onto your Timeline. Drag either end of the clip to cut out the beginning or the end, or click Split to cut the clip at your current playhead location.

You can even trim multiple clips and then merge them together to tell a seamless story. It's all easy with our video editor!
Save your file right away if all you wanted to do was trim it, or use our video editor to do some pro-level polishing: add music, motion titles, transitions, a branded watermark...anything.
When you're done, choose where you want to export your videos (online or on your device) as well as your preferred resolution and file type.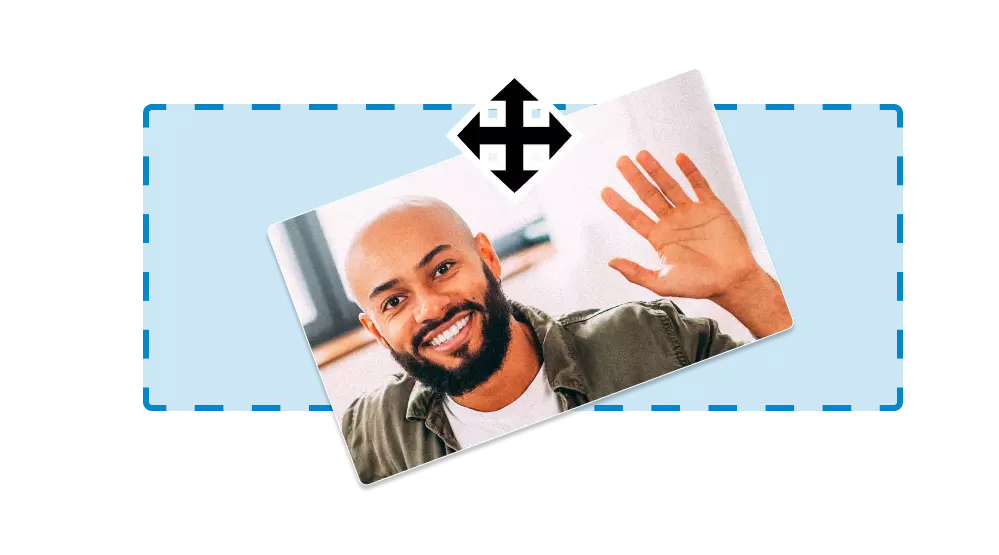 Frequently asked questions
Our free video trimmer is a go-to option! You can upload any video file (even large formats) and quickly trim, split, and combine as needed.
Pro tip: If you want to export video quality of 1080p or 4K Ultra HD, then we recommend uploading images that are at least 1024x768 pixels and 2 MB in size. For videos, we recommend at least 1280x720 pixels at 24FPS.
WeVideo supports the following video file formats: 3GP, 3GPP, AVI, DIVX, DV, FLV, M4V, MJPEG, MKV, MOD, MOV, MP4, MPEG, MPG, M2TS, MTS, MXF, OGV, WEBM, and WMV.
You can also cut GIFs and audio files, including AIF, MP3, M4A, OGG, WAV, and WMA.
When you finish a project, the available output formats from our online video cutter include MP4, MP3, and GIF.
Definitely:
Trimming a video means increasing or decreasing the length of a clip, usually by eliminating some frames at the beginning or end.
Cutting a clip means splitting it in two (or more).
Cropping means changing the size and/or dimensions of the video.
You can use just one of these methods at a time or combine them — it all depends on what you want to achieve. Learn more about the differences in our guide:
How to Trim Video, Audio & Images
.
Everything you need to! Trim the beginning or the end of a video, cut a clip into multiple sections (and remove the unwanted parts), merge them together, rearrange their order...it's all up to you. You can even mix in music, add text, and create custom transitions to any videos online.
Our free version is limited in terms of video export time and does include a WeVideo watermark on exported files. You can always upgrade to a paid plan to remove these limitations.
Using our free video cutter to create binge-worthy social content? Welcome to the club! And use these quick video length guidelines to keep your video cutting on point:
Facebook feed: up to 240 minutes
Instagram posts: up to 10 minutes
Instagram Reels: up to 90 seconds
TikTok: up to 10 minutes
Of course, social platforms are constantly changing their length limitations, but no worries! You can always hop back into our video editor to re-trim or add extra content as needed.