Make engaging tutorial videos on your own
Create professional, step-by-step tutorials to grow your business. No experience needed.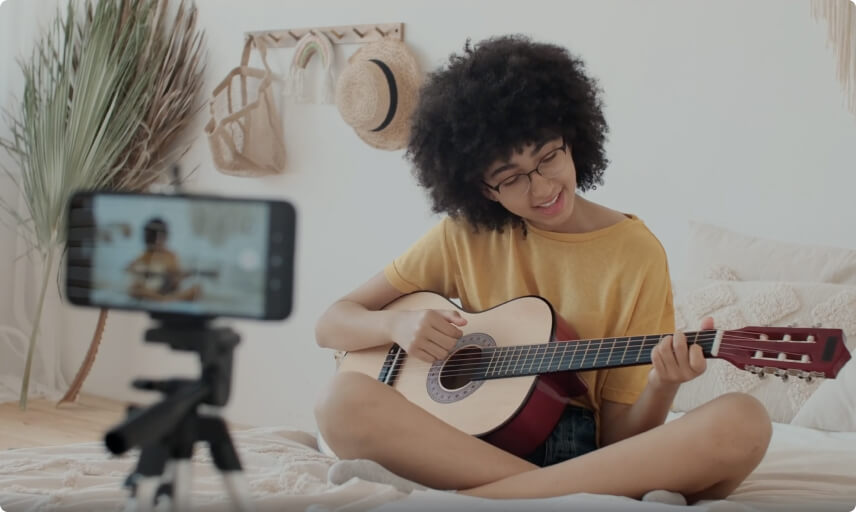 Get started quickly with tutorial video templates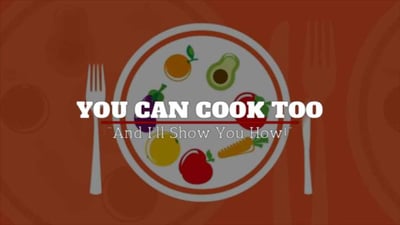 How-to: Recipe
Easily make your own cooking or DIY video viewers will love with this video template.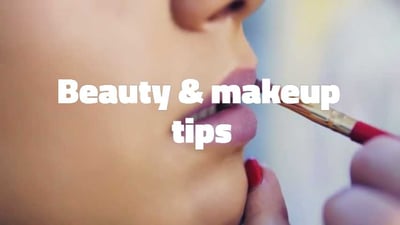 YouTube intro beauty
Create a makeup tutorial video your viewers will love with this video template that includes all the basic elements.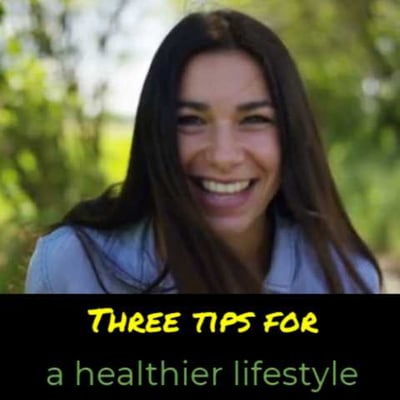 Step-by-step instructions
Educate your audience with step-by-step instructions relevant to your area of expertise.
How to make a tutorial video with WeVideo
Upload your photos & video clips
Start from scratch or with a tutorial video template. Add your own photos and videos, then drag and drop to the editor. Easy!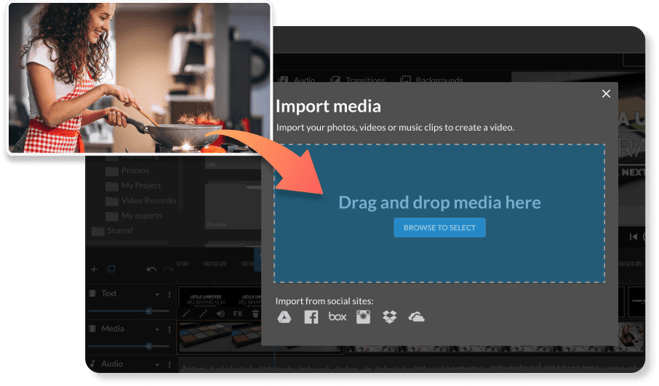 Customize your tutorial video
Add your own logo or branding. Add custom text. Choose music and stock footage from our library. Whether you keep it simple or customize every detail, WeVideo makes it look great.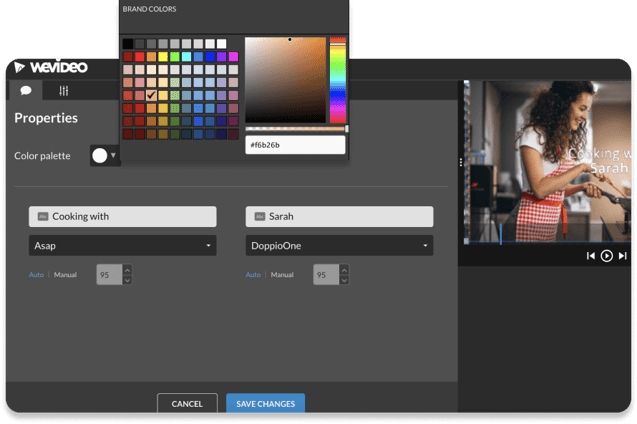 Export & download
Once your video is finished, choose your resolution and download to save it. You can also publish directly in social media channels such as YouTube, Pinterest, Facebook, Instagram or share your video on your website.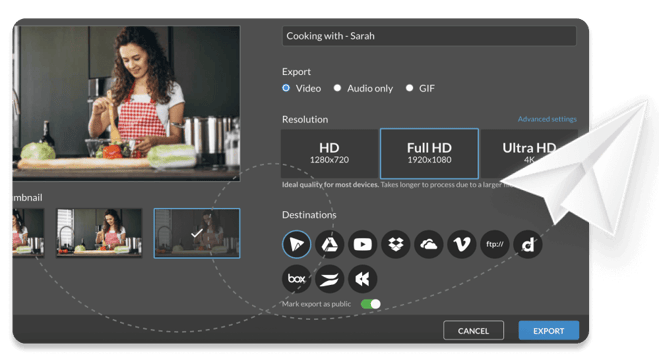 Choose the right type of video
Instructional videos

Instructional videos are a great opportunity to showcase your products. Give people a firsthand look at what your product does and why they should buy it. How does it work? What does it look like? How will it help your customers? Video can show them, and not just tell them.

Training videos

Training videos are helpful for educating your staff, volunteers or community. When most people hear "training videos", they usually don't get excited. But with the right tutorial video maker, you can make a fun and engaging training video they'll enjoy watching.

Explainer videos

An explainer video is equal parts educational and promotional. For example, you can explain how your business' products or services work, while showing happy customers or mentioning any promotions you're running.
Share your video with the world
Share on social media channels

It goes without saying that you should publish your tutorial videos on social media. YouTube, for example, is one of the best channels for your tutorials because there's a large audience searching for them there. With WeVideo, you can create once and export in any format, perfect for the social channel you choose.

Share in email

Deliver a tutorial right to your viewer's inbox! They won't need to search for your expertise, and it offers the ease and convenience of encouraging them to click through to your website to learn more or purchase.

Share on your website

Publish your tutorial videos on your website so when people come to purchase, they can see how to use your product. You can also feature a customer testimonial to assure customers they're making the right decision by purchasing from you.
Keep these things in mind
Identify your audience and goals

Why do you want to make a tutorial video? How will it help your business? These are the big questions to answer before you make your video. Determine whether the goal of your video is to educate people, spread brand awareness, increase sales or drive traffic to your website.

Structure your video

Most people don't just "make a video" without having some sort of plan in place. It doesn't have to be elaborate or expensive, but consider what type of imagery or video clips you want to use (user-generated? Filmed on your smartphone? Professional stock media?), as well as a basic outline, storyboard or script of your demo video.

Create a marketing plan

Where do you plan on sharing your tutorial video? Maybe you want to share it on your social channels like YouTube or Instagram, in hopes it'll go viral or get you more subscribers, viewers or followers. Or perhaps you want to feature it on your website or use it in an email campaign. It's up to you, but having a plan will help you succeed.
On the Blog
Need help planning your tutorial video strategy?
Check out our blog for everything you need to know about making tutorial videos. Learn how to create the perfect how-to video for your product or service, as well as the benefits of tutorial videos for your business.
Frequently asked questions
To make a good tutorial video, be sure to answer the "how-to" question as quickly as possible while providing details and instructions to help your viewers complete the task at hand. Use an easy-to-use video editor like WeVideo to save time and money when making your first tutorial.
A tutorial video is an instructional video that shows your audience how to do something. Tutorial videos, or how-to videos, walk through a set of instructions and are informative and educational in nature, although they can be promote your brand as well.
To make a tutorial video for free, find a high-quality, free video editor. WeVideo lets you get started absolutely free, and offers tutorial and DIY video templates to help you get started. No experience? No problem.