It may have been Google's release of its new gaming console, Stadia. It may have been hearing that Kyle "Ninja" Blevins was making $500,000 a month live streaming himself playing Fortnite. It may have been leaked rumors that Rockstar's Grand Theft Auto 6 is in the works. Regardless of the reason, video gaming should officially be on your radar. Here's why.
The gaming industry is expected to surpass 90 billion dollars by 2020, up from 78 billion in 2017. Contributing to that growth is the increasing popularity of the gaming community. In fact, 64% of the U.S. population aged 13 and over plays video games. Arguably, the most shocking statistic is that people aren't just playing video games, they're watching other people play them… A lot. On average, gamers (ages 18-25) worldwide spend an average of 3 hours and 25 minutes each week watching other people provide real-time and recorded commentary while playing video games online.
Channels like YouTube and Twitch are among the popular destinations for gamers to watch other gamers play. Top gaming streamers play games not only to delight their fans, but to make money doing it. One of the top five YouTube influencers of 2018, Felix Kjellberg, commonly referred to by his YouTube name, PewDiePie, boasts over 91 million subscribers and has earned an estimated 120 million dollars playing games. And while PewDiePie is an outlier in terms of making the most money, he's far from being the only YouTube gamer making a living from streaming their online gaming prowess. In fact, two of the top five YouTube channels with the most subscribers worldwide are gaming-related.
Getting paid to play video games on YouTube is a fast-growing trend, and getting started isn't as far-fetched as you might think. Here's how you can become a YouTube gamer.
1. Find your niche, voice and target categories
Just like starting a business, the first step in getting your YouTube gaming channel off the ground is to find your niche, develop your voice and determine your value proposition. You might be thinking, "I already know what my genre is — it's me commenting while I play games." But there's a lot more to building a successful YouTube gaming channel than that.
You need to have a plan, a strategy. Why? Because the gaming ecosystem is diverse and competitive. Just look at the numbers: 15% of all YouTube content is gaming-related with over 300 hours of new video content uploaded every minute. It's important to find a way to differentiate yourself and identify what your viewers will take away from your channel.
Keep in mind that people watch YouTube videos for a variety of reasons. For example, YouTubers might follow your channel to learn something. YouTube often serves as a resource for gamers to find guides or walkthroughs when they're stuck on a level, struggling to beat a boss, or want to improve their gameplay to move up the ranks. Remember, your video content can inspire and help others in areas that you yourself may have found challenging at one point.
Gamers might also subscribe to your channel because it gives them a sense of community. Connecting with like-minded YouTubers about the latest game and associated strategies can be a great way for people to connect, share tactics and make friends.
There's also the entertainment side of a channel. Viewers might tune into your channel because they like your sense of humor (e.g., your voice) or they find the game or the way you play interesting. While these viewers are similar to those looking for a community to join, they're different in that they may not want to engage with the video host or other viewers. Minecraft fits well in this category; players simply want to see what other people have created in the seemingly endless digital world, and then they want to see if they can replicate it, or use it as a source of inspiration to spur creativity.
YouTube is a great way to share your value, your expertise, and unique personality. As you think about creating gaming content, here are some top YouTube gaming channel categories you might consider focusing on for your channel.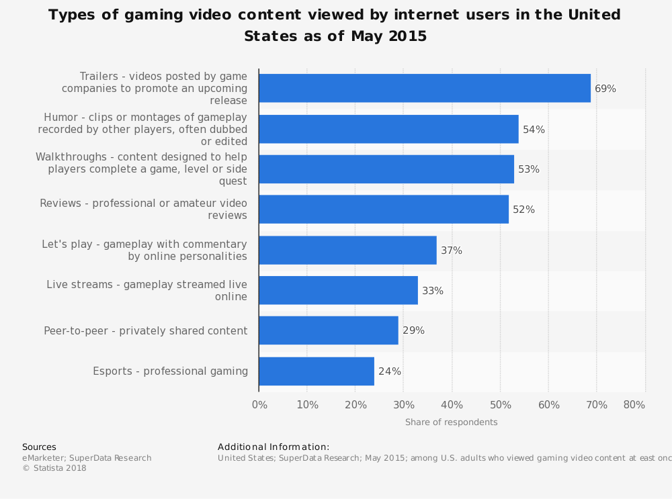 Walkthroughs - Video game walkthroughs, or guides, are a popular category, specifically pertaining to 1-player story mode games. These types of videos are targeted toward YouTubers who want to learn something and overcome a game objective. This type of video often entails a lot of post-production video editing to include relevant commentary while keeping the duration of the video short and to the point.
Humor/Show/Machinima - This category involves taking clips of gameplay and editing them to create an entirely new story that's funny and entertaining. Open world games like Grand Theft Auto, Skyrim, and Minecraft commonly appear in this category. Games in this YouTube gaming niche tend to require more polishing up in a video editor than other categories.
Let's Plays - Let's Plays got its name simply from YouTubers commenting, "Let's play [name of game]". This category has become increasingly popular due to streamers like PewDiePie. Unlike categories like Reviews or Walkthroughs, YouTube gamers need to have a particularly charismatic personality to go far in this niche. Let's Plays appeal to YouTubers who are looking for a combination of entertainment and community.
Reviews - This category is usually associated with a new game release or update. YouTubers will often watch these videos when they're on the fence about purchasing a new game and want to find out more about the gameplay dynamics, graphics and story.
Esports - Esports is an extremely fast-growing industry in terms of viewership and revenue. By definition, Esports involves multiple players competing professionally for an audience of spectators. Riot Games' League of Legends and Blizzard's Overwatch are among the top played Esports games. The 2018 League of Legends finals was just shy of having nearly 100 million unique viewers. To put that in perspective, the 2019 Super Bowl had 98.2 million viewers.
Similar to any other professional sport, people watch Esports because they want to watch the best competitors play.
Live Stream - Live streaming channels have become more popular due to big names like Ninja, streaming Fortnite. Compared to the other categories, live stream videos don't require that much post-production editing.
The key to your success will be your uniqueness. Don't try to be everything to everyone. Figure out what you do best and do that.
2. Find your tools
To start producing quality content, you'll want to invest in some necessary equipment. With the following tools you can get up and running in no time:
Access to the game and gaming platform
This is a given, but it's worth clarifying. In order to start a YouTube gaming channel, you need the desired video game to play. You'll also need a gaming platform to play on, such as a computer or a dedicated console (Xbox, PlayStation, Nintendo, etc.). Keep in mind, if you're using your computer to play games, you might only need additional software. Whereas if you're playing on a console, you might need additional software and hardware. These requirements are listed below.
Video recorder
To start a YouTube gaming channel, you'll need a video camera. It doesn't need to be a $5,000 DLSR or mirrorless camera; just choose a device that can record in 1080p. For example, many gamers use webcams, or a tripod-mounted or desk-mounted digital camera. Showing your viewers your face while you play the game (even if just at the beginning in the corner of the screen) helps convey emotion and expression.
Screen capture software
In addition to a camera that faces you while you commentate, you'll also need screen capturing software to show the game you're playing. You'll want to avoid pointing a camera at your TV or monitor while you play, because the video quality will be significantly worse and because there will often be a lag causing discrepancies between the visual and audio.
If you're gaming on your computer, all you need to do is install software to capture your gameplay. Open Broadcaster Software (OBS) is a popular option among YouTube gamers, and it's free. If you're playing on a console, you'll likely need to purchase a capture card compatible with your console. Capture cards allow gamers to capture video signals from their console via HDMI and store the data so it can be edited with a computer. This ensures high-quality recording, which you won't get by pointing a camera directly at your TV.
Audio recording/microphone
Along with having high-quality screen recordings, crisp and clear sound is also hugely important to ensure your audience can hear you. Investing in a quality microphone, whether it's a gaming headset or a professional recording mic, is a must if you plan on commenting while you play.
Lighting
You might not need to purchase new lighting for your recording purposes, but it's worth mentioning here. Good lighting can make the difference between amateur and professional looking footage. Recording in a space with natural light or using a light pointed at you will prevent you from being in the shadows. As a bonus, good lighting can also make you appear more approachable and friendly on camera. It will also allow you to control the consistency of your videos over time.
Video editing software
Remember, what you are producing is a video that people will want to watch. If it's full of "ahs," "ums," and long pauses, people will get bored or irritated, especially for recordings as opposed to live play. You'll want to edit your videos before publishing them.
Generally, YouTube gamers say it takes nearly twice as long to edit a video than it does to record it. However, this recording-to-editing ratio varies based on the category of YouTube gaming video you're producing.
With that in mind, it's important to find an easy-to-use, intuitive video editor so you can focus on the content itself rather than navigating the tool. WeVideo makes video editing simple and fun, and gives you the freedom to edit from your computer, tablet or mobile device.
Green screen
Using green screen is by no means a necessity for video game streaming, but it can be helpful and fun. It's not uncommon for YouTube gamers to record right from their bedroom (especially when starting a channel for the first time). Rather than showing off your bed and closets, a green screen will let you change the background of your video so that you appear somewhere else entirely, like in the game or hanging out in space.
With WeVideo's green screen, or chroma key feature, you can change the green screen background to anything you desire. The YouTube channel JustAlexHalford explains how to use green screen for your streaming office.
3. Steps to start posting to your YouTube gaming channel
Once you've found your genre, voice, and category, have acquired the necessary tools to start creating content, and have created content, it's time to post it! Here are a few best practices to keep in mind when you first start publishing.
Uploading your video to YouTube
To upload a video to your YouTube channel, you will first need to have a YouTube account. To do this you will either need to create a google account or link your google account to YouTube. After you're logged into YouTube, you can upload your videos by clicking the upload arrow button in the top right corner.
It is recommended that your video is HD with dimensions that are either 1920×1080 or 1280×720. (Don't worry — you can choose your preferred resolution with our video editor!) Once your video is uploaded, it's time to focus on the factors that make it discoverable. These are outlined below.
Choose titles and keywords for your YouTube gaming channel
Spend some time choosing a title for your channel, as well as individual titles for your videos. Since you're just getting started, it's not a bad idea to check out what others are doing. For example, if you're going to post a video of yourself playing Call of Duty Black Ops 4 with commentary, run a search on YouTube to see what others are doing in the same space. By simply typing in the name of the game, YouTube will conveniently provide suggestions below the search bar to help narrow your focus. From there, you can quickly find the mode you're playing in, the map you're playing on, and what the purpose of the video is (i.e. gameplay, easter eggs, walkthrough, etc.).
You can also do this to get ideas for suggested keywords to use. In addition to YouTube's suggestions, you can search for similar keywords to tag using a keyword planner tool. There are plenty of free options available, as well as paid versions that provide more details, such as the monthly search volume or competition for any given keyword. Keep in mind that you can provide keywords for your channel as well as each video that you post. While there isn't a limit to the number of keyword tags you can use on YouTube, there is a max limit of 30 characters per tag, and the text field accepts up to 500 characters.
Create custom video thumbnails
Spend time creating custom images for your thumbnails! The image you choose to feature as your video thumbnail doesn't necessarily have a direct influence on YouTube's search algorithm, but it does affect a viewer's decision to click and view your video. When more people view your video, it's more likely YouTube's algorithm will suggest it to other viewers to watch next.
When creating your video thumbnails, it's a good idea to pick a theme (colors, font, layout, style, etc.) to use consistently moving forward. Keep in mind that over 50% of all YouTube views occur on mobile devices, so make sure your thumbnails are visible and have legible text. You can always go back and edit or change an existing video's thumbnail. When you first create your channel, it's okay to vary your style and experiment a little to see what works and what doesn't. As your content and subscribers grow, start honing in on a consistent design.
Video intros and outros
As you start building your subscriber base, you'll start getting an idea of what your viewers want. Intros and outros are things that your audience may or may not appreciate. While it varies depending on the YouTube genre you're in, viewers often pick the shortest video with the most views when looking for a solution on YouTube. Thus, if you have a 5-minute video introduction before you get to the key point of your video, you might be detracting from your viewing count potential.
That said, a short intro (15 seconds or less) summarizing what your channel is about is an effective way to brand yourself and your content. Rhett and Link's Good Mythical Morning Intro is a great example of a short, professional-looking intro that does this well. And if you think making intros and outros requires expensive software or production staff on hand, think again. WeVideo makes it easy and affordable to make customizable intros and outros that give your channel a professional look.
Be ready for trial and error
When you first start your channel, you might have to spend some time trying different methods before you find your voice and style. That's okay! As you start posting more regularly, you'll have a better understanding of what you enjoy and what your audience wants.
As your subscribers continue to grow, you'll notice that consistency becomes increasingly important. That might mean you post once a week at a certain time of day, or within three days of the latest game release or update. Soon, your viewers will come to expect a certain posting frequency from you. If you fail to uphold that, don't be surprised if they unsubscribe.
4. Promote your YouTube gaming channel
As you start to post content regularly, it's crucial that you sync your releases with social media posts. This is critical for two reasons.
First, the added reach you get from social media can boost your channel so that it starts gaining traction with other YouTubers. Getting support from your family and friends also helps!
Second, as your channel grows, it's important to expand both your content and communication to other channels in case the worst happens--your channel gets suspended. Now, let's hope that doesn't happen, but just why would YouTube suspend your channel, you ask? YouTube can suspend channels for a number of reasons, including violating their community guidelines, terms of service, or copyright. If your channel is ever temporarily suspended, having a presence on social media allows you to tell your subscribers what happened and when you expect your channel to be up and running again.
To learn more about promoting your YouTube channel visit our complete guide to YouTube marketing.
5. Review what works (it's all about the comments and numbers)
Once your channel is established and you start posting content regularly, you'll probably see a steady increase in subscribers. To help your channel grow, get in the habit of reviewing what your audience likes or dislikes. You can learn a lot simply by analyzing the number of views and likes your video receives. YouTube also provides an analytics tool to take your insights a notch further. With YouTube analytics, you can see the geographic location of your viewers, as well as the time they watched your YouTube gaming videos. This can help you decide when to publish future video content to get the maximum number of views.
Another important metric that can be monitored through YouTube analytics is the duration of viewing time. YouTube videos have the highest drop-off rate within the first 15 seconds. If you're noticing that your viewers routinely exit your video within the first 15 seconds, then consider changing things up a bit. Maybe your introduction is too long or not tailored to your viewers' expectations. Or maybe your thumbnail, title, or description are giving your viewers the impression your channel is about something else. Whatever the issue is, don't forget that user feedback is your best resource. Ask your audience what they like and dislike about your YouTube gaming videos. It's always a good idea to interact with your YouTube channel community, not only to improve future content but also to make your viewers feel included. It's also not a bad idea to get in the habit of devoting an hour or so to responding to individuals' comments after each new YouTube gaming video is released.
After you've started your channel and reviewed your content, the next step is to repeat what you've been doing and stay consistent. As you continue to post, you might get impatient with your channel's growth. One thing you might consider is boosting your video views with YouTube advertising. While this won't directly give you more subscribers, YouTube's algorithm will notice the increase in views and in turn, be more likely to recommend your video to users in that niche. Viewers will also see a higher number of views for your video and be more inclined to watch it.
6. Start making money
As you continue to create and post content, more people will hear about your channel, ultimately leading to more subscribers. Once you've hit 1,000 subscribers, you become eligible to join the YouTube Partner Program which allows you to post ads on your videos. From there, the sky's the limit!
Some of the biggest YouTube gamers started their YouTube gaming channels without ever intending to make a living from it. They simply had fun doing it. And at the end of the day, that's what makes the gamer's dream of getting paid to play so appealing.
Enjoy the article? Subscribe below to have all YouTube-related articles delivered right to your inbox.