Screencast videos benefit workplace operations as much as they do customer acquisition and retention. Whether for your employees or customers, screencasting is a simple video delivery method that can be made for anyone, by anyone.
For those wondering, What is screencasting?, this tutorial is for you. Conquer all things screencast for internal comms, training videos, customer onboarding, and more.
We'll cover:
Here's what to know.
What is screencasting and why does it matter?
Our online video editor makes screen casting simple.
Screencast videos are digital screen recordings often paired with audio to explain, instruct, or demonstrate a product, service, or system. They directly engage employees, new hires, customers, or other audiences with an immersive walk-through experience.
Screencast videos are an all-in-one video communication method, as they combine elements from other types of videos. For example, explainer videos explain, instructional videos instruct, and product demos demonstrate. Screencast videos? They do all of the above — and more.
If you're tired of answering the same questions, seek stronger work performance, and/or want stronger video marketing strategies, screencasting is for you.
What is a screencast used for?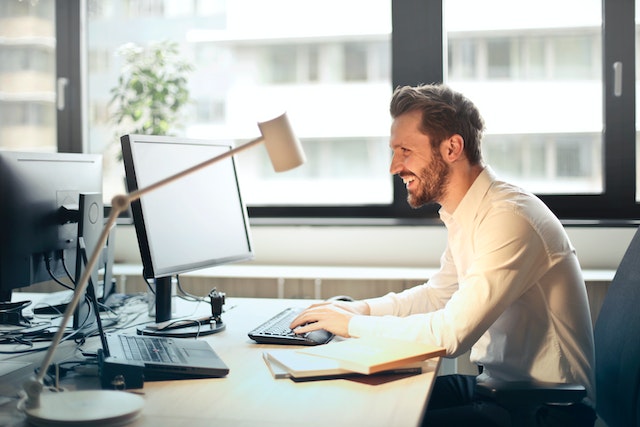 Screencast videos have various applications: presentations, webinars, on-screen tutorials, and more. Image via Andrea Piacquadio.
Every video method has particular goals. Screencast videos are versatile, as they can be used to:
Illustrate manuals
Expedite onboarding and training
Market products
Enforce higher quality of work
Encourage self-sufficiency and independence
Aid visual learners
Complement other video methods
In order to make a successful screencast, you'll want to establish your audience first. Are you training new hires, onboarding customers, or marketing to prospective clients?

Once you know, aim to balance repetition with diversity. The more you can say the same thing in different ways, the more satisfaction you'll get from both employees and customers.
Screencast for marketing vs. screencast for onboarding
As a first exposure to a product, people should feel as though they've learned something sans overwhelm. Post-purchase, customers expect to go a bit deeper, learn more, and get into the nuanced details.
Ultimately, onboarding videos expound upon marketing videos and cater to those seeking expertise in a skillset or product (or both). The easiest way to differentiate marketing versus onboarding screencasts? The former tackles the question, What is this tool?, as well as Why should you use it?, whereas the latter navigates how to do so effectively.
A tell-tale sign of successful screencasts? Make sure they're strong on their own and stronger together. Every video should connect to a greater, cohesive story. To establish your company's story, consider:
The intent for each video
Your audience
How to designate videos for easy, intermediate, and advanced features
Which video assets work best for your content: background music, pop-up arrows, highlights, and camera transitions
You're never limited to one screencast video, so start with a broad concept and dissect topics from there.
3 more types of screencast videos
1. On-screen tutorials
Walk customers or employees through new website or product features with a screencast video. Via USC Employee Gateway.
This type of screencast is helpful for loyal customers who are transitioning into new versions of products. The easiest way to combat confusion during upgrading periods is with walk-through videos.
2. Webinars and presentations
Webinar screencasts offer a simulative experience for those looking for guidance about a service, product, or skill. Via Alyssa LoMeli.
Gone are the days where webinars serve as online lectures. There's no reason to dull your content or delivery with a stare-at-me forever approach. Break up the monotony with a screencast video for diverse visual stimulation.
Voices infuse personality to videos. Webinars will use your voice, of course, but other screencast videos can also use professional voices.
3. Introduction video
Screencast videos without narration might look like this. Pair a visual flow with background music to provide an accurate user experience. Via Zillu Live.
Say a lot without any words in a screencast like this one. It's evident the background music takes on a predominant role to captivate attention while showing folks how to sign up for this product.
Not using words, while less common, can prove to be advantageous. When done correctly, the impact is the same:
Familiarize users with the product
Provide a step-by-step walk-through
Simplify the process
If not done correctly, screencasts without narration can simply distract and confuse.
Ideally, by showing folks how to navigate each screen, their comfort with the process increases. Knowing what to expect eases fear of the unknown and creates a positive user experience.
Tips for effective screencast videos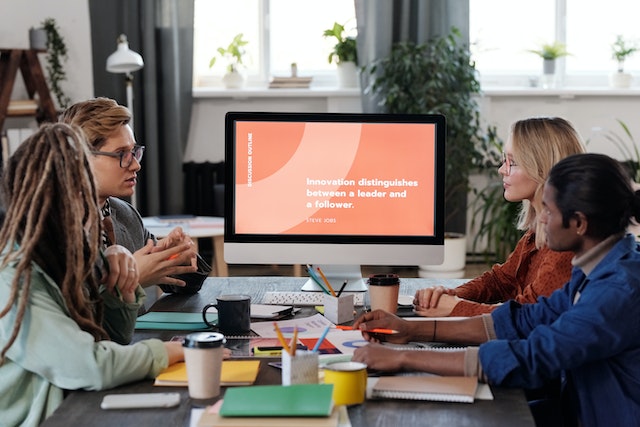 Screencast videos are an easy way to engage the masses with a DIY type of approach. Image via Mikael Blomkvist.
Of course, video production can only get you so far if the content delivery (or content itself) is bleak. Here are a few quick tips to ensure a quality screencast.
Do: Pay attention to your tone. Inflections and timbre matter. Personality and energy are communicated through subtle messaging, so be sure to stay positive, encouraging, and friendly.
Don't: Sound stressed, dull, or monotone. Your customers and employees can only be as excited as you are, so make it count!
Do: Use video elements like camera transitions, sound effects or background music, pop-up graphics, and narration. (Our video editor has you covered there.)
Don't: Make it busy. Two or three complementary elements are great—more than that, not so much.
Do: Tell a cohesive story. Round out your video library with videos that go well together. Use short and sweet clips for maximum engagement.
Don't: Make several videos about the same thing. Ask yourself, How can I expound upon that last thought? How can I get more specific in this part? What questions might people be left with? Fill in gaps as you go and consider every unanswered question a new content opportunity.
Remember, so long as you believe in your product and synthesize the process, you'll be good to go. As they say, the proof is in the pudding. When done correctly, success will show up by way of easier and more efficient operations.
Other signs you're moving in the right direction?
More engagement
Customer and employee loyalty
Referrals
High-quality performance
Room for customer and employee growth
Confidence in the product
Growing (and glowing?) company reputation
Increased conversion rates
Traffic to your website, email list, and social media platforms
Understanding both what screencasting is and how to use it is a major asset for any business. Organize your content accordingly — by subject and video method — for instant results.
Track data, make original content, scan your competition, and turn every learning opportunity into growth. Use screencasting strategically, then let the numbers speak for themselves. Best of luck!