The COVID-19 pandemic is forcing workers to take their jobs remotely, which can be stressful for a lot of people. For some, working from home is commonplace but for many, this is a brand new experience.
As a company that has multiple offices globally, we've been collaborating remotely as a team for years. Within the last few days, our Mountain View office went from an optional work from home to mandatory. It's been a whirlwind of events for us, our families and we're sure our customers.
That's why we put together a list of some tips to keep you engaged and some of our favorite tools to keep you on track while at home.
Tips to stay engaged:
Keep to a routine -
Live your life to a strict schedule? Like to get up early and get a workout in to start your day? Stick to it. Get up at your normal time, go through your morning like normal, even get dressed like you're headed to work. If you stop by a coffee shop on your way in, just make yourself a cup at home. The more of a routine you keep, the more normal things will feel.
Be collaborative -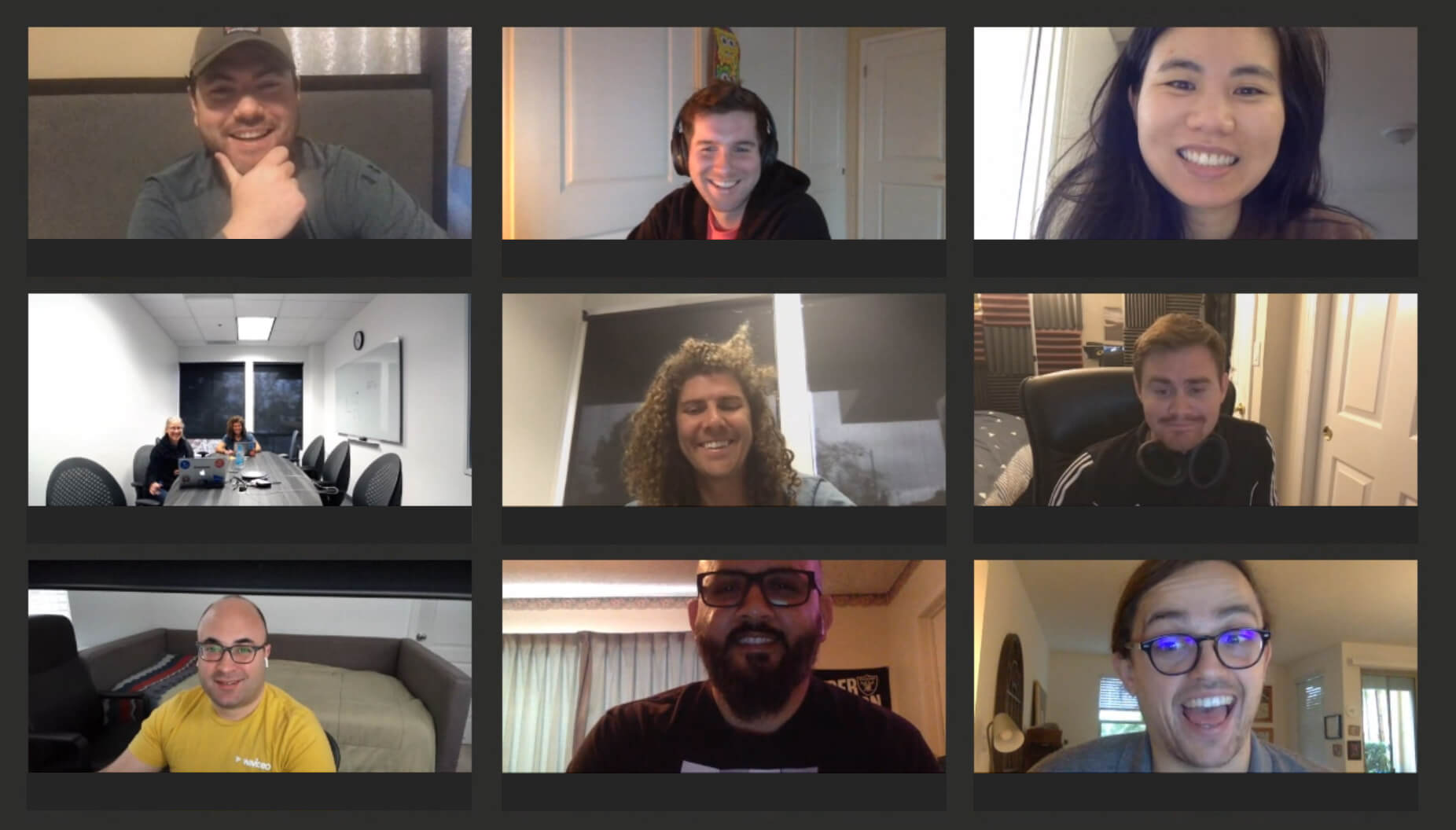 One of the many benefits of working in an office is collaborating with your coworkers. Just because you aren't next to your work buddies doesn't mean the collaboration has to end. Tools like Slack, Google Hangouts, and Google G Suite are perfect for collaborative environments. You can reach out to coworkers in real-time and feel like you're working side by side.
Move around -
The worst thing you can do when working remotely is staying in one place. Not all of us have ergonomic setups at home but we can all move around a bit. Get up, stretch, move around a little, even dance if you have to. Just make sure to stay active and not get too confined to your workspace.
Dedicated workspace -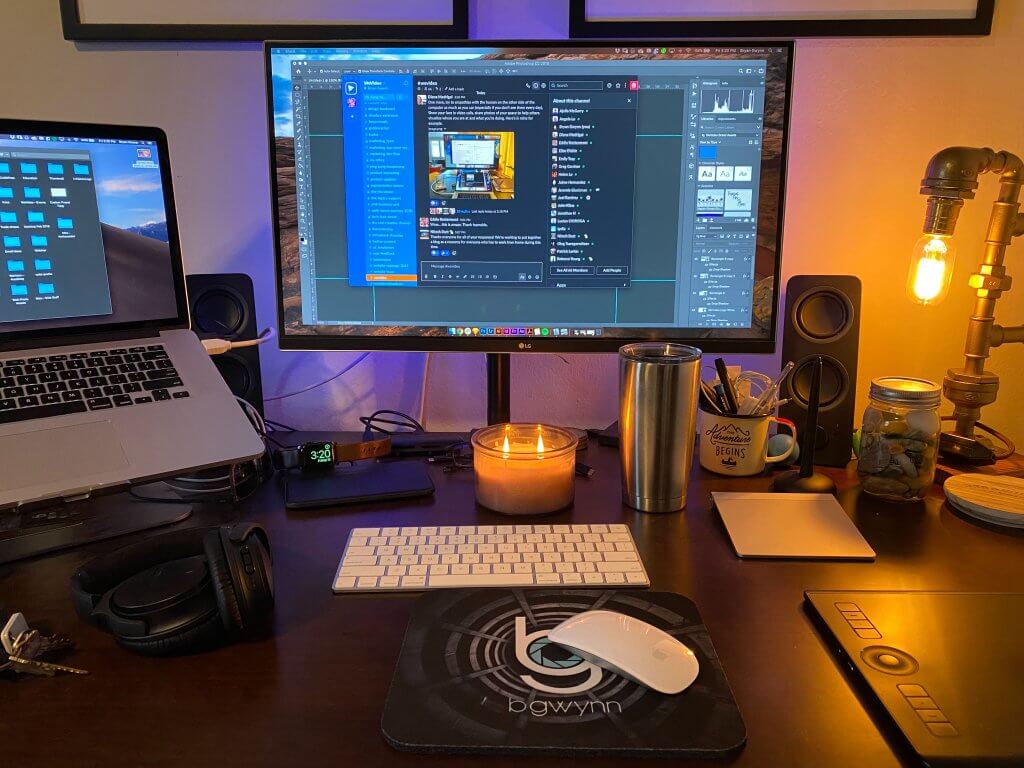 This one is really nice to have but not everyone can turn a room into a home office. The best most of us can do is find a space to seclude ourselves and set up a makeshift workspace. Sure, we'd all love a standing desk and huge monitor to do our work at home but that's not always the case. Finding a quiet place, throwing on some headphones, and a 'Do Not Disturb' sign is really all some have and that's enough.
Use your time wisely -
With so many distractions, it's easy to get sidetracked while working from home. There's Netflix, Spotify, YouTube, and countless social channels. Not to mention, there's regular TV and possibly a lot of snacking to be done. The best thing to do is to work in spurts. Work in 60-90 minute sprints followed by 10-15 minute breaks. Use this time to browse the internet, grab a snack, or stretch. Make sure to set an alarm to remind you to get back to work. Also, make sure to take a lunch like you normally would.
Some of our favorite tools:
Slack -
This is a personal favorite of ours in the WeVideo office. Slack is a great way to chat with coworkers in private messages and in groups. Stay up to date on projects or trade GIFs as a way to kill the boredom of being home. Whether you're socializing or talking about a project, Slack is a tool worth having.
Google Docs -
A fan of collaboration and working side-by-side on projects? Google's G Suite is the perfect tool. It includes tools like Sheets (like Excel), Slides (PowerPoint equivalent) and Docs (like Word), not to mention everything you create is on the Google Cloud. Share links and make it easy for everyone to edit. You can collaborate in real-time like you're working in the office.
Video calls (BlueJeans, Zoom, etc.) -
There's one specific reason why video calling tools are not only important but very ideal for remote workers. Not only is it an easy way to get multiple people in a conference call at once, but it also allows you to see everyone's wonderful and happy faces. The worst part about working remotely is that you don't see your coworkers. A video call lets you see the person behind the computer and brings back the social aspect of working.
Google Hangouts -
Hangouts is a great way to stay connected but also a way to chat about anything from work to your favorite TV show. You can even schedule a video call for meetings or just to get some face time with your favorite coworker. It's the perfect way to combine the messaging aspects of Slack with the video calling aspect of BlueJeans.
WeVideo -
A little shameless plug for ourselves but let me explain. Putting together a demo, webinar or a quick how-to video and need a way to record your screen and webcam? WeVideo is the tool that lets you simultaneously record your screen and webcam. Need to record audio to lay over a pre-recorded video? WeVideo is capable of exporting audio-only tracks. I could go on and on, but check out our Academy for all of our how-to videos.
If you're still feeling unsure about working from home and wondering how to keep yourself in good spirits, just remember these words from Lady Gaga: "Just dance, gonna be okay, da da doo-doo-mmm!"
Whatever you do, just stay focused, relax and have fun while working from home.