After you've gone through the process of posting a job, interviewing top applicants, negotiating contract terms, and making an offer, the steps for hiring a new employee are done. But the work of retaining that employee? That part is just beginning — and it starts from day one, with your new employee orientation.
This is your golden (and fleeting!) window of opportunity to set the tone for an employee's entire tenure with your company. To help your new hires feel engaged, welcomed, and equipped to contribute, you can't afford to gloss over their orientation.
From prepping to executing to evaluating, here's what you need to know to build the most effective orientation for new employees.
What is new employee orientation?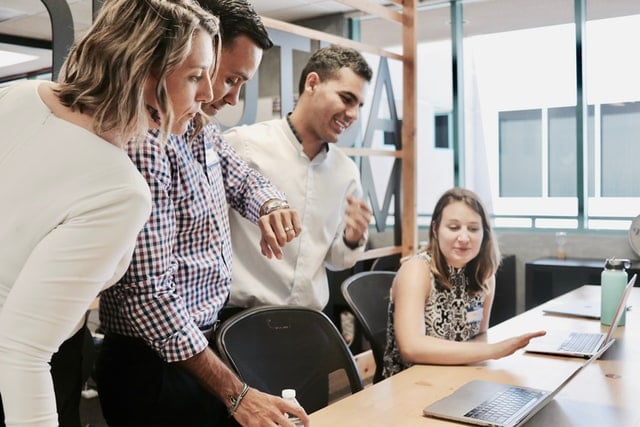 Orientations get new hires acclimated. Photo by Campaign Creators on Unsplash.
New employee orientation (sometimes called "new hire orientation") is a period in which you bring new hires up to speed on everything related to your company. You can think of it as a crash course in working with you, something like Your Company 101.
New hire orientations can take many different forms. They might be in person or remote, they might be done individually or in groups, and they might last anywhere from a couple of hours to a few days.
Enterprise companies often have a formal orientation at set intervals (once a month, for example) where recent new hires are treated as a cohort. Smaller companies may offer less formal orientation through a series of one-on-one meetings or casual chats with department heads.
In both cases, the major objectives of new employee orientation are the same:
To welcome new staff members
To gather any outstanding information (payroll forms, consent forms, etc.)
To introduce key colleagues and supervisors
To show employees around (whether a physical office or remote workspace)
To orient employees to equipment, security protocols, and other technical need-to-knows
You'll never be able to cover everything in orientation, and that's okay! The ultimate goal is to provide enough context and familiarity that the employee feels comfortable navigating a new environment and, critically, knows where to go to ask for help.
New employee orientation vs. new employee onboarding
There's a good reason not to stress over cramming everything into your new employee orientation: it's only one piece of the puzzle.
Orientation is meant to lay the groundwork, but training would ideally continue over the next 6 to 12 months — a period known as "employee onboarding." Onboarding is not only longer but also provides more job-specific training for hard skills, processes, and more. It's common for all new hires to go through the same orientation but then be funneled into very different onboarding programs.
The bottom line? There's certainly crossover between orientation and onboarding, but they play distinct roles and work best in tandem.
4 reasons new employee orientations are critical to success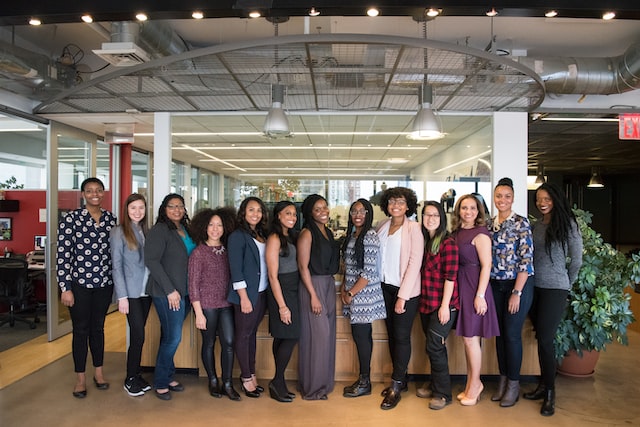 The right orientation will set you up for success. Photo by Christina @ wocintechchat.com on Unsplash.
Given all the work that has already gone into hiring, it can be tempting to breeze through the orientation part — but this is a choice that rarely leads to good business outcomes. Here's why your new employee orientation deserves just as much attention (and financial resources!) as your new hire process.
1. First impressions
As the saying goes, you don't get a second chance to make a first impression. New hires will forget all about the paperwork, but they will not forget how you made them feel within their first critical moments at your company.
Was your orientation welcoming, meaningful, and helpful? Was it easy to understand? Did it deliver on the big promises made in your recruiting videos?
Orientation is your chance to set the right tone and to validate each employee's decision to work for you.
2. Productivity
Along with the soft benefits of making a good first impression, a great employee orientation will lay the foundation in a more nuts-and-bolts way, too. By answering questions proactively and providing a meaningful overview, you'll empower your new hires to step in and truly own their roles.
They'll be ready for high-impact contributions right away because they'll understand:
How they fit into your organization
How to navigate essential software and systems
Who to ask for assistance
Which

employee communication methods

are the norm
What to do next
3. Legal/HR requirements
Another reason why new employee orientation is important is for legal compliance. By incorporating a session to complete new hire paperwork, you will:
Ensure that all new employees are legally able to work
Protect your company from potential lawsuits
Explain workplace rights and responsibilities
Properly advise employees on payroll elections, benefits, insurance, and more
As a bonus, gathering this documentation now will prevent your HR staff from spending valuable time chasing down information at a later date.
4. Employee retention
Last but not least, there's another huge business incentive to provide high-quality orientation for new employees. As the first step of the more extended onboarding period, orientation directly impacts the length of time that someone works for you.
The Harvard Business Review has found that a great onboarding experience can boost employee retention by up to 50%. And in a world where a quarter of new hires will quit within the first six months, every retention effort matters.
How to prepare your new hires for orientation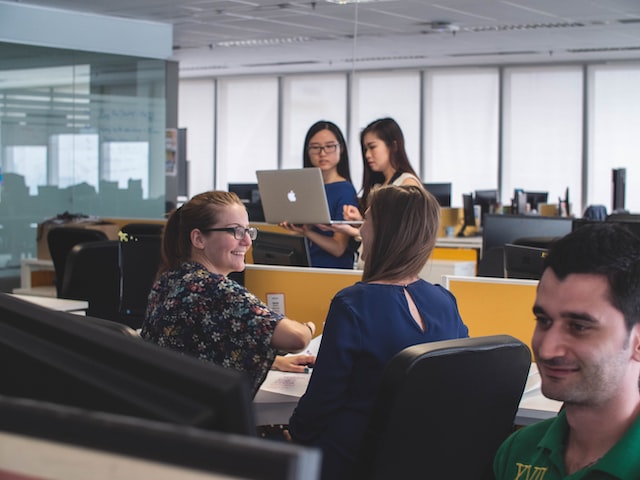 You can set the right tone even before orientation begins. Photo by Mimi Thian on Unsplash.
Starting things off on the right foot means starting before your new hires show up for orientation. Make sure they're as prepared and comfortable as possible by telling them what to expect at least 3 days ahead of time.
Assuming your new employee orientation is in person, this information might include:
Where to park
How to access the building
Directions to the meeting room
Expectations around professional headshots (and dress code, if needed)
What to bring: writing utensils, technology, paperwork, IDs, etc.
What to expect in terms of refreshments and meals
A new employee orientation agenda
Contact information in case of questions
For virtual or remote employee orientations, it would be helpful to provide:
The meeting room link and login information
Clear expectations regarding the use of camera and mic
A new employee orientation agenda
Contact information in case of questions
Day-of contact information in case of trouble logging in
A quick new employee orientation checklist
What should happen on orientation day, you might be wondering? There's not necessarily a strict formula for what to put on a new employee orientation agenda. It'll depend on your company's preferred format, the expected number of attendees, and the desired time frame.
Generally speaking, here are 10 items to consider working into your new hire orientation:
Welcome and introduction
Guided tour of facilities
New hire paperwork
Headshots (if relevant)
Issuing of key cards, logins, badges, etc.
Company overview: mission, vision, culture, values, etc.
Introduction to leadership
Organizational chart and key contacts
Company policies and employee code of conduct
FAQs and open Q&A time
Of course, this is a ton of information to cover. In the best practices section below, we're sharing some practical tips for keeping your orientation engaging and easy to follow.
7 new employee orientation best practices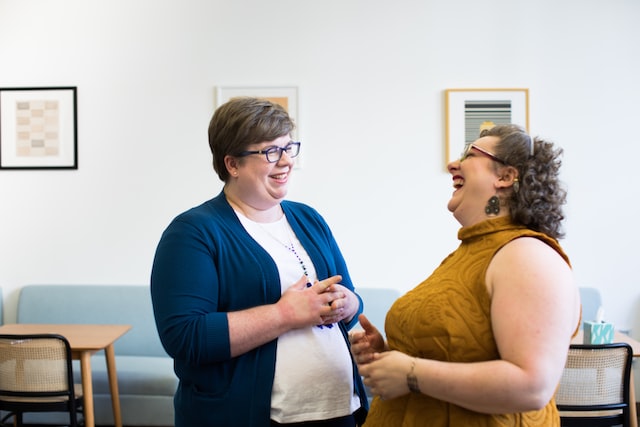 It's all about making the experience great for new hires. Photo by AllGo - An App For Plus Size People on Unsplash.
1. Be empathetic
If you had to choose just one best practice to follow, it would be this: be empathetic to your new hires.
Many attendees will be feeling anxious about keeping pace with so much new information while also making a good impression. So for every agenda item, consider your new hires' perspective and how you might reduce potential stress or uncertainty.
2. Keep it digestible
A big part of being empathetic is doing what you can to avoid overwhelm. As much as possible, try to keep things digestible by:
Splitting orientation sessions over several days
Providing an agenda and sticking to it
Dividing topics into logical chunks of information
Incorporating short breaks between sessions
Presenting information in an engaging way (see the next tip!)
3. Make it engaging
Studies show that people retain information better when they engage with it in multiple ways. In other words, you can help new hires remember more details from orientation simply by varying how you present things.
Try to incorporate a mix of these presentation styles:
Live lectures
Open Q&A sessions
Quizzes or mini games
Explainer videos
Group discussions
Written reflection time
4. Take advantage of video
Because there's so much to cover in orientation, it's virtually impossible to do everything in real time — and there's no reason to, either! Using video strategically not only makes event planning simpler but, as we just covered, also helps reinforce learning.
So how do you choose the best topics for new employee orientation videos?
A good rule of thumb is to create videos for agenda items that are:
Difficult to schedule — like greetings from C-level staff
Impractical to do in large groups — like walking tours of a massive multi-building campus
Highly repeatable, unchanging, and consistent — like safety policies, harassment training, etc.
Meant to evoke an emotional reaction — like

company culture videos

or mission and vision statements
Pro tip: Try our online video editor to make all of these videos quickly, easily, and totally on brand.
5. Build relationships
We've all been to work events where you're a nameless face in the crowd, and that's exactly what you don't want your new hires to feel.
To show genuine interest in your new employees and to help establish meaningful connections, consider including:
A period for personal introductions, beyond name and job title alone
Dedicated discussions around workplace inclusivity
Group icebreakers

or semi-structured time for mingling
Some kind of

mentor system, either for orientation day or the entire onboarding period
6. Give an employee welcome packet
As part of new employee orientation, it's a good idea to provide a physical or digital welcome packet summarizing the key takeaways. This packet could include:
An organizational chart and list of contacts
Your employee handbook
A glossary of common terms (especially if you frequently speak in acronyms!)
A "cheat sheet" listing important links, processes, checklists, or tools
Handouts from specific orientation sessions
If you're handing out a physical welcome packet, a few branded swag items can also go a long way toward making any new hire feel part of an awesome team.
7. Evaluate and improve
To make sure your orientation is accomplishing its goals and to identify room for improvement, have attendees and staff complete a new employee orientation evaluation form (anonymously).
Take this feedback and then ask yourself these questions:
What content gaps exist in our orientation agenda?
Are there any redundancies making orientation longer than necessary?
Do we need more breaks, discussion groups, or refreshments?
Could we make any

training videos

to reduce scheduling issues?
How can we make employees feel more welcome?
Is there anything to add to our orientation checklist?
Getting your new employee orientation right is an ongoing process that will evolve alongside your business. The most important thing is to start somewhere.
Take the tips and best practices above, give them a try with your next round of new hires, and then continue adapting them to provide a better welcome to new employees — one that sets your team up for long-term success.
Why not start that success right now by hopping into our online video editor?