Years into a pandemic and it should be no surprise that 96% of consumers have catapulted their video consumption. Luckily for businesses today, this isn't bad news.
Gone are the days where videos serve as a mere accent to other marketing methods. Not only has video marketing become an integral part of email campaigns, social media ads, and outbound strategies, but it's a stand-alone art.
Without video marketing, brands and businesses simply fall behind. In a society overflowing with ample resources, there's no reason not to level up. No matter your experience, stay competitive with an intentional marketing strategy, starting with this data-backed guide to video marketing.
Creating a video marketing strategy doesn't have to be a pain in the neck. With as little as a smartphone and a WeVideo plan, you can easily create high-quality content.
Here's what you need to know:
What is video marketing?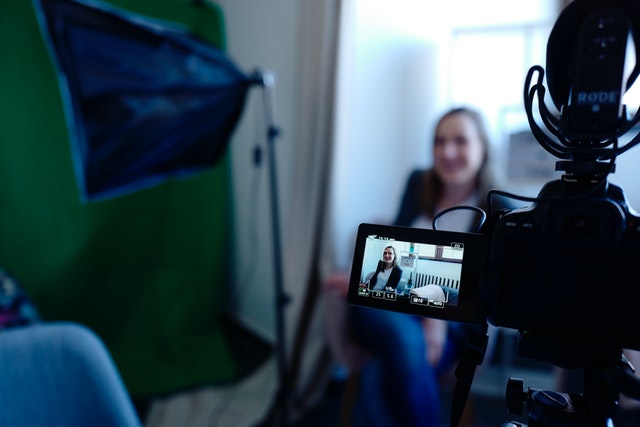 Video marketing is a method used to promote brands, products, and services with video. Image via CoWomen.
Video marketing is when businesses use video to promote and market their products and/or services. It is also used to increase engagement on social channels, educate consumers and is a way to reach audiences via a new medium.
Throwing out a video here and there is not an online video marketing strategy. The operative word, strategy, requires three things: establishing both short-term and long-term goals, which video types can help you achieve them, and how often to post.
Most commonly, video marketing strategies seek the following outcomes:
Heightened engagement on all platforms (social media, website, email list)
Higher search rankings and

increased traffic
Growth in revenue
Uptick in conversion rate
Positive ROI
Credibility and trust
While these goals sound nice on paper, most don't know the success rate that's already in motion for those doing it. Here are a few stats from Hubspot to emphasize what's possible for you and your business, starting now:
88% of video marketers reported that video gives them a positive ROI.
93% of brands got new customers because of a social media video.
83% of marketers say video has helped them generate leads.
YouTube mobile reaches more 18-34-year-olds in the US than any TV network.
YouTube (85%) and Facebook (79%) are the most widely used platforms among marketers.
These statistics prove that a consistent 8 or 9 out of every 10 people consider video marketing an absolute must. Plus, most (if not all) social media platforms now let you post videos that disappear after 24 hours. This feature is strategic for limited-time offers, promos, discounts, and flash sales.
This new layer of video marketing is quick and low-cost to include in your video marketing strategy.
How do I build a video marketing strategy?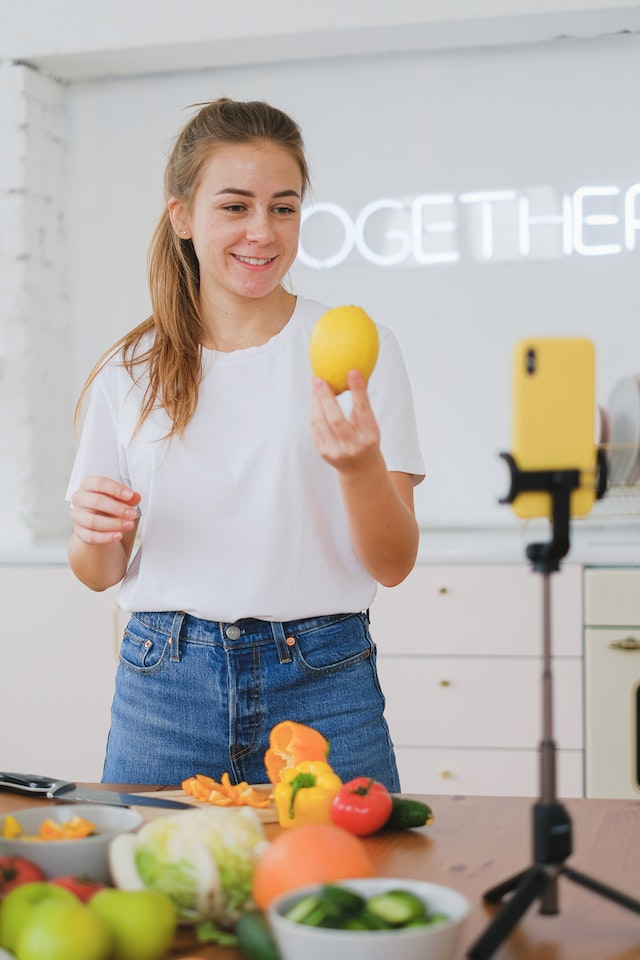 Start with a plan; establish your audience, decide your video method, and get recording! Image via Anna Shvets.
Now that we've established the importance of crafting an online video marketing strategy, you may be eager to start. Know that being here is the first step, so hang tight while we help you get the ball (or camera) rolling.
It's easy for some to just press play and let the content flow, but you want each video to be purposeful and cohesive with your other content. Without this cohesion, a new video marketing strategy can confuse customers and seem disjointed.
For a natural and impactful implementation process, follow these steps first.
1. Establish your audience
Who's your target demographic? Adding a video marketing strategy likely means you're not starting from scratch. You should have some idea of your audience already; still, asking the question now can clarify your direction.
Questions to ask yourself:
Who are these videos for?
What types of videos will work best for them?
How can these videos complement other marketing campaigns we've done?
How can we incorporate brand messaging into our videos?
2. Consider the budget
What's your budget? You don't need thousands laying around to invest in a video marketing strategy—we promise! But knowing your numbers can dictate short-term versus long-term goals. You'll want to consider both content creation and distribution throughout.
Instead of outsourcing all of your video content (because then you will need so many thousands), invest in your skillset and tech-savvy business ops with a simple, low-cost DIY video creation tool. Plus, isn't the pride, confidence, and empowerment worth it? (Yes, yes it is.)
Questions to ask yourself:
How can my budget inform the content schedule?
Who will be responsible for making these videos?
How can independent

video creation

help scale this business?
How and where will these videos be distributed?
3. Track your performance
Don't let your hard work be all for nought! Launching a thorough online video marketing strategy without tracking performance is like winning a gold medal without knowing your end time. Make sure the pay off is real with concrete data. What should you look for?
Watch time:

Amount of time the average viewer watches your video. The lower this time the more cause for concern there is.
View count:

Measures the amount of time your video has been viewed. This is different for each channel the video is posted on.
Engagement:

All about likes, comments and shares. Indicates how far-reaching your video is and how much it resonates with viewers.
Click-through rate:

The percentage of viewers who click on your video's CTA (call to action) and continue on to another page of yours.
Conversion rate:

This is the percentage of viewers who take that next and most important step by going from viewers to customers.
Once you have these numbers down, you can quantify your success. Questions to ask yourself:
How do I know my video marketing strategy is working?
What needs improvement?
Toggling back and forth between these questions can ensure a conscious, intentional marketing strategy. Data always steers the ship, so navigate accordingly.
Top 12 types of video marketing
If you're wondering, What is the best video marketing strategy? we've got you covered. There's no one way to market with video, as successful video marketing requires diversity.

Instead of honing in on just one type, let's explore the top 12 video marketing options for you to consider.
1. Customer testimonials
Having customer testimonials can help increase more than sales, they can build trust between consumers and your brand. According to bigcommerce.com, 92% of consumers read online reviews and 88% trust online testimonials before purchasing a product.
For more information on how to make a customer testimonial video, check out: Customer Testimonials Can Be the Best Marketing Asset You Create
2. Branding video
To be a successful brand you need video. Wyzowl's 2021 video marketing statistics show just that:
86% of businesses use video marketing as a campaign tool.
93% of marketers who use video say that it plays an important role in their marketing strategy.
The number of businesses that use video as a marketing tool has increased 41% since 2016.
As a business or brand, creating a video is more than just a marketing tool it's a key to success.
Get the lowdown on making your own branding video here: 5 Tips to Build Your Brand Through Video
3. Customer tutorials
Every consumer has watched their fair share of tutorials on YouTube and a majority of them take that into consideration before making a purchase. Whether it's a product or service your business provides, a tutorial is a must-have for your video marketing campaign.
Get quick pro tips on how to make a customer tutorial video by heading to: How to Make a Tutorial Video
4. Product demos
The best way to introduce users to a new feature or product and give a rundown of how to use it is with video. Product demos are a great way to do everything above and to build trust between consumers and your brand.
The below video is an example of a product demo you can create.
To get more tips on how to make a product demo video, check out: Everything You Need to Know About Creating Product Demo Videos
5. Promos
Promo videos are a great way to generate interest and inquiries from target audiences. This can be a highly effective video marketing tool for businesses to use to their advantage.
Below is a promo video created by the team at WeVideo and makes great use of stock video, music and tells you all about WeVideo.
For more information on how to create a promo video, check out: 7 Examples of Exceptional Promotional Videos
6. Explainer videos
Explainer videos are 60–90 second educational videos that market products and services by explaining how to use them. They're helpful for first-time customers, as well as those needing to know about the latest models, features, or releases.
For a thorough tutorial on explainer videos, check out: Use Explainer Video Examples to Strengthen Business Content
7. Instructional videos
Instructional videos are designed to instruct, inform, and educate folks on a particular skill or subject. If you want to break down a nuanced aspect of your product or service, show how it works and why it matters with a 3–6 minute instructional video.
For more on how to master the instructional video, check out: How to Make Instructional Videos for Diverse Education and Business Demographics
8. YouTube videos
Now, to break down video marketing for each online platform. Each social media format has their own sizing requirements and guidelines. The good news?
With cross-linking capabilities these days, there's no reason not to have video content on each platform. Plus, who can say no to the potential of billions of views, with 2.6 billion active monthly users?
For more YouTube video ideas, check out: 35 YouTube Video Ideas to Boost Your Business (and Channel)
To jump straight to the YouTube video making process, start here.
9. Facebook videos
Neck and neck with YouTube lives Facebook—with 2.963 billion monthly users. There are multiple Facebook video ads to consider as part of your video marketing strategy:
Carousel ads
Slideshow ads
Collection ads
Stories ads
As you map out your plan, you'll want to get specific about when to use each type based on the intended outcome. Here's an example of a quick 30-second Facebook ad from WeVideo.
Facebook video ads require you to establish instant value within the first three seconds. Keep your videos short and sweet for optimum engagement.
For more on Facebook video marketing, check out: How Facebook Video Ads Skyrocket Business Potential (and Results)
And to jump straight to Facebook video making, start here.
10. TikTok videos
TikTok, the $75 billion industry, is on the up and up with 1 billion active users.
Similar to Facebook, TikTok videos should be of the shorter-the-better mindset, lasting between 21-34 seconds with a catchy intro.
To jump straight to TikTok video making, start here.
11. Instagram videos
Last but not least for the online video marketing quadrant, we've got Instagram video ads. With up to 2 billion monthly active users, calculators break when considering viewership numbers on this platform.
Instagram video ads should be 26 seconds max. In fact, we have a whole tutorial on Instagram video length and sizing tips to polish your posts. Like Facebook, Instagram has various types of video ads. Those are:
Carousel ads
Reels ads
Explore ads
Collection ads
Shopping ads
To show you a quick and fun example, WeVideo recently posted a holiday-themed Instagram video ad to prep for the season. (In marketing, it's never too early.) Businesses and enterprises alike should always stay ahead of the game.
To learn more about all things Instagram, start with these tutorials.
And to get started on Instagram video making, start here.
12. Livestream videos
To conclude our top 12 diverse video marketing methods, we've got livestream videos! All you need is a smartphone or tablet and a solid wifi connection to impact the masses with this video marketing method. Livestream videos let you connect with your audience in real-time for casual Q&A's, interviews, product demos, or whatever other purpose you seek.
Most marketing videos are scripted, polished, and intentional (as they should be!). But what makes livestream videos effective is that they're more informal, accessible, and direct.
The best way to demonstrate this video format is with a past live stream, which means, obviously, it's no longer live. Just pretend it's happening now for the full effect and record yours, too, so folks have access beyond the official airtime.
To stay ahead of 2022's top video marketing trends, one of which includes livestream videos, check out: 11 Video Marketing Trends That Will Dominate 2022 and Beyond
Video marketing templates
Need a little bit more inspo? You got it! Check out these three other customizable video templates, all accessible in WeVideo.
Explore high-quality business templates with a full-featured and FREE trial. Use one to quickly and easily create everything from sales promos to how-tos and much more.
Personal training promo
Car dealerships
Baker
Get started with video marketing
Now that you've got the basics down, let's synthesize how to put these plans into action.
Launching your video marketing campaign is as easy as 1, 2, 3…4, 5:
Identify the purpose of your video. Decide which video method works best to deliver your message.
Write and record the script. You can always

cut and trim

later, so don't fear The Flub.
Add

text overlays,

camera transitions,

background music, graphics, and personal or stock images (our library is stocked with 1+ million assets).
Edit each asset to your liking.

Slow down or speed up your video, adjust duration of slides, adjust

audio volume, and done!
Export and get ready to share on all online video marketing platforms, your website, emails, and wherever else you see fit.
That's it! We're extremely confident in your newfound ability to master the art of video marketing. As a self-study, you have the benefit of taking things at your own pace. Also, like mastering any new skill, most of the process is both experimental and experiential.
If you need guidance throughout, WeVideo's content library has everything you could possibly need: blog tutorials, video demos, free trials, a simple video creation tool, and a whole lot of encouragement along the way. Even if you need to make a plan for your plan, that's a step in the right direction.
Soon before long, you'll know the ins and outs of each video marketing type, sizing, length, and how each can benefit your business. Good luck!