Did you know videos have an online usage reach of 90%? That's huge. In fact, 3 billion internet users streamed or downloaded a video at least once per month in 2020 alone. This number is expected to reach 3.5 billion internet users by 2023.
As a marketer, you must include videos in your promotional strategy. It will help you garner the attention of your prospects while accelerating your conversions and sales.
This is where product demo videos come in handy. After all, 73% more visitors who watch product videos make a purchase. No wonder one-fifth of marketers invest in product demo videos.
This post will walk you through the basics of a product demo video. It will also cover the benefits of including a product demo video in your marketing strategy along with the simple steps of creating it.
You will also get access to top-notch examples of product demo videos, giving you the inspiration you need to create one for your brand.
What is a product demo video?
Without words, this product demo video illustrates how to use this new coffee machine in just 38 seconds. Via Nespresso.
Product demo videos are videos that show people how to use a product or service in action. By illustrating its functionality, ease, and how to DIY, companies use product demo videos to establish immediate value.
Depending on the product, associated demo videos should run around two minutes. Typically, the less complex the product, the shorter the video. The more complex the product, the longer the video.
While ever-shortening attention spans require concise messaging, those needing to understand products will lend the time—especially once they deem it valuable. Still, video duration does not dictate video quality, so it's crucial to optimize your content accordingly. Folks would rather watch a helpful, informative, and well-crafted video that runs a few minutes longer than a 30 second one that doesn't teach them anything.

Ultimately, product demo videos cater to prospective, new, and veteran customers alike. Therefore, they should:
Offer brief how-tos
Feature new releases
Build customer engagement, retention, and loyalty
Simplify the user experience
Promote DIY functionality
Though unconventional, the above example is an effective wordless product demo concept. It works because most already know how to operate a generic coffee maker. View this demo and most could make their own fresh cup of Joe, no problem.
For a brand as big as Nespresso, product demo videos like this one should also build brand recognition. So the next time someone needs a coffee maker, this one will be top of mind.
Without a thorough product demo video, customers may be left with questions or confusion. One frustrated person can taint a brand's reputation or lead them to find another, more helpful brand. Don't let that be your story!
4 key benefits of making a product demo video
Make your products look accessible to all with upbeat background music and authentic demonstrators. Via ISA AYDIN.
When done correctly, product demo videos have multiple benefits (for you and your customers). Let's take a look at various advantages of a product demo video.
Provides credibility

People are a little skeptical when they shop online.

"Is the product going to solve my problem?
What if the product isn't worth its price?"

These are a few of the many questions that your prospective customers might be having while they browse through your products.

This is where a product demo video can come for their assurance. Simply put, a product demo video can quickly help you steer clear of your customers' doubts regarding your product.

After all, your prospects get a live demonstration of how the product functions and how it will benefit them. This, in turn, gives your prospects a clear picture of how your product will help them reach the desired result, thereby increasing the credibility of your product's claims.

For instance, imagine having a cosmetic brand where you launch a new foundation that claims to make the face seamless. With a product demo video, you can demonstrate how the foundation blends smoothly in the skin and gives a picture-perfect glow.

Easy explanation of the product's features
What if we say you can sell a product without actually making it feel like a sell? Use a product demo video to introduce your product to your customers, and you will end up doing the same.
With a product demo video, you don't need to tell the customer upfront that they need to buy your product. It gives you the chance to show the unique selling point (USP) of your product. As a result, it encourages and entices the customers to give your product a chance.
Further, you can also use a product demo video to show why you have added specific features to your product and how it will cater to the customer's problem.
Continuing from the example above, imagine launching a foundation that makes the skin look flawless and treats acne.
Apart from showing how to use the foundation in your product demo video, you can also display the acne-treating feature of your foundation. It will entice a lot of acne-prone people to give your foundation a try.
3. Works as a blueprint of your product
A product demo video helps you describe your product in a simple yet effective way. So, it can serve as a blueprint when you need to introduce your product to your employees.
In other words, a product demo video will give them a clear understanding of what the product is all about.
As a result, your employees will be in a better position to explain your product while giving presentations to the stakeholders. They would know the key features and benefits and when they need to focus on a specific part while conducting the presentation.
4. Access to analytics for improving demo video
Hosting your product demo video online will give you the chance to understand how well your video is performing. You can get access to extensive video data, which can help you take corrective measures if needed.
For instance, with data analytics, you can get an overview of the following aspects:
The average time a prospect spends watching your video. If the average time is low, you can cut the length of the video and make it short.
What is the exact point when people are leaving your video midway? You can either edit or remove such uninteresting points.
All in all, these analytics will help you develop a better version of your product demo video. Results? You will witness increased customer engagement.
How much does a product demo cost?
Having the right video creation tools ensures you don't have to break the bank in order to successfully create a demo. Image via George Milton.
The benefits of effective product demo videos can outweigh the cost if done the right way. Hiring folks to make product demo videos for you can run up to $50,000. No joke. Granted, that price tag is likely reserved for the biggest video productions, but even basic needs stack up to thousands.
We've got a better option. Why not invest in your skill set and your business with a low-budget, big-benefit option? With an online video editor like WeVideo, you'll have full creative control over your video assets without the constant back-and-forth.
Every option can become cost-effective by learning how to do it yourself. And in this case — no experience is required. WeVideo provides you and your business:
Unlimited publishing
Unlimited storage
Brand management
Premium templates
4K ultra HD resolution
Team license
Collaboration tools
User management
Template creation
With everything you need all in one place, it's never been easier to do it the creative way and the professional way at once.
How do you create a product demo video?
Learn how to make a demo with results by showing the product, solving common problems, answering questions, and offering next steps. Via Dan Martell.
Here's a step by step process that will help you create a stellar product demo video:
Plan your video

Make sure you plan your video properly before you record it. Following are the points that you must keep in mind:

Start with a product description but keep it precise and to the point.
Show how your product can solve the customer's problem.
Display how the product functions.
Sum up with a good call to action (CTA) such as book a free trial, purchase now to encourage prospects to take action.


Choose a template

The next step is to choose a template for your video. There are a lot of templates available online that can help you create top-notch product demo videos. (Our video editor's built-in templates are a great place to start!)

These templates let you personalize your video by helping you change the color, fonts, texts of your videos and make it in sync with your brand image. You can even include music tracks that come in-built with the template.

Record the video
Now, all you need to do is record your demo video by putting your product into action. While having a tripod or a professional recording studio will help you produce stellar videos, you can also use plenty of software and tools to come up with top-notch videos.
4. Edit the video
The final step is to edit the video to make it more appealing and engaging. You can trim the length of the video, add graphics and animations, and remove unnecessary sounds as you edit your video.

However, make sure that you keep your video's central message intact in editing.
5 examples of product demo videos
Here are 5 excellent product demo video examples that will inspire you to create one for your business.
Airtable

Airtable is a cloud collaboration service that makes good use of animation in its product demo video.

As supported by Dan Martell's video above, How to Give Product Demos That Sell Using These 5 Tips, this video doesn't introduce its newest features until a) Introducing who they are and b) establishing the problem they're solving first.

Product demo via Airtable

When you create a demo, you still want the script alone to be compelling on paper. This one reads, "Whether you're managing a successful record label, planning an upcoming move, or wrangling all of your team's deadlines for an upcoming rocket launch, it's easy to organize anything you can imagine."

This content paired with background music, brand colors, narration, and moving slides is what makes these real-world scenarios come to life. Plus, the tagline, "Organize anything you can imagine," is repeated multiple times in different ways for repetitive and effective subliminal messaging.

After establishing the problem — find organization in any situation — the protagonist begins to list Airtable's assets (AKA solutions). Afterward, we come full circle with new real-life applications.

All good product demo videos should cohesively map out the problem, solution, and what that solution looks like in real-time. That way, folks can begin envisioning the positive outcome, prompting desire, value, and need at once.

SurveyMonkey
SurveyMonkey is online survey software that helps you create impeccable surveys with ease.
The brand covers almost all the aspects of its product in two minutes. It is jam-packed with solid visuals where each frame explains the benefits and features of the product seamlessly.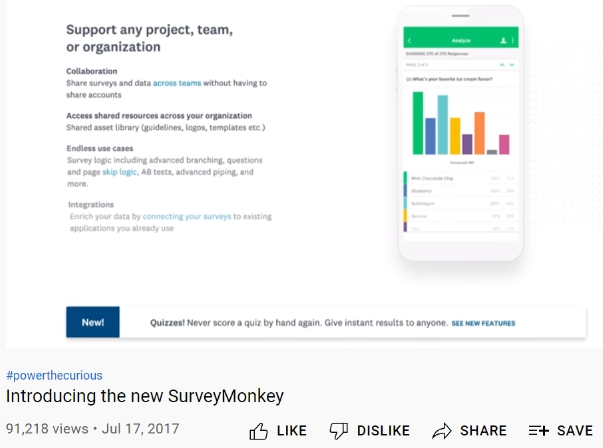 Source
Further, the video shows how you can create a survey through SurveyMonkey through a step-by-step process. The video also demonstrates how you can easily integrate SurveyMonkey with any third-party apps such as Slack.
Simply put, the demo video makes using SurveyMonkey a piece of cake. The brand has it all sorted for its customers, from signing in to creating a survey through the demo video.
Also, the background score is in sync with the video and makes watching the video all the more fun.
3. Slack
Slack is a business communication platform that allows various business teams to interact in a single place.
The content in the product demo video of Slack has a storytelling approach. The actor within the video demonstrates the various features of the product interactively. These are a few of the many features that the product demo video of Slack shows:
Creating different channels
Uploading files
Tagging employees across the organization
Pinning critical messages for easy application.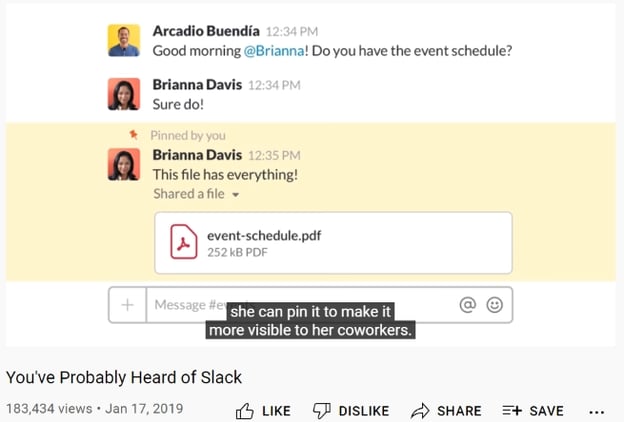 Source
In the end, the demo video also has a strong CTA, which says "Get Started with Slack" today. It is a compelling yet straightforward way of encouraging customers to take the next step.
4. Duolingo
Duolingo is a language learning platform that helps users learn a language in a fun and interactive way. Whether you are a college student or a professional, this platform has language courses for everyone.
The brand's product demo video kickstarts with feedback from Wall Street Journal, which reads "far and away the best free language-learning app." It is an excellent way of building the social proof of the brand.
Further, the video goes ahead with an explanation of how Duolingo works. The description is made vivid with color popping animations and graphics. The video also consists of data that backs up the effectiveness of the platform.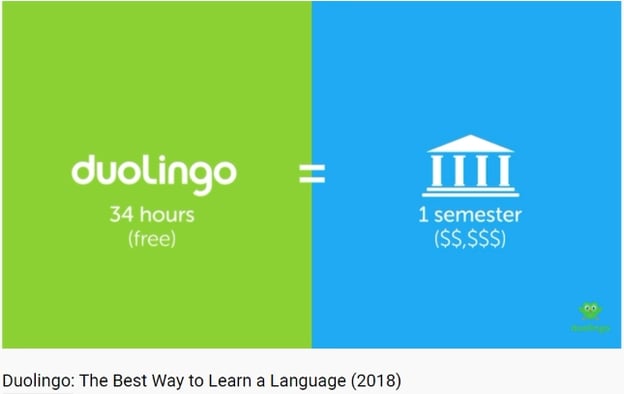 Source
5. Zoom
Zoom is a video teleconferencing software that helps businesses establish effective communication among their employees through live chats, screen sharing, conducting webinars and conferences.
The product demo video of Zoom shows how people are using it for conducting meetings and webinars. The video further throws light on its features.
Sure, the video is full of the product features. But, it ensures that the features portray the benefits of the product. Further, since the customer sees the usage of the product from the very beginning of the video, they know exactly how it works by the time the video ends.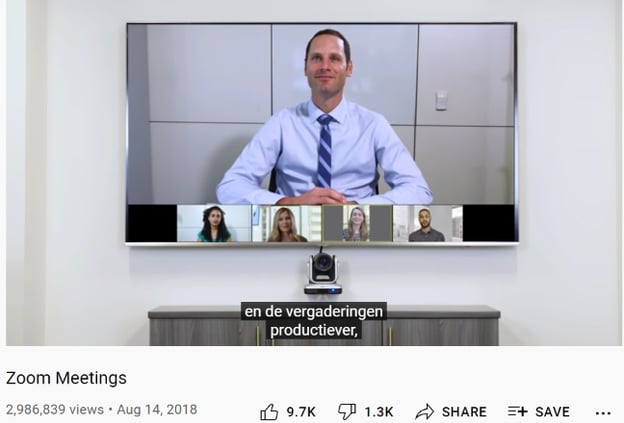 Source
Conclusion
Videos are the most effective marketing tool. So, leveraging video marketing tactics such as product demo videos can work wonders in enticing your prospects and encouraging them to go ahead in the sales funnel. (And why not give it a try when our online video editor makes it a breeze?)
If done the right way, product demo videos can help you spruce up your marketing strategy and pave new avenues of business success.