Let's be honest; we've all spent countless hours on YouTube watching cat videos or trying to find that elusive video that'll help us finish that pesky home project. YouTube has it all.
If you're a small business owner or solopreneur, are you using it to expand your marketing and build your brand? Are you aware that you can make money through advertising?
To help you understand how popular YouTube is, here are some interesting facts:

Now, think about it. Of all the things you're doing to expand your brand, is a YouTube marketing strategy on that list? As generations continue to cut cords and spend more time online, dedicating a portion of time and resources to finding the best YouTube marketing strategy makes sense.
We admit it can be pretty intimidating to get started. But, we're here with some helpful resources to get you going.
Check out the content, watch the videos, save it for later. Do what it takes to gain a better understanding of video marketing on YouTube and the impact it can have on your brand.
On this page, we'll cover:
5 reasons why your business should be on YouTube
Create a YouTube channel for your business
Before you can start creating magnificent videos for YouTube, you need an account. Luckily, this is quite easy to do. To start, you'll need to create a Brand Account on Google. There's also the option of creating a YouTube channel with your regular Google account, but only you can access it. Not to mention, the account will be under your name and could connect viewers to your personal email, which isn't the best look for a brand.
Customizing your channel
Now that you've created your channel, it's time to customize it. In your dashboard, click Customize channel and go through the three tabs you'll find. You can customize the layout, add your own branding and provide some basic information. Make sure to use keywords on your channel's topic, industry and other descriptive keywords that will help you appear in searches.
When uploading and inputting your brand elements, you can upload channel art and icons that'll give your channel a unique look that aligns with your overall brand. You'll want your channel to connect with your other social media platforms and company's website, which you'll also want to link to.
Set permissions for your YouTube brand account
When setting permissions for your brand's YouTube account you'll find six distinct roles. For this portion of the guide, we'll pay attention to the three most important ones. The video above will discuss all six roles, what they can and can't do.
To add and edit access, follow these steps:
Go to

studio.youtube.com

.
Click Settings on the left-hand side.
Select Permissions.
Click Invite then enter the email address of the person you want to invite.
Finally, click Access to select the role you'd like to assign to each person.
Role

Supported

Not supported

Owner

Can do everything on all platforms, including:

Delete the channel
Manage permissions

Can't transfer ownership to other users

Manager

Can view all channel data
Can manage permissions
Can edit channel details
Can create, upload, publish and delete content (including drafts)

Editor

Can view all channel data
Can edit everything
Can upload and publish content
Can delete drafts

Can't delete channel or published content
Can't manage permissions
Can't enter into contracts

Integrating WeVideo with YouTube
WeVideo makes it easy to not only create videos but also publish them on YouTube. Link your WeVideo account to your YouTube channel and you'll be ready to go. When you finalize your video and are ready to export, select the YouTube icon under Destinations. As long as you have a channel connected to your account, the video should export and be ready for publishing.
Creating YouTube videos
When it comes to creating videos for YouTube that align with your brand, there are a lot of avenues you can take. Here are just a few ideas, and some templates, of what's possible for you and your brand:
Types of videos to create for YouTube
Explainer video
An explainer video is usually displayed on a company's homepage and describes what the business does, what products they sell or tells a company's story. Ranging from 90 seconds to 2 minutes, these videos are also great to explain parts of your business that need clarification.
10 ways to use video to market your product or service
How-to video
This is similar in a way to explainer videos and product demos. However, instead of explaining a brand or demoing a product, how-tos are a great way to answer audience questions and provide new product tutorials.
Product demo videos
Pretty self-explanatory here. Product demonstration videos are what you would believe. Perfect for any product release or update, you can walk consumers through the product step-by-step and give deeper insight than they would get elsewhere.
Customer testimonial videos
Another video that is exactly what it says it is. Use the power of your consumers, especially the well-known and vocal ones, and turn them into advocates for your product/brand. Interview them about their experience with the product or service and put it out for the world to see. Having a real-life customer vocalizing support for your product can do wonders for your brand.
Create your own YouTube tutorial with these 5 tips
Company announcement video
Don't just blog or tweet about a company announcement, create a video to make an even bigger splash. A short, enthusiastic announcement video starring members of your team is a great way to share an update with customers. Plus, it's a lot more exciting than a press release.
Video filming tips
You now have a brand account on YouTube, a list of videos to create but what do you need to start filming. In this section, we'll go over five tips that will help you go from novice to expert. For even more tips, check out Video hacks with Max.
Use a tripod
Nobody likes shaky footage. You can try resting your arms or elbows on a steady surface to limit movement, shoot from one knee or take the "T-rex approach" and tuck your elbows close into your chest. But, your best bet is a tripod. It reduces camera movement, which improves the quality of your video.
Clean camera lens
CLEAN YOUR LENS! This should be common knowledge but you'd be surprised how many people forget to wipe off a lens and end up with random specks of dust or debris in their video. Always keep your camera lens covered and when the time comes to shoot remove it and wipe it down with a microfiber towel.
Lighting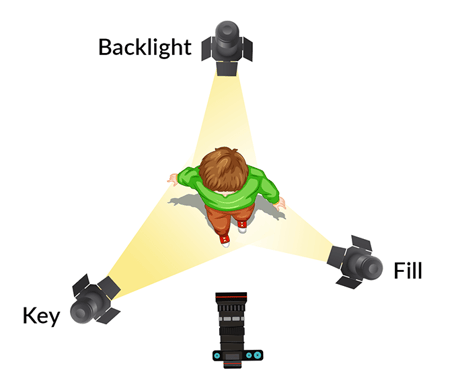 Scale-up any video production with a lighting kit. The most common way of setting up is a three-point lighting setup. In this setup, there's a key light which is to the left of the camera, a fill light to the right and a backlight that comes from the back. This setup promises your subject is well-lit on camera. If you want a less expensive option, use natural soft light. The "golden hour" in the early morning or late evening is the best time to shoot with natural light.
Microphone
If you're lucky, you can get great audio naturally with the internal microphone on your camera. But, more times than not you'll need some sort of external mic. A decent lav mic or shotgun mic can go for as little as $50. For a complete list of professional video equipment, check out our Getting started with video checklist.
Green screen
The magic of the green screen isn't just for Hollywood anymore. Filming in front of a green screen allows you to appear anywhere in the world and allows you to provide visual consistency. Regardless of the weather outside, you can always appear in the same location with a green screen. For even more knowledge and insight, check out How to use green screen to make awesome videos for your business.
Check out 7 easy camera transitions to enhance your videos to add even more magic to your videos with transitions.
Video editing tips
Choose your video editor - To create great videos for YouTube, you need a stellar video editor. There are plenty to choose from, such as Adobe, InVideo, Promo, etc. Not to mention WeVideo YouTube video maker, which integrates smoothly in YouTube and comes with an abundance of YouTube video templates to make video marketing on YouTube a breeze.
Video branding -

Branding

is essential to all types of marketing. It builds trust and connects you to your audiences. Consistent branding and style in your video marketing will make your business more recognizable on social wherever your video is played.
Elevate videos with stock media - With a WeVideo Professional or Business plan, you'll get over a million stock media files to elevate your videos for YouTube marketing. There's an abundance of free stock media in the library but sometimes you need and want more options. We have you covered, check out

Elevate your video: 5 stock music sites that have what you need

.
YouTube SEO optimization
As mentioned earlier, YouTube is the second-most visited search engine in the world and continues to grow as over 300 hours of video is uploaded every minute and 3.25 billion hours of video watched each month. With lifetimes' worth of content being consumed weekly, it's incredibly easy for a video to be uploaded and lost among the millions of other videos.
So how do you cut through the noise and ensure your YouTube videos get seen? That's where SEO comes in. There are certain elements of YouTube SEO best practices that are entirely in your control such as the title and description, and then there are other factors that are not, such as the video's engagement.
Keyword research
Keyword research is a critical first step prior to any of the SEO steps. A great way to get ideas and gain insight on keywords is to simply look at the titles and descriptions of other similar YouTube videos that rank at the top of the organic search results.
In addition to that, there are numerous free tools available such as TubeBuddy and Keyword Tool for YouTube. Either of these tools will provide a surface understanding of key phrases and questions related to a particular search term, with the option for a more detailed report via paid plans.
Video title
Your video title should be as descriptive as possible while incorporating your main keyword and constraining the character count to under 60. Along with the title, these are other key factors to take into consideration:
Video description - a piece of metadata that allows users to better understand what your video is about.
Video tags - just like a blog, the right keywords and tags will help categorize your video and make sure it gets to the right audience.
Video transcript - this is a full transcription of the dialogue in your video. If your script is heavy in SEO and short enough, it is worth putting in your video.
Engagement - data like watch time, likes, shares and subscribers can let you know how well your video and SEO research is doing.
Video thumbnails - the right thumbnail can hook viewers and will give them a reason to watch your video instead of others. Here's a thorough guide on

how to create great thumbnails for YouTube

.
Understanding YouTube analytics
Analytics may not be the most enjoyable aspect of creating on YouTube but it is a necessity. They allow you to better understand how your video and channel performs thus making it able to make changes moving forward. When looking at YouTube analytics there are a few tabs you'll want to focus on.
Overview
This tab is where you can find a summary of how your channel and videos are performing. You'll find key metrics like views, watch time, subscriber and, if you're in the YouTube Partner Program, estimated revenue. There'll also be reports on how new videos are performing compared to your channel's typical performance and real-time performance of your videos amongst others.
Reach
The reach tab will show you a summary of how audiences are discovering your channel and videos. Key metrics in this section highlight your impressions, impressions CTR, views and unique viewers. You'll find reports for how viewers found your content, sites or apps that link to videos from your channel, traffic from terms that brought viewers to your content and from suggestions that appear next to or after other videos.
Engagement
This key tab provides a summary of how long audiences are watching your videos. The Engagement tab shows watch time and average view duration. This is where you'll also find reports for top videos, playlists and the top posts from your Community over the previous 28 days.
Audience
Ever wonder who your viewers are and the demographic you bring in? This section is helpful to figure all of that out. You'll see returning and new viewers, unique viewers and subscribers. You can also find out key demographic information such as age, gender and geography. Plus, you can find out what other channels viewers watch.
Revenue
For those in the YouTube Partner Program, this tab helps keep track of your YouTube earnings. The metrics card shows your estimated revenue, RPM and playback-based CPM. You'll also find reports for monthly estimated revenue, how you're making money with YouTube and your top-earning videos.
Want to learn more about making money on YouTube? Check out: How to make money on YouTube.
How to run a YouTube advertising campaign
Now that you've established your YouTube channel and have a solid amount of videos that continue to grow in viewership, it's time to focus on ad campaigns. With YouTube, there are various types of video ads you can create. This is a way to reach audiences that may not be coming directly to your channel or have never heard of your brand before.
Types of YouTube ads:
Skippable video ads - Users are able to skip these video ads after 5 seconds of play.
Non-skippable video ads - These video ads must be watched before a video can be viewed. Typically 15-20 seconds in length.
Bumper ads - A short ad that cannot be skipped and is only up to 6 seconds long. Must be watched before a video. These ads are turned on when skippable or non-skippable ads are on.
Overlay ads - An image or text that appears on the lower 20% portion of a video. Only on desktop. Can be 468x60 or 728x90 pixels in size.
Display ads - These ads appear to the right of a YouTube video in the corner of the screen. Come in multiple sizes and formats like an image or animation.
YouTube video marketing is key to enhance your marketing campaigns. For more in-depth strategies on video marketing, check our complete guide to video marketing.