With 2.6 billion active users, YouTube is the world's most popular video-sharing platform on the Internet. But it's also wildly competitive — a whopping 30,000 hours of footage are added to the site per hour. So how can you stand out in the crowd? Many factors will contribute to your success, like having a point of view and shooting quality footage. But here we'll discuss choosing the best YouTube video editor for your projects. Because a smart take and dazzling cinematography will get you nowhere without pro-level editing.
More specifically, we'll make the case for why WeVideo is the top video editing app on the market (#flex), then dive into some tips and FAQs.
7 reasons WeVideo is the best YouTube video editor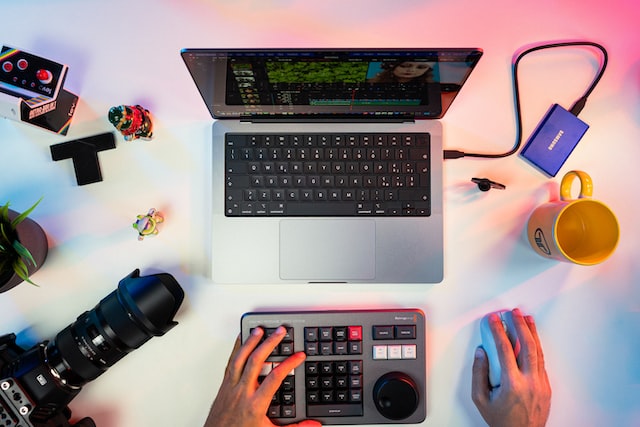 You don't need to be a movie-making genius to excel at video editing. Via Unsplash.
1. It's intuitive
Sure, big names like Adobe Premiere and Final Cut are fantastic video editors, but they can be tough to navigate if you're new to video editing (and even if you're not). WeVideo offers professional-level results for beginners and seasoned editors alike, with drag-and-drop features and easy-to-use editing tools like trim, split, merge, and flip.
What's more: Our video editor is designed to maximize productivity from start to finish. Import photos, footage, or music clips from, say, Dropbox or social media sites (or select from our 1M+ royalty-free assets), and export your finished product straight to YouTube without having to download it to your computer first.
Want to share your video on TikTok and Instagram, too? WeVideo automatically resizes content to the right aspect ratio for any platform. How's that for efficiency?
2. It lets you edit on-the-go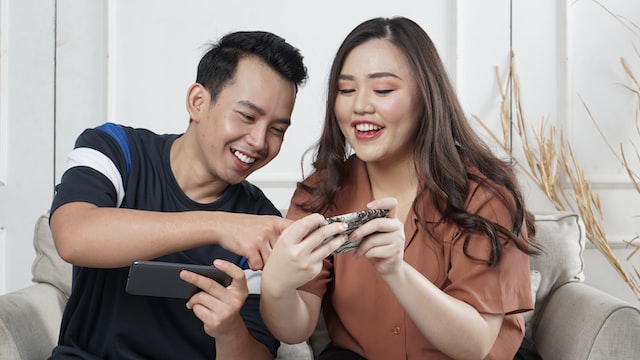 For easy-to-use video editing software that works on your phone, check out WeVideo. Via Unsplash.
Some video editors require a manual software download, but with WeVideo, a cloud-based program, you can edit from anywhere, including your phone (just download the mobile app for iOS and Android). All you need is a stable Internet connection and a bit of inspiration.
3. It features rad built-in effects
You don't have to be a Hollywood filmmaker to wow your audience with your video-editing magic. With our ready-to-use editing tools you can:
Transport viewers to the beach or add a branded photo behind

product promos

using the

green screen video editor

, which makes changing backgrounds a breeze.

Boost engagement through

animation

. In just a few clicks you can add

in-track transitions

, insert graphic overlays, and drop pre-made motion titles into your projects (plus customize them with your brand colors).

Choose from an array of eye-catching

filters. Want your YouTube video to be in black-and-white? Looking to add a blur effect? We've got you covered.
If you're not sure how to make the most of these video-editing tools, fear not: Our YouTube video templates make it easier than ever to create pro-level content.
4. It lets you screen record
Want to walk viewers through your company's onboarding process? Or give them an in-depth look at a new feature in your app? WeVideo's free online screen recorder is a key feature that lets you capture your full screen (or a specific tab) from your web browser. It also allows webcam recording, so you can talk directly to your audience while demonstrating, say, how to use a new product.
5. It's team-friendly
WeVideo is an online video editing solution that you can access from any device, which makes it ideal for collaborating with multiple video editors. With our Business plan, you can share files with up to three team members, give access to your timelines, and "meet" in a virtual screening room to discuss edits.
Want someone from your PR team to review your content before it goes out? With WeVideo, you won't need to send them a bulky, computer-crashing file. You can just ping them to log on.
6. It prioritizes branding
Build a brand kit and give everyone on your team access to logos, watermarks, fonts, colors, and branded templates—all in one place. That'll help establish visual consistency for your brand and spare you a million "can you send me the logo?" emails. Time is precious, people!
7. It's more affordable than other video editing software
Unless you're trying to be Steven Spielberg—which, who could blame you?—there's no reason to spend loads of money on a YouTube video editor. Thankfully, WeVideo offers plans to suit all budgets. Want to get your toes wet before making us your go-to YouTube video editor? Try our free version.
7 tips for editing a YouTube video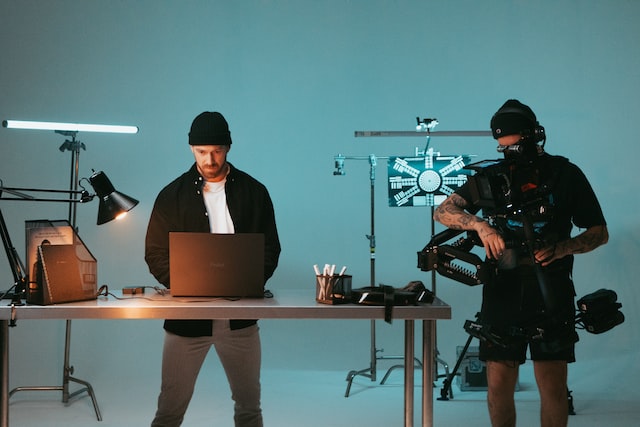 Only professional-looking videos will stand out in a crowd, but that doesn't mean you have to shell out for Adobe Premiere. Via Unsplash.
Once you've settled into your video editor, it's time to get to work. Follow the quick tips below to make sure your YouTube video makes a splash. (And while you're at it, check out our data-backed guide to video marketing.)
1. Tell a story
Before dumping a bunch of footage onto your timeline, think about the story you're trying to tell. What are the key points you want to get across? What is the tone you're looking to set? (The YouTube video you make to promote a hotel in New York City will be very different from the one you make to promote a property in Turks and Caicos.) Go forward with a clear understanding of your narrative—including its beginning, middle, and end—and the editing process will be much easier.
2. Cut the fat
Not every video has to be fast-paced and intense. In fact, if you're editing a piece about, say, a new meditation app, you might want your video to feel more relaxed than anything. But regardless of a video's pace, your finished product should never feel baggy or aimless. Trim unnecessary video clips until every frame of footage feels essential.
3. Add text, titles, and graphics
Good footage will only get you so far. Text, titles, and graphics bring your video to life and keep viewers glued to their screen until it's time for them to "like, comment, and share" (the holy grail of YouTube). Remember all those advanced features we mentioned above? Use them!
4. Make a killer intro
Without an attention-grabbing setup for your channel, you risk losing viewers before you even have them. Your intro doesn't have to be long or complicated—you're not recreating the opening credits of Full House. But it should be catchy, clear, and representative of your brand. Our YouTube intro maker can help.
5. Use b-roll wisely
Let's say you're shooting an interview with your company chemist. Footage of that interview is your main shot; footage of that chemist working in her lab is your b-roll.
This footage is essential to video editing for a few reasons:
It allows you to mask cuts.

This is particularly useful for interview footage, when you want to lift out distracting "uhs" and "ums" without creating a choppy viewing experience. Cut as needed and use b-roll to hide any jarring edits.
It offers visual stimulation.

No offense to talking heads, but they can be boring to look at after a while.

It bolsters your narrative. It gives the viewer context and/or additional information. Rather than just hear a chef talk about a famous dish, for example, we can see them making it in their kitchen.
6. Color correct
Your video won't look professional if the colors between each of your video clips don't match. To fine tune the color of a clip in WeVideo, double-click it in your Timeline to open the clip editor, then navigate to the color tab and start tweaking. You'll need to play around with the following color properties:
Brightness (overall lightness or darkness)
Contrast (the difference in color and brightness of objects)
Saturation (the intensity and purity of color)
Hue (the visible spectrum of the primary colors)
Temperature (the range of color between blue and orange)
Tint (the range of color between green and magenta)
Use this opportunity to make sure skin tones are properly represented, too.
7. Pay attention to sound
Audio shouldn't be treated as an afterthought in the video editing process—it's just as vital to the success of your content as visuals. With WeVideo, you can choose from a royalty-free library of music in categories like "inspiring," "playful," and "relaxing," and select from sound effects like fireworks, drumroll, and laughter.
Once you have your audio selected, adjust sound levels so that your viewers aren't hearing, say, a symphony of strings when they should be listening to what your interview subject is saying.
5 FAQs about YouTube video editing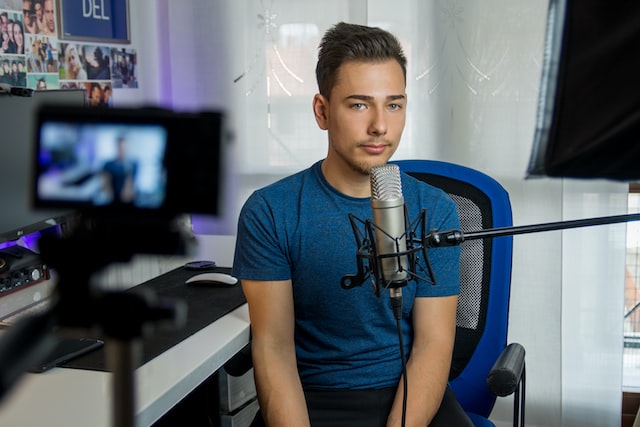 Behind every great video editor are great video editing tools. Via Unsplash.
1. Do YouTubers edit their videos?
The successful ones do, absolutely. (Do you have time to sit through aimless video footage that hasn't been cut and shaped? Nobody does!) A scroll-stopping YouTube video is blu-ray ready and seamless.
2. Which video editors do YouTubers use?
It depends. Some YouTubers use Apple iMovie, which is free to use with Mac operating systems, or other free video editors; others rely on professional-grade software like Final Cut Pro or Premiere Rush. We happen to think WeVideo is a feature-rich option that suits amateurs, experts, and everyone in between.
3. Does YouTube have video editing software?
Yep, YouTube offers free video editing software. But its key features are very basic and leave much to be desired. With WeVideo, you get a beginner-friendly interface with more advanced features.
4. Is it hard to edit videos for YouTube?
It doesn't have to be. With a little practice and the right video editing software (ahem, WeVideo), you'll be cranking out quality content in no time.
5. Can you edit YouTube videos on any laptop?
Ordinarily, no—video editing usually calls for a powerful computer processor. But with WeVideo, that's not the case. Because the editing software is browser-based, it needs only a solid internet connection for editing videos.
Bottom line
YouTube presents an enormous opportunity for brands and creators alike. But for your work to stand out on the popular platform, it needs to be well edited. No matter what your experience level, WeVideo's web-based video editing software can help!