In the span of a few short years, TikTok has catapulted itself into the big leagues of video content platforms. What was once a niche corner of the preteen internet has now become an app that even massive enterprise organizations can't ignore.
But can TikTok really compete with an industry leader like YouTube? And if so, which platform is better for your business?
In this TikTok vs. YouTube showdown, we're breaking down the competition so you can decide for yourself. You'll find out how these two video platforms stack up across five key points:
Let's get to it!
1. Background and purpose
Although they're both video platforms, TikTok and YouTube are actually quite different. Understanding the basic differences is the first step to choosing the right one for you.
TikTok: Social media first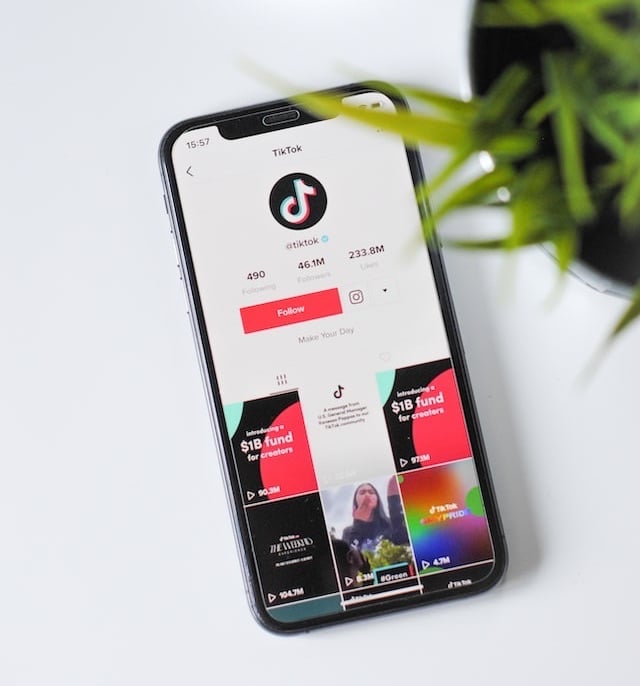 TikTok is first and foremost a social media app. / Image: Hello I'm Nik on Unsplash
Released in 2016, TikTok is one of the newest social media players worldwide and today has over 1 billion active users. TikTok's parent company is Bytedance, based in China. (FYI: there, TikTok is known as Douyin.)
TikTok is first and foremost a social media platform. While videos are part and parcel of that platform, the main emphasis is on all the typical social things:
Entertaining users and keeping them on platform
Giving users a means of self expression, identity building, and social signaling
Encouraging users to directly interact with each other
Enabling users to curate their own profiles and feeds
Allowing users to build on, rehash, and remix existing content
In terms of likes, shares, and followers, many of the same dynamics that exist on, say, Instagram also exist on TikTok. And like Instagram, TikTok is designed for the mobile experience.
YouTube: Video search engine first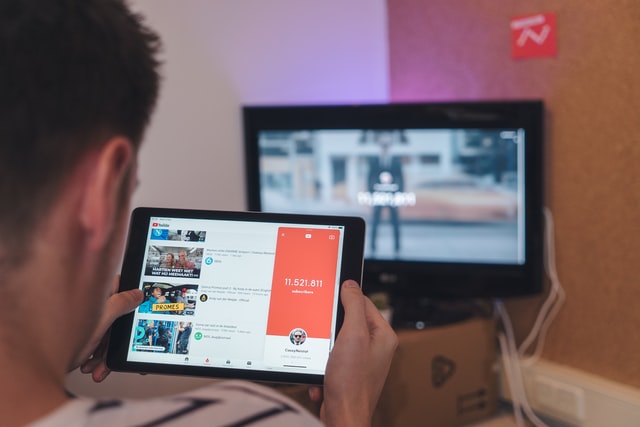 YouTube is more of a video search engine. / Image: CardMapr.nl on Unsplash
YouTube was founded in 2005 and today boasts over 2 billion active users—who since 2017 have watched more than 1 billion hours of content every day. YouTube's parent company is Google, based in the United States.
Unlike TikTok, YouTube is not primarily a social media platform. While people do watch YouTube to be entertained (and can do social things like sharing and commenting), the platform serves up more than entertainment alone. Many users go to YouTube to find specific information and to learn how to do things.
If TikTok is more of a classic social media app with search capabilities, then YouTube is more of a classic search engine with social capabilities.
2. User demographics
When deciding whether TikTok or YouTube is better for your organization, the first question to ask is this: who's on the platform?
TikTok: Dominated by Gen Z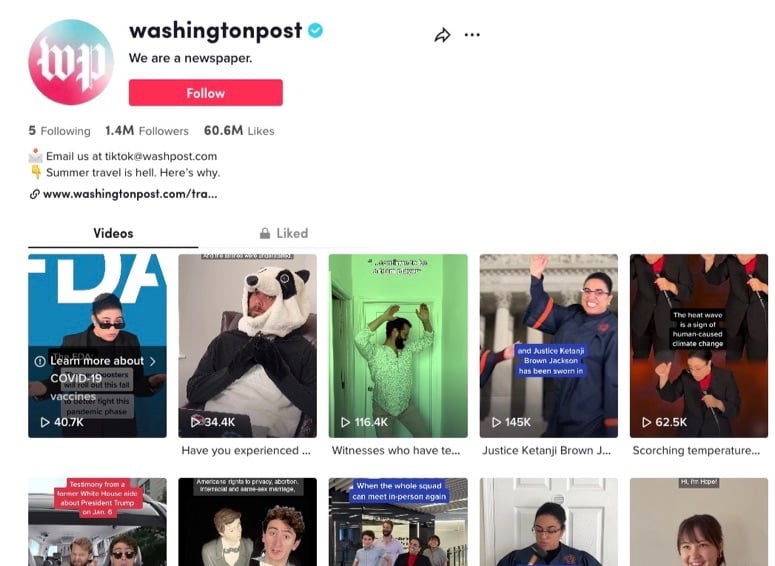 Even "serious journalists" like those of The Washington Post speak Gen Z on TikTok. / Image: Washington Post TikTok
From the start, TikTok has targeted younger users; in the United States, nearly 50% of users are under the age of 30.
While TikTok's average user age is trending up, it's still a very young base whose age is reflected among the platform's top creators like Charli D'Amelio, Khaby Lame, and Addison Rae.
The most successful brands on TikTok understand this younger market and take a more Gen Z approach to marketing. You'll find that many TikTok videos are goofy, bizarre, cynical, activist, meme-ish, inclusive, authentic, and super self-aware.
YouTube: Popular with all ages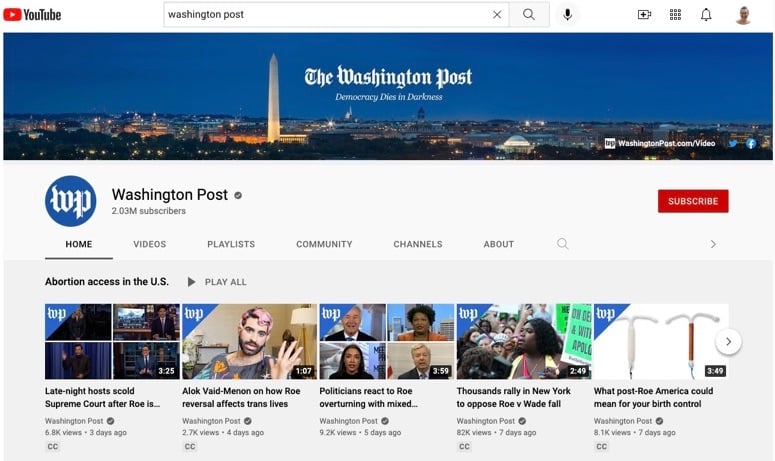 The Washington Post's YouTube channel is much more buttoned-up than its TikTok profile. / Image: Washington Post YouTube
In general, YouTube's demographic is more diverse than TikTok's. Although younger users are still a big part of Youtube's audience makeup, older users are significant as well.
In the United States, 49% of people aged 65 and older use YouTube—a figure that is certainly not the case for TikTok. Moreover, YouTube is also growing in popularity among the older demographic, with a growth rate 80% higher for users 55 years and up.
YouTube's more diverse viewer base is reflected in its list of most-subscribed channels, which range from India's largest music label T-Series to Cocomelon's infant nursery songs to video game personality PewDiePie.
3. Content opportunities and limitations
Another big question for evaluating TikTok vs. YouTube revolves around the content on each platform. What is possible, and what works best?
TikTok: Short, on-trend, collaborative & eclectic
TikTok is known for short, energetic, and entertaining videos. / Image: Ron Lach on Pexels
Length & trends
Perhaps the most important thing to understand about TikTok content is that the landscape is constantly changing. TikTok videos are short—10 minutes or less—and the trend lifecycles are even shorter.
What's popular this month may not be popular next month, and what's popular today may not be popular tomorrow. One writer from Vox has rightly called TikTok's microtrends "a ceaseless tornado."
Collaborative features
Part of why microtrends take off so quickly on TikTok is the platform's highly engaging person-to-person features, including:
Stitch

, where you can replay and respond to another user's video

Duet

, where you can record yourself alongside another video
Direct messaging (AKA DMs)
Features like these are probably why TikTok sees more engagement than any other social platform. Socialinsider found TikTok engagement rates to be five times higher than Instagram!
Content types
TikTok first became popular for its dancing and lip syncing videos, which still perform well today. Other popular content includes:
Movie scene reenactments
Challenges
Short comedic acts
Quick tips (beauty, fashion, skincare, etc.)
Pranks
Aesthetic
TikTok videos tend to feel more authentic and homemade compared to YouTube.
Many TikTok creators exclusively use the built-in features—like green screen, jump cuts, time warp, text, etc.—to customize their videos. Those who want to get a little fancier may start with more advanced video editing software (like WeVideo's TikTok video editor) before uploading to TikTok.
The end result is a TikTok feed with an eclectic mix ranging from DIY to super-polished, with each aesthetic being more or less equally acceptable.
YouTube: Longer videos with more topics and more polish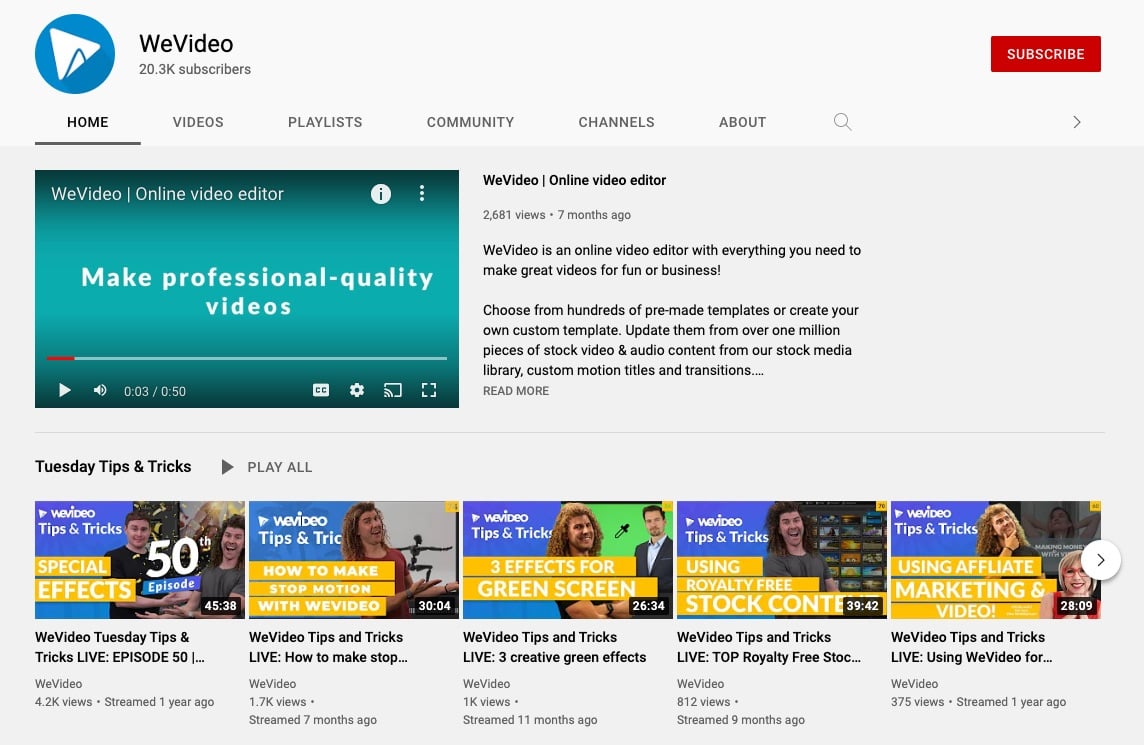 On our own YouTube channel, we try to showcase a diversity of content, length, and style.
Length & trends
The TLDR of YouTube content? Pretty much anything goes. Whereas TikTok videos are restricted to 10 minutes or less, YouTube videos can be as long as 12 hours (if your account is verified).
And while YouTube does have its own share of trends like any platform of user-generated content would, the pace is far slower than TikTok. To please the YouTube algorithm, focusing on quality content is much more important than hopping on the latest trend.
Content types
Because videos can be so much longer, there's ALL kinds of video content on YouTube.
You'll see a lot of the same general topics as TikTok—e.g. reaction videos, comedy sketches, music videos—but also lots of longer-form and more in-depth content such as:
Tech training
Audiobooks
Movies and TV shows
Sequenced courses
Gaming livestreams
Interviews
Docuseries
Aesthetic
Generally speaking, YouTube videos tend to be more polished than TikTok videos. Especially for corporate accounts, videos often include pro edits such as:
Outro screens
Logos/watermarks
Motion graphics
Animations
These expectations are changing (especially with the growth of YouTube Shorts and live streaming), but for now, most viewers expect companies' YouTube content to be professionally branded.
YouTube does offer a few very basic video editing options such as intro screens, thumbnails, and cards. Many companies, however, choose to use a more fully featured platform like WeVideo to do most of the professional edits before uploading to YouTube.
4. Content sharing and access
Want to restrict video access to a particular group or department? Then it's important to understand what your options are.
TikTok: Access based on follower approval
TikTok offers two main ways of maintaining privacy:
In order to make use of these privacy settings in practice, you'd have to approve all employee accounts as followers on TikTok.
Another notable point in terms of content sharing is the fact that TikTok offers an optional download button for videos, which YouTube does not.
YouTube: Access based on direct URL or email
If you'd like to publish content but hide it from public search results, YouTube offers two main levels of privacy:
Unlisted: Your video is not visible in search results but is visible to anyone with the direct URL.
Private: Your video is only visible to specific email addresses you've invited.
Unlike TikTok, YouTube users do not have to be approved followers in order to view restricted content. You're also able to set more precise restrictions by adding individual email addresses rather than blanket-restricting or -approving all followers.
Larger organizations would almost certainly find YouTube's privacy settings easier to manage at scale.
5. Marketing and advertising opportunities
Whether you're a solopreneur or large business, there are about a million different ways to leverage video throughout your marketing, advertising, and sales processes. So how does each platform stack up?
TikTok: Mostly paid ads and sponsorships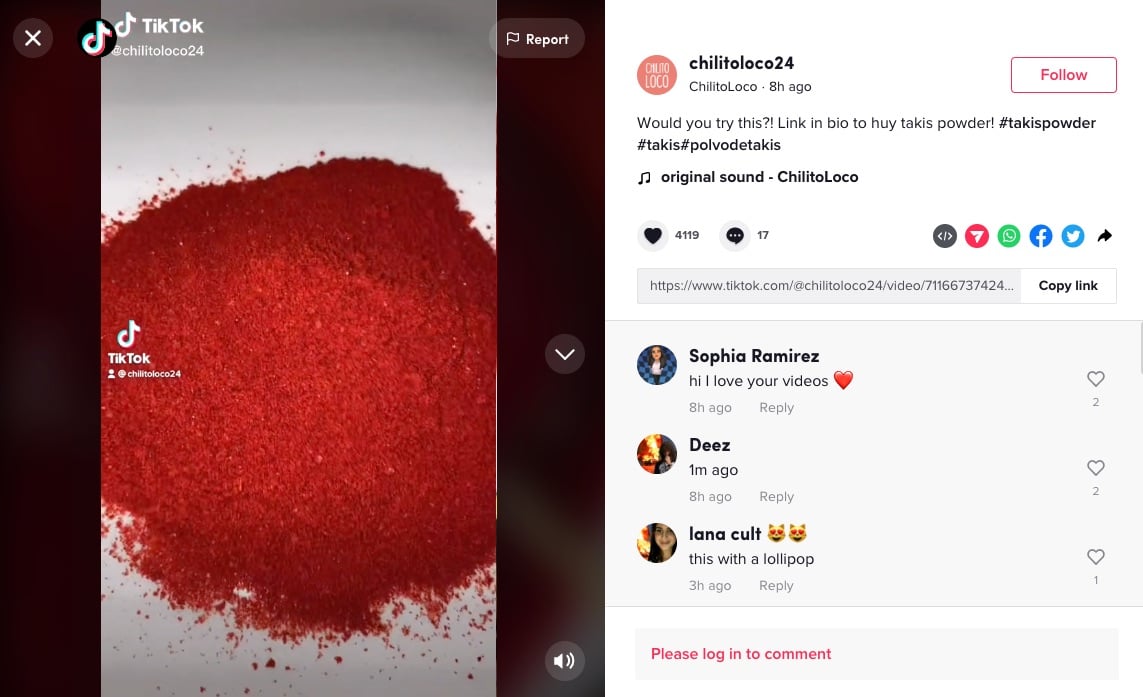 Outside of paid ads, "link in bio" is one of the few ways to drive a viewer to take action on TikTok. Image: @chilitoloco24
TikTok offers a ton of paid ad opportunities ranging from boosting existing content and sponsoring creators to creating custom augmented reality (AR) effects. (Think Snapchat filters but branded.)
In terms of non-paid opportunities, though, TikTok is more limited.
Business accounts can link to their website from their profile, but there's no way to link from an individual video caption. You also cannot suggest a next video to watch or crosslink to other videos.
The most direct call to action possible? Write a video caption (or perhaps include it in the script itself) driving people back to the link displayed in your main profile.
YouTube: More robust tools and greater flexibility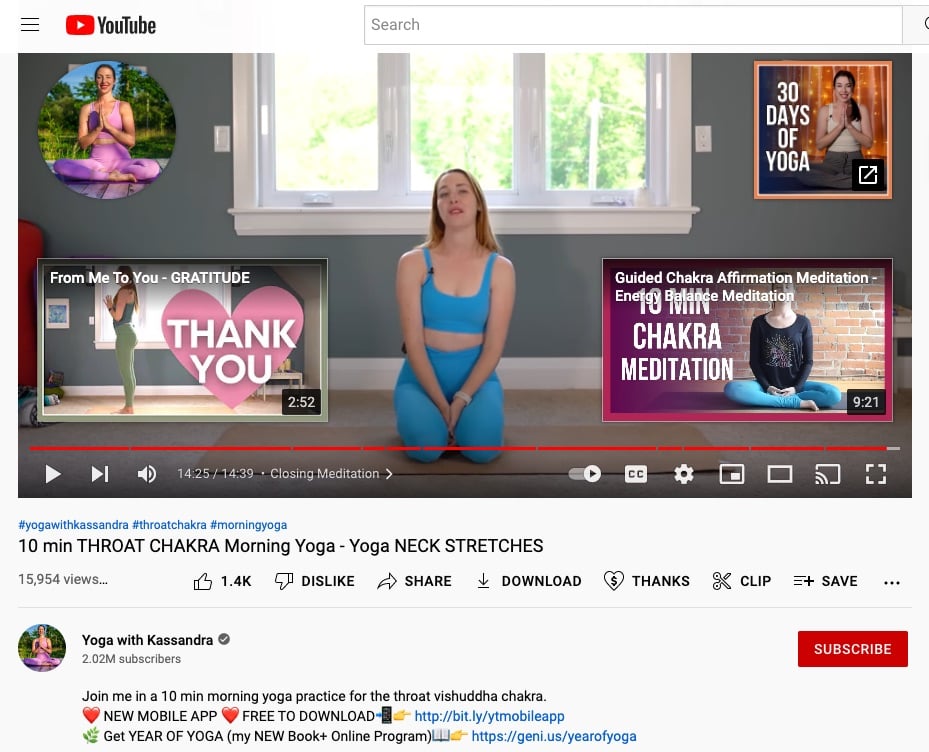 Yoga with Kassandra takes advantage of video cards and descriptions to drive sales and continued engagement.
YouTube also offers a huge array of paid ad opportunities, which are similar to TikTok in terms of in-feed placement and audience targeting. Where YouTube stands out is non-paid opportunities.
Compared to TikTok, YouTube gives much more freedom for businesses to leverage their video content throughout their marketing and sales funnels. For instance, you can:
Add video cards to suggest a next video to watch
Link to any external site in video descriptions and/or

in-video info cards

Write long-form copy in video descriptions (good for direct sales)
Make an offer for free downloadable content in video descriptions (good for warm lead nurturing)
Reply to comments with links or offers
Another unique option for YouTube is paid channel memberships, where you can offer monthly subscriptions from $.99 to $99.99. This is yet another way to leverage your videos on YouTube, this time as a direct customer acquisition tool and recurring revenue source.
TikTok vs. YouTube: What's the final verdict?
Ultimately, the decision between TikTok vs. YouTube will largely depend on what your company or organization is looking to accomplish.
Want to gain B2C brand awareness by directly engaging and entertaining a younger demographic? Then try TikTok. Looking to create longer-form content that works within a more complex lead funnel or B2B environment? Your business should be on YouTube.
Or maybe the best answer is both! Since these two platforms are so different, both could be worked into a smart multi-channel video marketing strategy.
If you're still on the fence, here's a quick recap to help you decide:
TikTok
YouTube

Short videos (10 minutes max)
Fast-paced trend cycles
Younger users
Emphasis on humor and entertainment
Interesting collab features like Duet and Stitch
Basic privacy settings based on account followers
Lots of paid advertising options but fewer CTAs available

Short or long videos (12 hours max)
Less importance on current trends
All ages of users
All types of video content
More versatile options for sharing private content
More ways to include direct calls to action and sales offers in video content