Create a YouTube intro video that is outstanding and eye-catching!
People love watching YouTube for educational content, funny videos and advice. And for creators looking to make their videos as professional as possible for their audience, a YouTube intro is just what you need to elevate your brand.
The question is, how do you make an amazing YouTube intro video?
First, you don't need expensive equipment or software to make a great intro. You just need creativity and the right tools.
It's easier than you think, and we'll show you how in this article.
WeVideo will help you make professional-looking YouTube video intros with your computer using their easy editing interface. Plus, its motion graphics library has many free animations to choose from, so you can personalize your intro any way you like!
But if you're looking for ready-made intros that you just want to insert into your current video editing project, we've got you covered as well, so keep reading.
What is the purpose of a Youtube intro video?
YouTube is the most popular video sharing platform around. It has a huge audience and it's a widely used platform for marketing purposes.
An introduction video is a short video that lets viewers know what your channel is about. It can also be used as an advertisement for your niche-specific brand, or as a way to introduce your personal brand.
The intro provides viewers with information about who you are and what you offer them. The video should be engaging enough to make viewers want to watch more videos from you!
How long should a video intro be?
The length of a video intro depends on the type of video you're making, the kind of message you're sending, and how you want the viewer to feel watching it.
But there are a few general rules that can help you determine an appropriate length for your video.
Instead of going off a specific time frame, it's best for you to think about what your message is and how long it should last.
If you're making a personal brand intro with a bit of a story to it then 10 seconds could be enough.
But if your intent is to build brand awareness with a logo, then a maximum of 4 seconds or even shorter is not off the table.
How do I put my intro in my YouTube videos?
WeVideo is a great platform for creating YouTube videos. It provides a lot of tools you can use to create your videos in just minutes.
It also enables you to easily upload your videos to YouTube, Facebook, Instagram, and other social channels as well and has a cheap monthly cost without the need for a beefy computer.
How do I make a YouTube intro video?
YouTube intro videos are a great way to introduce your channel to the world and establish yourself as a serious brand that is worth spending watch time on.
You can include text, music, video shoots, and photos in a creative way, and it all depends on what you're introducing.
For personal brands: Create a unique intro that established who you are, what you do, and why a viewer should invest in watching your channel.
For niche-specific brands: Create an intro video that established the channel's brand, preferably as quickly as possible.
We'll cover both below!
YouTube intro videos for personal brands
WeVideo has the ability to help you create an introduction video for your YouTube channel that will help you improve your brand.
With it, you can choose from a variety of templates, add your personal touch with your favorite colors and font, and add your footage. This intro will help promote what makes you so special and capture the attention of viewers!
It has templates designed to fit any type of content and its intros are perfect for channels that want to promote themselves or their products.
How to get started with WeVideo
WeVideo is a video creation tool that allows users to create short intro videos as well as full YouTube tutorials.
From business owners to freelancers, this online video editing software provides an easy-to-use interface for creating videos that are engaging, informative, and entertaining.
The best way to get started making your own YouTube intro videos is just by clicking "Sign up" at the top right of the screen and uploading your videos.
You can also follow the easy-to-follow tutorial on how to make your first video in 5 simple steps!
Step 1. Pick a template and customize your intro with simple drag & drop tools
In order to make your video intro as memorable as possible, it's important to choose the correct music and intro graphics.
WeVideo offers a simple and easy way of customizing intros for your videos and clips with its YouTube video templates and drag & drop tools.
It's really easy to use and you can change everything from colors to fonts! The app also allows you to choose from various background images and royalty-free stock video footage for your YouTube videos or clips.
To get started, once you're signed in, head over to the template sections and browse through a huge library of ready-made templates, pick the one you like and start customizing, or just take inspiration from them!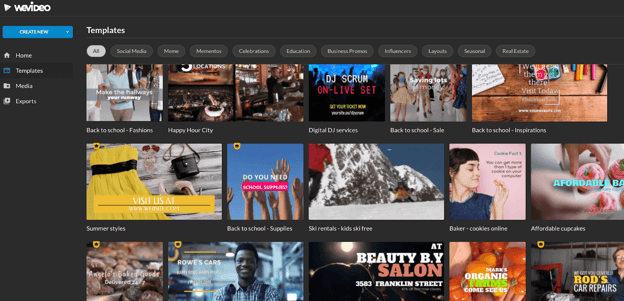 They also have a bunch of these intros on YouTube so make sure to go through the video templates for marketing playlist to get a feel for how the templates look.
Or feel free to visit their YouTube templates page to customize your videos directly.
In our example, we'll choose this one: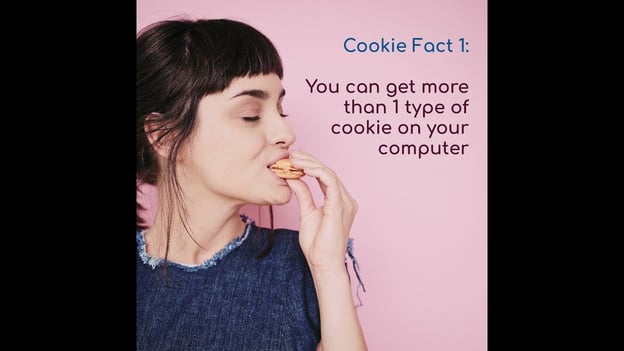 Step 2. Adjust your video with fonts and colors to match your branding needs
Once you find a template you like in the templates section, simply open the project by clicking on it. We chose the 'Baker - Cookies online' template.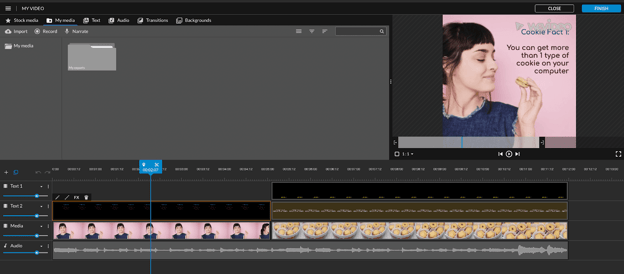 In the second step, it is important to adjust your video to match your brand. You can use fonts and colors that are similar to your logo or that you have been using on your social media posts.
You can change the background color of your video to match your brand or business, change fonts for titles, subtitles, and captions that are relevant to the type of content you're creating, and more!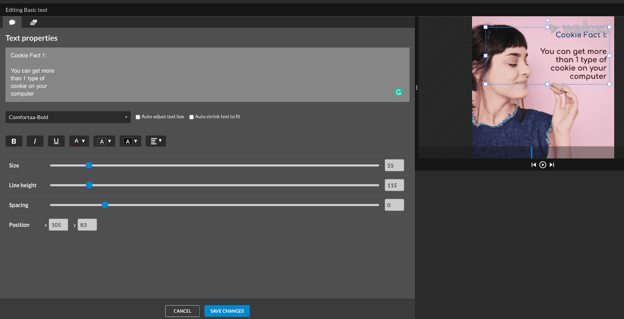 And of course, if you want to use your own video shots when making a YouTube intro for your personal brand, you can easily swap out and put them in there as well, just make sure that you use a great camera for YouTube videos.
Templates make the whole process a lot easier once you see one that fits your style and needs, and the template library is huge so you'll most likely find something that you like.
Step 3. Save & export to YouTube without even having to leave the app
Once you've got your intro section nailed down, continue as you normally would with the rest of the YouTube video.
The neat part is that you can export your video to YouTube directly from WeVideo.
It's a great way to make sure that your content is ready for upload without even having to leave the app, downloading huge files to your laptop, and re-uploading it to YouTube which saves a ton of time.
You have just finished creating a great YouTube intro, congratulations!
Grow your audience with a YouTube intro video that is uniquely yours
It's not uncommon for YouTube to have around 1 billion visitors per month. The only problem with this is that the competition for these views and subscribers is tough and getting tougher by the day.
The thing about YouTube is that you're not just competing with other YouTube channels, but also with non-related channels like news, cooking, or travel videos.
This is why you should consider taking the time to create a unique YouTube intro that resonates the most with your target audience and your own brand as well. It might even be a good idea to create your own background music to stand out even more.
Peter McKinnon, with over 5 million subscribers does an excellent job with his YouTube videos, watch the intro below and take inspiration for your own videos: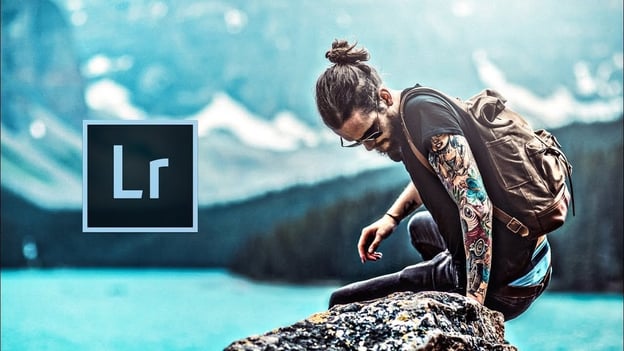 https://youtu.be/yQBGDRAYRJs?t=44
Create a first impression that is both engaging, telling, and memorable. Do that and not only will the viewer take your channel seriously, but they'll also come back for more!
Author bio
Chris Starkhagen is an engineer turned entrepreneur, bringing tech expertise to digital marketing. On ChrisStarkhagen.com he writes about the best tools for content creation, productivity, mindset, and raw marketing advice that works.