This past weekend (September 7-8) marked the 48th annual Mountain View Art & Wine Festival, bringing upwards of 150,000 attendees to Mountain View's popular Castro Street area. The streets were buzzing with community members and families coming out to enjoy the endless selection of talented artists, vendors and musicians while also sampling delicious foods and wines.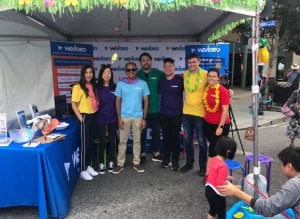 WeVideo was proud to support the local community for the second time in as many months. We showcased our video platform to the community and entertained passersby with our emoji photo booth, tropical theme, and the hugely popular - and surprisingly difficult! - duck fishing game.
Children were especially attracted to the WeVideo tent to try their luck catching a duck in the fishing pool at the front of the booth. While several grownups also tried their luck catching a duck, the kids got a chance to win some candy or fun WeVideo stickers by playing, with some little guys coming back several times over the course of the day! (We apologize to all the parents who had to drag their toddlers away from the game. Maybe next year we'll let parents play to win a wine booth ticket as recompense!)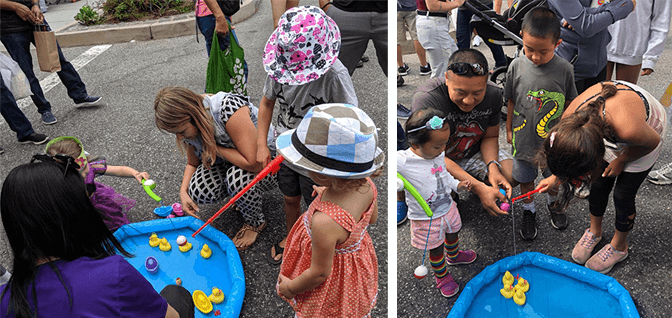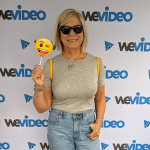 It was especially nice to hear that many of the kids and teens knew WeVideo and loved using it in school for their projects. We also got to meet one of our amazing teachers, Katie Adelman, a humanities teacher at Dartmouth Middle School in San Jose, who stopped by on Saturday. Katie was incredibly excited to share how she's been using WeVideo in her classroom for about 5 years. She loves using the tool, seeing the changes in the platform, as well as shaping new ways for students to use it.
Not only did we love hanging out with the community at the WeVideo booth, but we were also thrilled to serve as volunteers pouring beverages at the Mountain View Chamber of Commerce beer tent. Amy, Andrew and our brand new team member, Elise, spent Sunday afternoon pouring beers, enjoying the sunshine and chatting with local residents.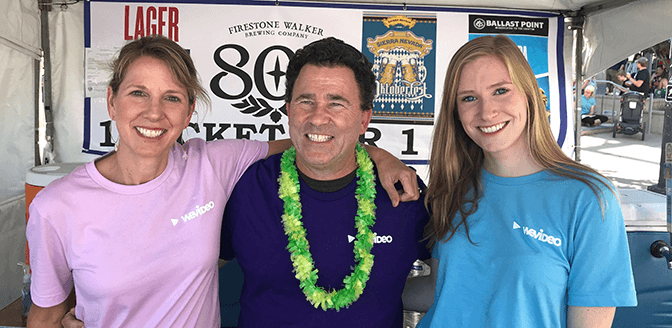 As we approach the one-year anniversary of moving our headquarters to Mountain View, we are once again reminded that this move presents us with an amazing opportunity. Not only have the residents and the Chamber of Commerce been incredibly welcoming, but our team members have loved experiencing and becoming a part of such a diverse, eclectic and innovative community.
We look forward to further engaging with our community members. Cheers!