On July 16, our team was thrilled to attend the City of Mountain View and Mountain View Chamber of Commerce's 5th Annual Technology Showcase. What a great event! Special thanks to those of you who came by in person to meet us.
This one-day event brought local tech businesses to connect and educate over 1,000 community members on the latest products and technologies. WeVideo was there along with Google, Facebook, Linkedin, NASA Ames Research Center, and many other local tech startups and small businesses.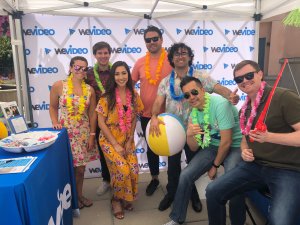 "We had an incredible line-up of Mountain View businesses participate in this year's Tech Showcase! This annual event is co-hosted by the City of Mountain View and the Chamber of Commerce and is a really unique, hands-on, free event designed for audiences of all ages. There were over 50 exhibitors showcasing the incredible products and apps being created right here in Mountain View," said Dawn Maher, COO of Mountain View's Chamber of Commerce. "The fantastic crew from WeVideo stood out with their energetic, festive Hawaiian themed booth and cool user-friendly app that many of us have already downloaded. We are already excited about next year's event!"
Check out this video of the event featuring Bruce Humphrey, CEO of Mountain View's Chamber of Commerce.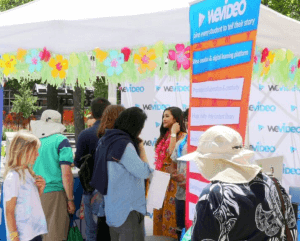 Since we recently moved our headquarters from Menlo Park to Mountain View, this was the first local community event we attended, and we can't wait to support and attend many more in the future! We loved meeting all the friendly faces in the crowd, seeing what's hot in tech and raffling off two WeVideo subscriptions to local businesses based right here in Mountain View.
"It was incredible to see the level of engagement and connections we made with the members of our community at this event, and we look forward to contributing even more to the city of Mountain View in the future," said Amanda Falcon, Marketing Manager at WeVideo.
We're always looking for ways to support and serve local businesses, organizations and the community. Not in our neighborhood? Check us out on Instagram (@WeVideo) and Facebook to see where we'll be visiting in the future...we frequently attend conferences and events across the U.S. and hope to meet you soon!