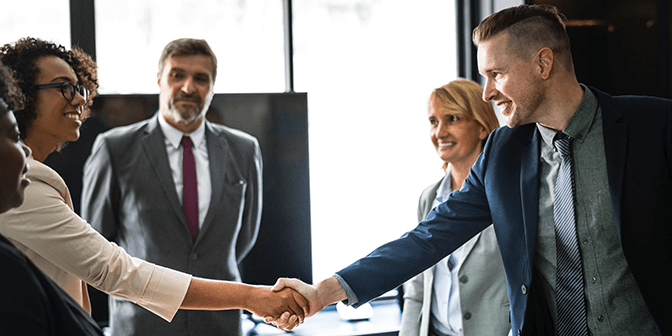 There are many different approaches to building a successful brand. But when you look at some of the biggest international brands today (Salesforce, Patagonia, Hubspot, and Zappos, to name a few) they all have one thing in common: they've firmly established their credibility with customers. Establishing credibility is important for any business looking to acquire more customers, and it's critical in order to become an industry leader.
It's easy to point out a brand leader like Coca-Cola and list examples of what they do well now. But how did they get there? Credibility most certainly played a big role. For businesses working toward becoming a trusted brand, these three things help establish credibility.

1. Honest, insightful thought leadership
Knowing your trade inside and out is key when building your brand and, ultimately, establishing your company as a credible leader in your industry. But industry knowledge alone isn't enough. To establish brand credibility, honesty is vital. Make it a priority to be transparent and sincere with your leads and customers. In other words, be authentic!
A great way to establish yourself or your brand as a thought leader is to routinely share your knowledge and expertise with your target audience and community. There are many ways to share your knowledge, but one of the best ways to do it is with video.
Audiences retain 95% of a message when they watch it in a video, compared to only 10% when reading it in text. Plus, the average user spends 88% more time on a website with video and according to Forrester Research, it's 50x easier to rank on the first page of Google search results with a video. That said, your website shouldn't be the only place where you share your video content. YouTube is a great resource to build brand authority and grow an active community of prospects and customers.
Aside from video, you can also share your company's industry expertise by creating a blog and posting articles on your website, LinkedIn, Medium, etc. Booking speaking engagements at conferences, webinars and industry forums is also beneficial. Lastly, podcasts are a great way to spark conversation and share your thought leadership. Once you start building an active presence on any of these channels, you can cross-promote your content on social media sites like Facebook, Instagram and Twitter.
2. Confident, clear and consistent communication
In addition to thoroughly understanding your product and industry, you should be able to communicate your insights confidently, clearly and consistently. Your brand's messaging should confidently convey what your brand does and why, no matter what channel or medium you use to get the message across.
Identify your brand voice and stay true to who your brand identity is. Take the time to evaluate your brand's strengths and differentiators and write it down. Next, do your best to make those points as straightforward and simple as possible. This exercise might take a bit of time, but the effort is worth it. Better yet, create a video! Just keep in mind the type of video you're creating and the appropriate length. Finally, know your audience and tailor your message to resonate with them… confidently, clearly and consistently!
3. Trust from your audience
Gaining trust from your audience is arguably the most important factor to establish brand credibility, and it's also the most difficult to obtain. When shopping for a new product or service, people often check reviews to see what other customers have to say about the product and buying experience.
Did you know that video product reviews get the most views on YouTube? In fact, the highest-grossing YouTube channel of 2018 is RyanToysReview, a seven-year-old boy who reviews toys. While you have no control over 3rd party websites and channels, you can control what's on your website. It's a good practice to list customer testimonials somewhere on your website, either on the home, product or contact page. And if you have video testimonials to share, lead with those first.
Of course, you may not have any testimonials when you're first starting out and that's okay. If you're ready to start collecting some, ask customers for feedback on what your company did well and what you can do better. If you have a satisfied customer, you can ask them to leave a review. Whatever you do, don't write fake testimonials. This all goes back to the whole honesty thing.
As cliche as it sounds, the key to building your brand's credibility is treating people the way you'd like to be treated. So what are you waiting for? Start putting your brand name out there and go get started!