The year is 2004. Facebook hits the digital world and society flocks from Myspace and Club Penguin to a platform where you can post interactive, real-time, emoji-based check-ins, random day-to-day musings, and awkward selfies at the mall.
Fast forward 18 years. Facebook has officially become the world's largest and most active social media platform, with 2.936 billion monthly users for recreation and business alike. As a result, it's no surprise that businesses today rely on Facebook video ads for customer acquisition, traffic, lead generation, and conversions.
There's no better way for businesses to effectively access 59% of social media users in one fell swoop. So whether you're optimizing your Facebook video ads or starting from scratch, we'll cover the following:
Facebook video ad length
How to add captions to Facebook video ads
How to make Facebook video ads in 6 quick steps
Facebook video ad FAQs
Let's get to it.
How long are Facebook video ads?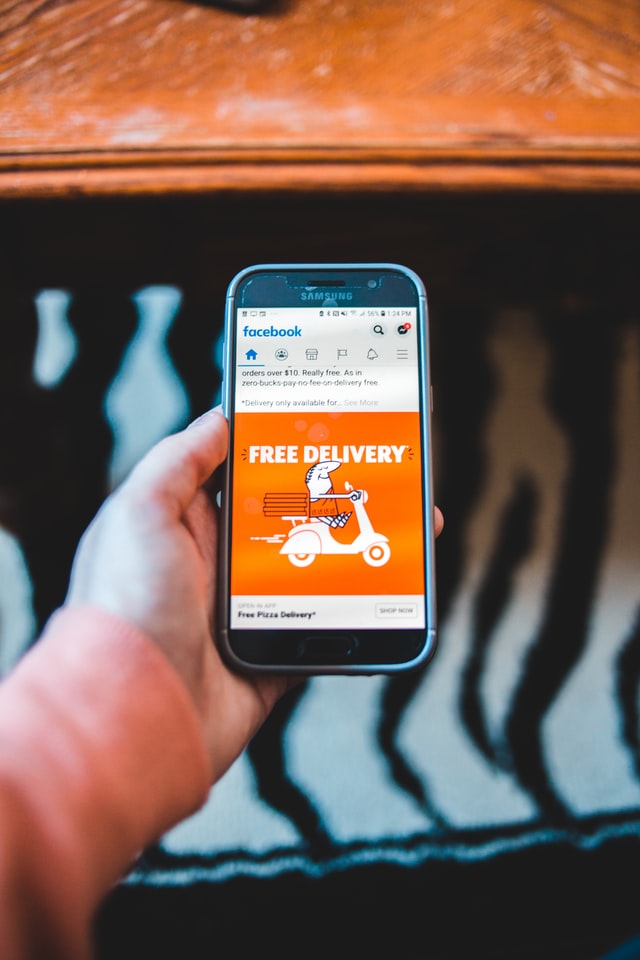 Captivate the masses in under 15 seconds? Challenge accepted. Image via Erik Mclean.
Society moves fast but everyone can spare 5-15 seconds. In fact, platforms like Facebook rely on newsfeed scrollers who pop on and off the platform countless times a day. Your goal as a business? Cater to human habit, tendency, and desire.
It gets better. 65% of people who watch the first three seconds of a video are the most likely to watch at least 10 more seconds. But from there, percentages start dropping. While it may seem disconcerting to have to impress in the blink of an eye, these facts result in pristine marketing practices.
5 quick tips to get you started? You got it.
1. Introduce your brand right away
Beyond the expected, "Hi, I'm Brad and this is my company," consider other ways to introduce your brand right off the bat, like using logos, images, or text.
Here's a memorable example for a duty-free nail-polish ad.
You don't need tons of text—or time—to make a lasting statement. Via James Richardson.
The brilliance of this video ad is multifaceted. In addition to its brevity, Essie is one of the top nail polish brands out there, which—advantageously—no one needs to know for this ad to land. Secondly, you'll know a great video ad when language barriers are proven irrelevant. In other words, effective video marketing is universally understood, regardless of culture.
Last but not least, it's abundantly clear this is a travel demographic. There's no better indicator of ineffective ads than those with confused target audiences. Here, the widely recognized flight attendant call button "ding" offers an immersive and relatable experience and tells a story all at once.
2. State your mission
Ads without a clear purpose…aren't really ads. Establish immediate value with a quick brand intro (either visually, audibly, or both), then highlight the problem you're solving. Avoid being too direct, as ads are designed to be suggestive, not aggressive.
Here's an example of a non-invasive, yet still confrontational video ad.
Pair text with a catchy, upbeat, age-appropriate tune to share your message. Via oBeEwNn
While this video is youth-focused, parents are the ones seeing—and acting on—these Facebook video ads. To accommodate both, this video is dually crafted with kid-friendly music and parent-friendly messaging. Plus, the scroll effect mirrors the user experience, establishing who the ad is for.
You'll notice in this ad, the text, while minimal, is the predominant storytelling asset. "Do better," a phrase used in the video, could seem aggressive in another context. Here, it gently nudges parents towards conscious spending.
3. Manage your video ad campaign
Intentional video marketing is the antithesis of passivity. Using data-driven insights, like key performance indicators (KPIs), help you dictate how to start, what is and isn't working, and how to refine going forward.
Trackable Facebook video ad data can measure the following:
How many views does this ad receive?
Who is the predominant demographic?
How are the ads performing over time?
What is the click-through-rate (CTR)?
What are the best days and times to post?
Are the ads cost-effective?
What is the cost-per click (CPC)?
What is the average sales conversion rate?
Sure, immediate results show up in the form of likes, views, follows, and shares, but back-end analytics mitigate uncertainty while solidifying success areas.
Unlike posting a random video once in a while, running a Facebook video ad campaign creates structure over a period of time. Usually, the first 1-2 weeks can indicate trajectories and from there, businesses can plan out 90 day campaigns.
As you continue tracking results, assess your retention rates and let that steer next quarter's campaign strategies.
To jump on your Facebook video ad campaign fast, follow these initial steps.
1. Create an ad account
Customize and manage your Facebook ad account for a particular goal or demographic.
2. Facebook ads manager
Utilize Facebook ads manager to create new campaigns, analyze, edit, and schedule future ads.
3. Consider ad placement
Your placement will depend on your type Facebook video ad—feed, stories, in-stream, etc. And while you have the choice whether your ads are viewable on all devices or just desktop, you know the right choice (go for all).
4. Set a schedule and budget
All strategic business content—whether for social media, email marketing, or blogs—should schedule posts for ample optimization. Different demographics visit Facebook at various times, so cater to them with intentional posting structures.
Of course, your content schedule and budget are interlinked. Depending on your financial resources, your content plan may dictate your budget, or oppositely, your budget can inform your content plan.
4. Cater to mobile device users
98.5% of Facebookers use the mobile app and 65% of those users are responsible for Facebook video views. It's safe to say that it's not an option to neglect this user experience.
And while it might seem counterintuitive, it makes sense that most Facebook video viewers don't use sound. For those in transit from Point A to point B, waiting for appointments, prepping for bed, or craving distraction sans headphones, Facebook video ads must cater to real-world circumstances. How? With captions or burnt-in text overlays (more on these soon).
Square and vertical videos get more engagement, so use conducive aspect ratios like 1:1 or the expected 9:16. Your content will be all for naught without the right proportions to house it. In the same vein, ensure your thumbnail perfectly captures the video so folks have a reason to click on it in the first place.
5. Add magnetic copy (and CTAs)
While sales and sign-ups should be natural byproducts of your Facebook video ads, you don't want to use video time to sell. Like any narrative has an arc, video ads have a similar structure with slightly different language:
Brand intro (exposition)
Identify problem (rising action)
Urgency (climax)
Solution (falling action)
Call-to-action (CTA) (resolution)
The only difference between conventional narratives and video ads is the time you have to share your story. Use emotionally-charged words to make yes seem like the only sensical option. Highlight the impact of not using your product and use repetition to optimize subliminal marketing methods.
Insert a sign-up link, website page, or actionable prompt at the end. And now, for production!
How to make Facebook video ads in 6 quick steps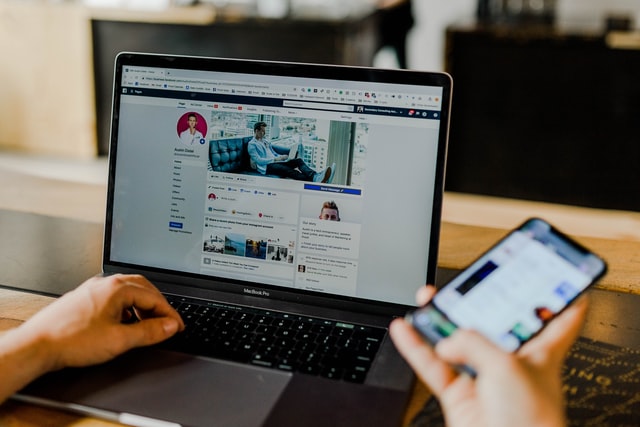 Make your Facebook video ads conducive to both desktop and mobile viewing. Image via Austin Distel.
Time to get to work! The good news? WeVideo has everything you need to make and edit professional videos (we're talking music, text, camera transitions, and more!). Then, Facebook will walk you through each step of the uploading process.
Here's how to get things started:
Craft and edit your content in

WeVideo

.
Go to Facebook's Ad Manager and click + Create.
Select your main objectives, like reach, traffic, engagement, conversions, etc.
Choose your budget, placement, and optimization options. Click Manual Placements to adjust where your ads appear.
Select "Video" from Formats. Click Select Video to upload from your computer or click Create Video to make one.
Click Edit Video to

trim

,

crop

, set image

thumbnails

, and add captions. All set!
If you need some additional spec support, make sure your dimensions are Facebook-specific. Your ad type will shift requirements slightly, but generally, here's what you need to know.
Recommend file types: MP4, GIF, and MOV
Largest file size: 4GB
Resolution size: At least 1080 x 1080 px
Aspect ratio: 9:16 or 1:1
For a thorough sizing guide, be sure to reference Facebook video ad specs you should know for more.
How to add captions to Facebook video ads
Add captions or step-by-step text for videos without narration.
Now, for the finishing touches. While captions are slightly different than text overlays, this WeVideo Facebook ad shows that in the absence of narration, text can dually serve as a subtitle. Regardless, effective Facebook video ads require ADA-friendly captions that allow 24/7 video-watching access for all.
What's the difference between video text and captions?
Video text: Words that describe a video's intent or message, or add visual commentary.
Video captions: Subtitles that visually depict the video's narration.
Note: At the end of the day, quality content + aesthetics = Facebook video ad mastery; balance both for successful ads. Text plus captions makes for busy and distracting optics. Limit text with narration for optimal impact.
To add captions to your Facebook ad videos:
Create, then upload your video to the Ad Creative Facebook section.
Click Edit Video once loaded.
Click Captions, then Generate Automatically.
Go to Review Your Captions and hover to edit or delete text.
When satisfied, click Save to video.
Note that if your video doesn't have audio of any kind (music, narration), captions will have to be entered manually. Click Upload Your Own to customize. When you're done, you'll also have the option to download and save your caption files to your computer.
Final Facebook video ad FAQs
It's about time for you to jump out of the nest, but before you do, we've got a few more pertinent details for you. Here are a couple remaining FAQs to prepare you for ultimate Facebook video ad proficiency.
What is the average CPC?
This year, the average cost-per-click is $0.94. Knowing what to invest financially can help predict numeric outcomes. Use your current following, past video ad data (if applicable), and comparable content to estimate results.
What if I have two similar ads?
Don't sweat! Advertising requires utmost discernment. Conduct a simple A/B test to experiment with different demographics and objectives. Numbers never lie, so use your data to learn which method ranks supreme.
What type of images and music should I use?
Memorable video ads always include stock assets like images and music. To avoid legal complications and copyright issues, make sure they're royalty-free. The simplest solution? Take advantage of WeVideo's 1+ million stock assets available for free (regardless of your annual plan).