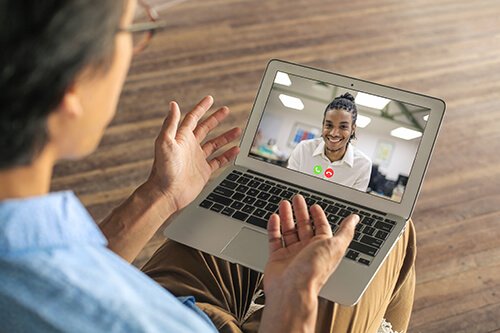 In life, a simple "Thank you" can mean a lot to someone. From thanking a stranger for an act of kindness or sending a family member or friend a thank you note for a gift. These two simple words go a long way to make someone's day.
For businesses or nonprofits, these words can accomplish a lot more. Using an online video editor to turn your message into an engaging video can have a lasting impact on donors, audiences, and consumers. These are great for when you receive a significant donation or for sticking by your side during tough economic times.
Even students and parents can make use of a great "Thank you" video. Use video to show your favorite teacher you're thinking of him/her and that you're grateful for all they do with a heartfelt message.
The best part? Our video editor can help you get the job done fast! In the meantime, here are a few things to keep in mind when you get ready to film your very own video:
Keep it short
Short and simple. Well, not that short. Keep your video short and to the point, but make sure to let viewers know why you're making the video. Having a CEO or another leader be the main voice in the video is great, but having others take part makes the video more personable.
Know what you're thankful for
This goes without saying. When you make a video thanking your audience, you should know what you're showing appreciation for. This is the part where having a script comes in handy but don't be afraid to ad-lib. That always seems more genuine. This leads me to my next tip...
Don't be afraid to improvise
Just like any type of video, it's always great to have a script and an idea of what you want to say. But, when saying "Thank you" to your supporters it doesn't hurt to improvise a little and speak with emotion and heart. Doing so will come across as more genuine and let your audience/supporters know you really care.
For more tips on scriptwriting, read Writing a script isn't easy...or, is it?
Find a nice place to shoot
The last thing you want to do is shoot a video, ANY video, in a not so pleasant setting. From loud noises to unsatisfying backgrounds, picking the right area to shoot your video is always key. When sending your followers a thank you, do you really want to give them something ugly to look at?
No need to be flashy
Videos like this don't need an intricate musical number or some flashy graphics to be successful. You're not creating this video to bring your product or cause attention, you're doing it to show your appreciation to those that support you. Keep it simple and straight to the point.
There you have it. Some simple tips to get your "Thank you" video going in the right direction. A quick video like this can go a long way in turning your customers or donors into advocates for your brand or cause.