Currently, people all over the world are demanding internet privacy and as part of the ongoing revolution to reclaim that privacy, regulations and software are changing. This is certainly the case for Apple's new software update, iOS 14.5, which gives users better control over the data that they share and what information is held about them.
The update may affect several different things, such as improving call quality and message services. It will also change advertising for its users.
Facebook, now called Meta, another tech titan, is at the mercy of this update. As a result, things'll change when it comes to the advertising that they put out to consumers.
Of course, this leads marketing teams everywhere to wonder where they stand when it comes to running their Facebook ads going forward. What will change when it comes to how we use videos in particular and how can you optimize your FB video ads in light of the update?
The main things that are set to change are related to how companies use the software and how data can be measured and collected. So, instead of having to change anything about the content of the ads, companies need to change how they conduct their advertising campaigns.
If you are trying to create a successful B2B Facebook ad strategy in 2022, here are the key changes that should be considered.
Verify your website's domain
The iOS 14 update will change how pixels for advertisements are presented on Facebook. If the pixels in your ad come from more than one ad account, iOS 14 may see these pixels being distorted or falsely represented.
This may lead to the quality of your FB video ads lacking, as well as images accompanying your video being compromised.
If this is the case, it's worth verifying your domain. In the past, this has been outlined by Facebook as best practice for business accounts. However, it has now become essential in certain situations. In a world where virtual backgrounds have become the norm, verifying your domain is also an essential step to take.
To verify the domain, follow the steps below.
Using the Facebook Business Manager, click the Business Settings button in the top right-hand corner.
Go to Brand Safety> Domains. Click Add in the center of the page, and add the domain that you want to be verified.
There will likely be a waiting period of up to 72 hours.
This is simple and easy to do. Once done, the domain will be verified for the foreseeable future, so putting this on the to-do list is worth it.
Once you've verified the domain, you'll also be able to better control the permissions on your ads, having a better overview of who from the company can edit your content.

Update to Facebook's SDK for iOS 14.5 version 8.1
As another quick administrative formality, businesses must update to Facebook's new ad creation software, or they will no longer be able to create ads.
For most businesses, this is a terrifying prospect. Obviously, you don't want to find yourself stuck with no way of uploading FB video ads when you have a campaign set for a specific time.
This is an example of how not keeping up with tech updates can set you back and create disorder when it comes to marketing. Even videos created for email campaigns, if also used on Facebook, could be delayed, causing deep disruption.
When it comes to creating video content, the production schedule is important. Whoever's creating the video needs to know when they can expect to be given their next brief and when this content is due. If this is unknown or delayed due to not being able to post content, it may create chaos. Using web conferencing or other communications to stay in touch can mitigate these issues, should they occur.
Updating actually has another benefit for advertising campaigns, too. You'll be able to run ads to relevant audiences which are more personalized. This only includes those who download the update.
Understand the limits to advertising
There are new limits for advertisers because of the update. Each company can have one app ID and nine campaigns can be run at a time. This makes a difference to the sheer number of ads that can be run by each company, significantly affecting social engagement, among other things.
This may mean that you need to rethink your marketing strategy.
This doesn't apply to all users, however. For those using Android phones, and those who have not yet updated their phones, you can run as many campaigns as before. This includes iPhone users with older phones that can't be updated. Models up to, and including, the iPhone 6, will be excluded from this limit.
But that's not all. The update will give those who download 14.5 the opportunity to prevent tracking across other sites. This will likely impact the effectiveness of the advertising available to you.
The update may appear to limit your reach, but you can still find ways to use Facebook advertising and make the algorithm work for you. You can still reach those with second-hand phones, old phone units, and even those who haven't gotten the new update yet. Use these so-called limitations to pave the way to thinking creatively.
Above is the notification that relevant consumers will see and be able to approve or deny. However, as you can imagine, it is predicted that, in the face of privacy concerns, the majority of users offered this option will deny tracking.
Save 28-day data as soon as you can
The former 28-day view of ad analytics will now be replaced by a 7-day view.
While it may seem crazy that you can only view one week at a time, this is expected to help with consumer data rights. Social media advertising leaves scope for data to be vulnerable while stored there. Companies will, after the update, not be able to hold as much data in their Facebook Business Manager.
Although there's nothing you can do about this for the future, you can preserve the history that you already have. Make sure you export the data before it's too late. You should also try to keep up with the data created—any technique to continuously save the data onto your drive will benefit you in the long run.
It'll prove useful in the future when it comes to assessing past activity and using it to make future decisions. Say, for example, you want to run a campaign that is similar as one that you ran within the last 28 days. The data is like gold in this case and can inform you of all possible outcomes.
An example of one of the 28-day views that could previously be seen on Facebook.
Allow for delayed reporting (up to three days)
Furthermore, the seven days of data that are available can take up to three days to appear on your screen—making it more difficult to analyze the information as it comes in.
This may have an impact on your FB video ads, as you might struggle to take immediate action when it comes to running subsequent campaigns. If you can't see what the effects are, then how can you make decisions on what to do next?
This will seriously affect how marketing works in companies around the world.
However, there are ways around it. This may involve making conscious changes to your strategy, such as spacing out video ad campaigns. You could also run several different videos at the same time, as direct comparisons for the same day are not changed by the update.
Shifting your video ad schedule in light of the delayed reporting will likely be more advantageous than keeping things the same, where you have no evidence that the video has performed well, and your video production schedule could be a mess as a result.
Worst comes to worst, you can always chat live with different parts of the business to resolve the matter.

The larger effects on FB video ads
All in all, iOS 14 and its changes are not aimed at Facebook video ads in particular. Nevertheless, as you can see, Facebook ads will be greatly affected by the changes, which favor privacy above all else.
This is arguable all the more important for FB video ads, which rely greatly on being seen for a certain amount of time in order for them to have the desired impact on sales.
There is great power in video advertising, but it must be allowed to effectively target Facebook users without technical errors in the way. The update represents a threat to video advertising but using these tips, you can minimize these as far as possible.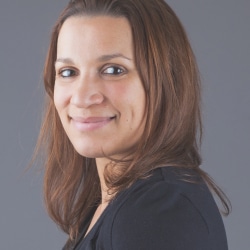 Author bio
Severine Hierso is EMEA Senior Product Marketing Manager for RingCentral Office, the leader in cloud communications solutions, and is passionate about creating value, differentiation and messaging, ensuring a better experience for customers and partners.
She has gained extensive international Product Marketing, Market Research, Sales Enablement and Business development experience across Virtual PBX, SaaS, Telecommunications, Video Conferencing and Technology sectors within companies such as Sony, Cisco, Cogeco Peer 1 and Dimension Data/NTT.