This video was student produced using WeVideo, a document camera, and a cell phone. The phone was used to create and crop the still images. The document camera was used to record using a Chromebook. The purpose was to create a vocabulary station where bilingual students could practice reading and speaking their English and Spanish vocabulary.
The students loved the fact that their peers were making videos. The vocabulary station is a hit, and students are ready to create the next unit's vocabulary video.
These three students were in 5th grade, but this can be a great set up for any bilingual students from grades 4-12. They only needed one lesson for the software editing, and then they were able to work independently!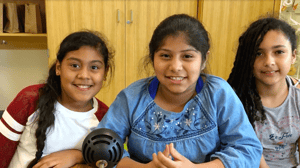 Twitter: @karrieweb2004