So you're excited about WeVideo, but don't know where to start integrating it into your classroom. Or maybe you're a WeVideo pro on the lookout for ways to get your learners creating faster. Drum roll please…
Introducing: The Assignment Ideas Library!
Our latest feature allows WeVideo for Schools users to access a browsable library of ready-for-action multimedia lesson ideas, covering multiple grades and subject areas. Even better – they're standards-aligned!
Each assignment comes jam packed with:
Learning objectives

Relevant ISTE standards

Sample outcome videos

Tips & tricks for using multimedia in the classroom
And of course – all the customization options so that you can tailor the lesson to your own students.
Ready to save time lesson planning, level up your instruction, and transform traditional classroom activities into engagement-boosting multimedia projects? Here's step-by-step instructions for navigating the Assignment Ideas Library:
1. Browse assignment ideas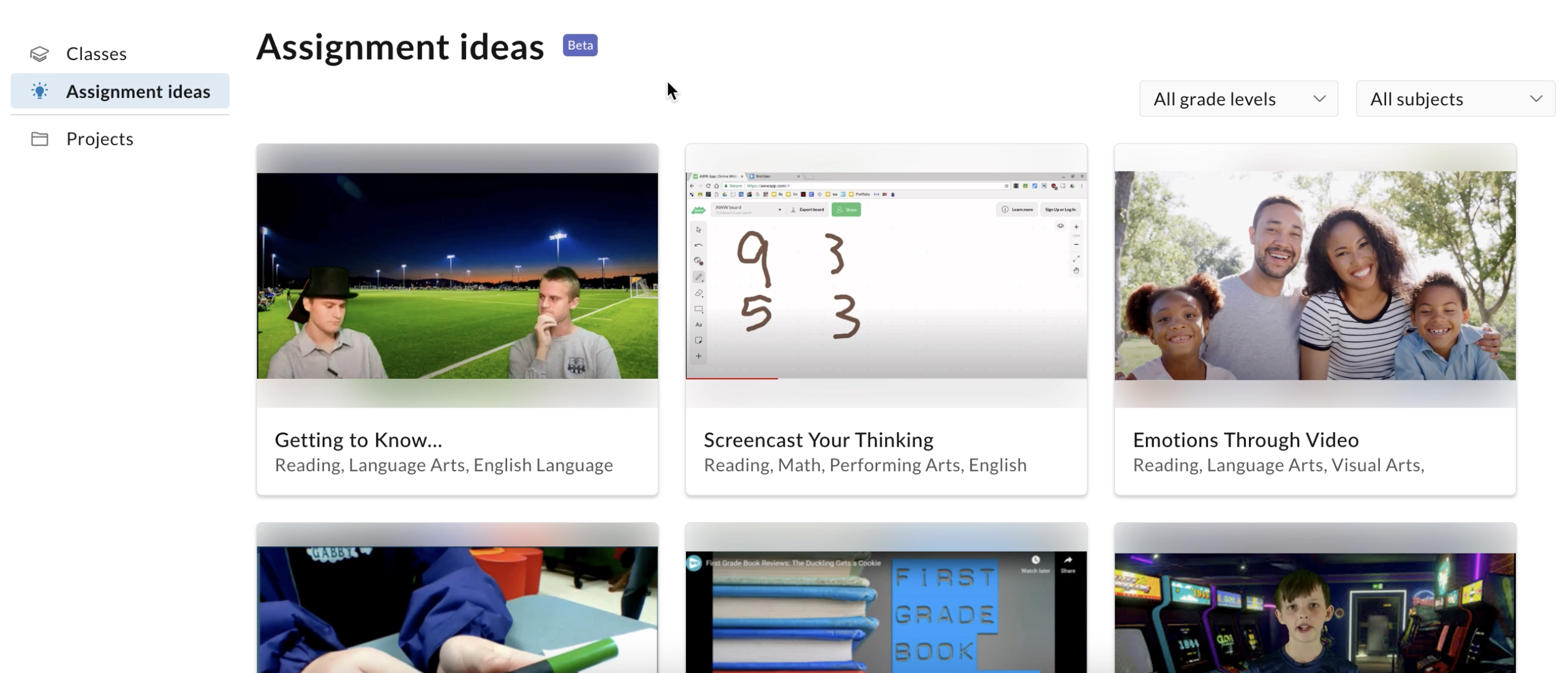 Click Assignment ideas in the left tabs to access the library.
Click on the Assignment ideas tab in WeVideo's Classroom space. Scroll to search the library for a lesson aligned to your specific learning context.
Hover over a lesson thumbnail and click Preview to view pre-built content. You'll be able to: watch the sample project video, plus read student descriptions and teacher notes to decide if this lesson is a good fit for your students.
Some of our lessons also come with pre-selected media and a starting blocks template for students' timelines. Preview these by clicking on the Media or Starting blocks containers.
2. Save and customize your lesson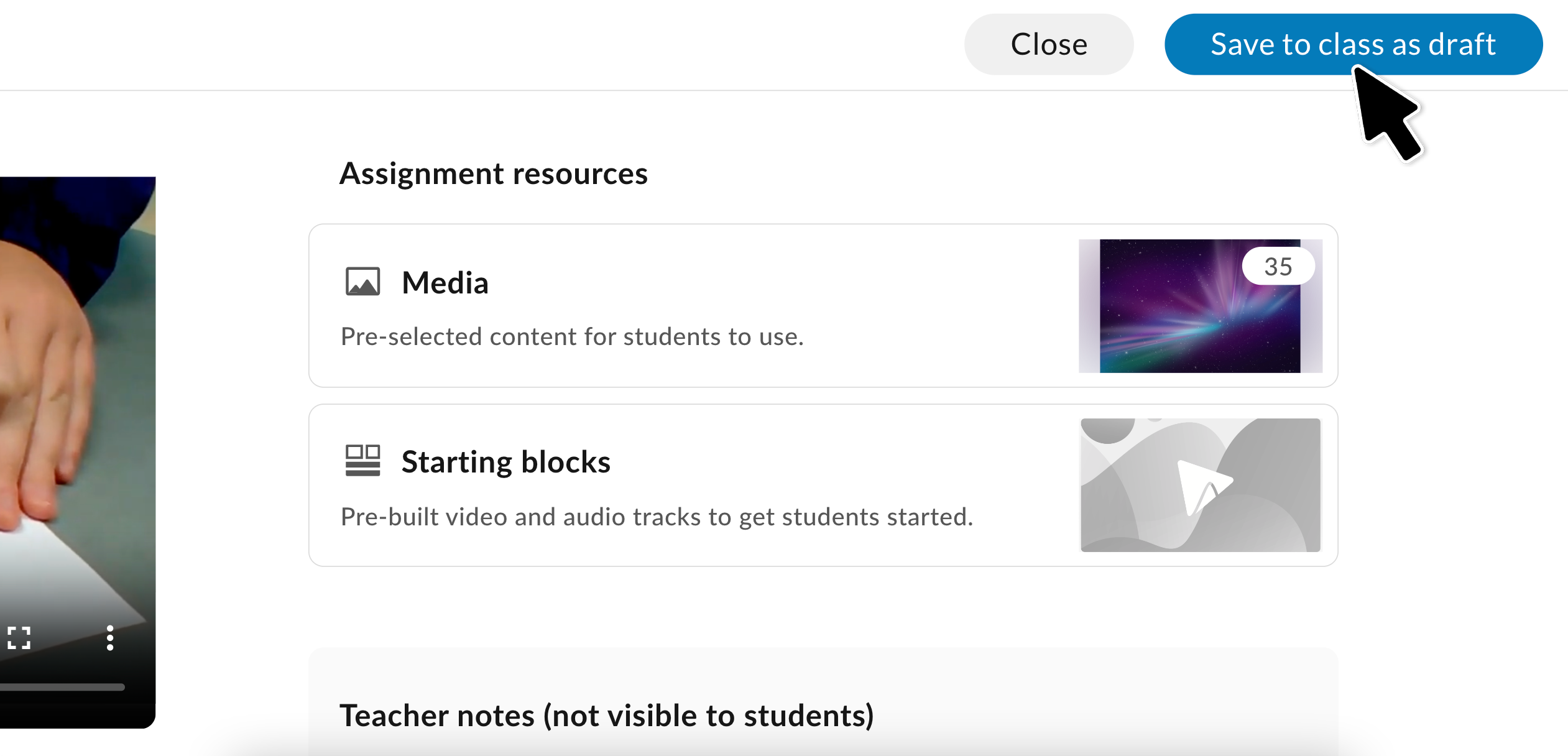 Click Save to class as a draft to begin customizing your selected assignment.
Once you find a lesson to use, save it as a draft to one of your WeVideo classes. To customize and publish for your students, click into the assigned WeVideo class.
What you'll be able to edit:
Assignment title

Description

Assignment type

Keep or remove the sample video, pre-selected media, and starting blocks.
Note: Starting blocks are designed to help students conceptualize a project, especially if this is their first time creating with multimedia. However, we understand that this might not be needed for every classroom and/or assignment, which is why you have full control over what's best suited for your students.
3. Publish and share with your students!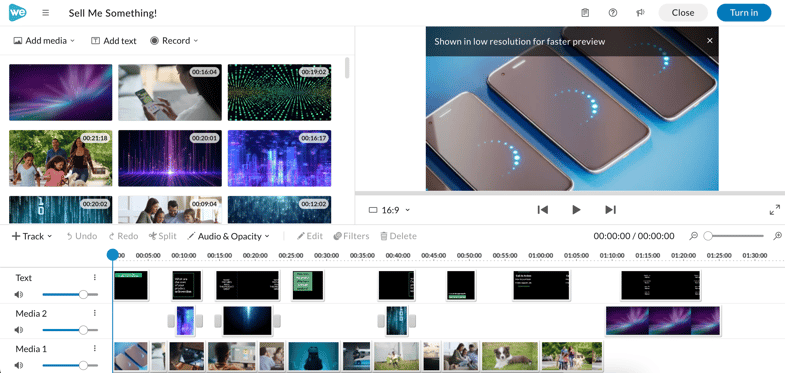 Once you've assigned your project to students, they'll be able to work on it in the editor.
When you're ready, you can publish from inside the assignment designer, or use the 3-dot menu on your class's homepage to update and publish the draft of your assignment.
Note: Like with other assignments, students will have access to the description and sample video (if you chose to include it). To access, they can click the clipboard icon above their preview window.
As your students complete their assignment, you can leave real-time feedback right on their timeline and review progress every step of the way!
Whether you're new to multimedia or video editing or are an experienced veteran looking for new ways to empower student voice and choice, the Assignment Ideas Library will inspire you and your students, while helping buoy the creation process, no matter your subject area or grade-level.