Start with students who love history, add the thrill of competition, and combine those with a newly-minted passion for creating video documentaries and what do you get? A remarkable, authentic video created by eighth-grade history documentarians Luka Abuladze and Aidan Mulvey. This pair represented Cavallini Middle School with this entry into the annual National History Day competition. This year's theme: CONFLICT AND COMPROMISE.
The first challenge the students faced was to decide on a topic. Originally, they planned to explore the story of the Berlin Wall, but then Professor Marc Aronson of Rutgers University came to speak at a school assembly. During a chance post-assembly conversation with the professor, the boys mentioned their idea. The professor shared the story of a young bike messenger–the same age as Luka and Aidan–who played a pivotal role in closing the divide between the U.S. and the U.S.S.R. during the Cuban Missile Crisis. Intrigued, the team knew they had their topic.
With only a few short weeks to the deadline, the students dug into research. After dipping their toes into popular sources such as History.com and Wikipedia, the pair shifted to more scholarly resources in search of details and primary resources. This was critical as the competition sets rigorous standards to ensure that participants use materials for which they could prove clear license.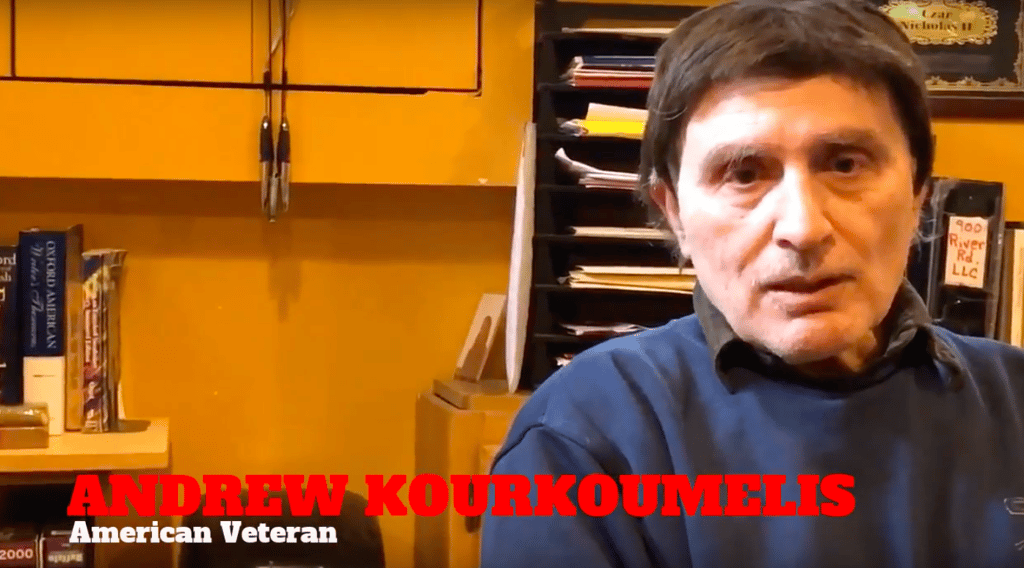 In addition to their online resources, the students identified a treasure trove in their own neighborhood–eyewitnesses who were willing to share their recollections as interview subjects.
Armed with his iPhone, Aidan met with each at their home to record stories. "We were really surprised by the diverse responses. Some people were afraid, some people were scared."
The variety captured is remarkable, ranging from an American grandfather who recalls being more attuned to the World Series than the threat of nuclear war, to a former resident of the Soviet Union who described an ever-present state of worry.
To facilitate their independent research, the two used a Google Drive folder to store and share each exciting discovery. Their next hurdle was to develop their script. With a strict ten-minute time limit, the pair were hard-pressed to pare the wealth of material they had learned to fit while also retaining their own personalities and identities in the final narration.
Luka said, "One thing that really made it easier, and I think everyone who makes a video should do this, is we created a storyboard on a big whiteboard. You always have to have a plan. Try to take the general pieces and put what goes where, from this minute to that."
Aidan added, "Always have a theme and always tie it in today. I think those are two big things people should always keep in mind."
Finally, they were ready to start production. They sat down before the microphone to record their voice-overs. With the intuition of true budding production pros, they realized that the best approach was to record each paragraph of their script as a separate audio file. This saved them from having to re-record the entire script every time they wanted to improve their performance or revise the script. With careful editing of the script and a bit of fast-talking, they managed to imbue the story with the serious, urgent tone they were hoping to achieve.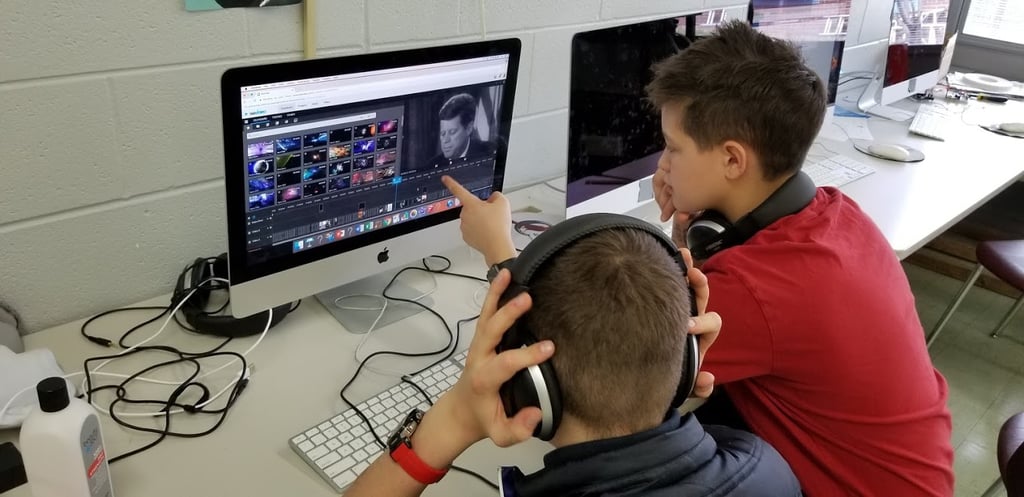 Aidan explains, "The project gave us a chance to really learn to implement music and editing. This was a big part of the work and WeVideo made it really easy to learn while we worked." After adding the audio elements to their WeVideo project and placing them in order on a timeline, the two set to associating the storehouse of video, images, and audio clips with their story. With the recent launch of WeVideo Essentials, students now have access to a library of music and visual assets to support projects like this one.
Intuition led them to develop an appreciation for WeVideo's extensive and easy-to-use library of transitions. Luka said, "if we didn't have transitions it would just look sloppy. It would just be pictures, and it wouldn't look good. Oh, and we really liked the Ken Burns effects that let us zoom into the pictures that were a big part of the project."
The students particularly appreciated the flexibility of being able to contribute to and work on their project from whatever device was handy. In the course of the project, they used a MacBook Pro, Apple desktops, Lenovo Chromebooks, as well as their smartphones. Aidan added, "It was great that we could share the work as we went along. It was also great that WeVideo automatically saved because I bet we would have forgotten at least a couple of times."
Looking back, Aidan said, "We are really proud of minutes four through eight where we have a lot of good primary sources of video and speeches."
"We especially liked using parts of Kennedy's speech at different points in the video, including the post-credit scene. We were inspired by all the Marvel movies for that."
Although they did not win the competition, the pair is undaunted. Luka said, "we really want to continue with this. We got 500 likes in three hours when my mom put it on Facebook. We're planning on doing shorter videos. We want to do three to five-minute videos, and our next project is going to be about the Great Depression."
Watch their video and be sure to keep an eye out for these up and coming stars of the documentary world.