Check out this tutorial on how to combine video clips/scenes into one video in the editor. This means multiple students can collaborate on a video by creating different scenes in their own timeline before merging the timelines into one video. Here's how it works:
After logging into your WeVideo account, select the project you would like to work on:

After opening your project, you can select the videos you want to include in your combined edit.
Now, right click on one of the selected clips and click "Combine edits."

Select the sequence of the video clips by clicking on them. You can easily change the sequence by clicking on the selected clip one more time.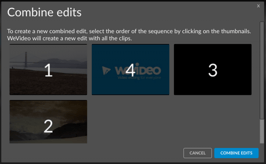 Twitter: @EDUcre8ive