Step into the first day of one of Associate Professor Bernard Robin's Learning, Design and Technology classes at the University of Houston or join him online in one of his Coursera lessons and you are likely to see this photo: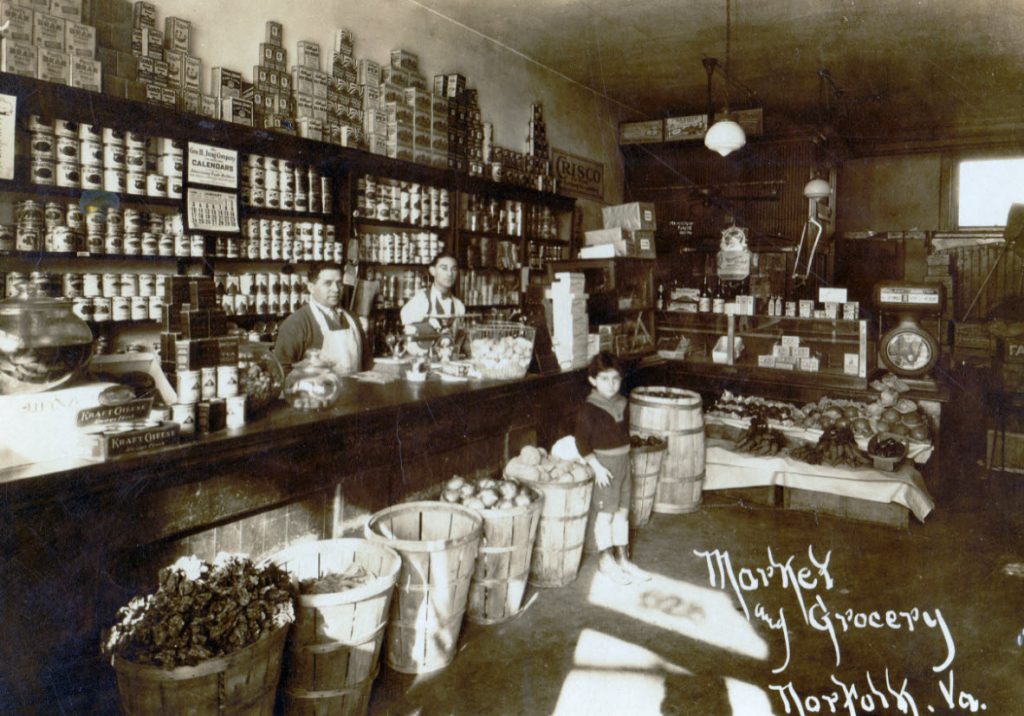 Over the next hour, Professor Robin weaves a memorable story of discovering this photo, taken in 1927. The five year old boy is his father. Behind the counter, is his grandfather. Missing is an uncle, a victim of the ongoing great flu pandemic. Looking carefully on the shelves one sees a still familiar Wheaties box standing next to its long gone competitor, Pep. Digging deeper, he uses an inflation calculator to talk about the price of eggs to talk about economic change throughout the twentieth century. He notes their clothing, their posture, and a hundred other subtle details strewn throughout the image.
It's a riveting story that stretches across medicine, geography, economics, fashion, food and family. And this tale built from a single image provides a visceral entry point to helping students understand the power of digital storytelling.
Robin teaches digital storytelling to masters and doctoral students at the University of Houston, as well as through similar degree programs at the vast Texas Medical Center complex. He also reaches a global community of learners through his popular and highly rated Coursera Massive Open Online Course on digital storytelling. Robin's students will soon use such skills in myriad ways. Some are doctoral students who hope to teach the next generation of healthcare professionals, from nursing staff and first-responders, to neurosurgeons. Many are K-12 or community college teachers. And still others see applications in business and industry.
Robin believes that the most important thing he can do is to set the table by giving his students easy-to-use tools, like WeVideo, examples to inspire their creativity, and then say, "Now you do it." He says that's the real underpinning of the school's health science program. The faculty members he trains in this approach are not doctors, nurses, or dentists. They are educators. Their job is to teach a pediatric resident or a seasoned oncologist how to plug their own knowledge into content to train others. He believes digital storytelling has a vital role to play.
As he said, "An orthopedic surgeon may be the top in their field, but suddenly finding themselves thrust into a role teaching surgery resident students can be intimidating." Robin's program is designed to teach them to use digital storytelling in the design of a curriculum, creation of course materials, and in conducting student evaluations.
"Everyone who is in a classroom now grew up with television and spends their life surrounded by screens. They know what quality video looks like and they are accustomed to engaging with the medium. It's a natural setting for learning."
Rather than asking students to write a paper, Robin encourages those he teaches to have their students create a digital story. "Digital storytelling operates across so many dimensions that I believe enable students to more fully demonstrate their knowledge. I try to encourage my students to bring whatever they are passionate about to their projects."
This means that Robin rarely recommends assigning a list of approved topics to students. He finds much greater success when students pick topics on their own because they tend to pick subjects they feel strongly about. "The power of digital storytelling becomes obvious when the student is personally engaged with the subject matter. The viewer instinctively understands that they're watching something that the creator is really connected to.
He offers the example of one student's project that looked at the historic hurricane in Galveston, TX and how it influenced the creation of the tornado scene to the Wizard of Oz. (Check it out here.) Robin says, "this is a great example of the power digital storytelling has to unleash students' creativity and capabilities. As a teacher, what you want to do is facilitate broad learning. This student weaved art, film, history and geography into an incredible piece of work that would have been all but impossible in a traditional paper. Best of all, they'll remember this project forever."

As a long-time digital storytelling proponent, Robin is excited about the direction the technology has gone. He cites the early challenges of teaching to multiple students using multiple platforms and variety of software tools. WeVideo provides a powerful, common foundation that makes it easier to focus on storytelling and less on technology.
For more inspiration, insight and incredible projects, visit Bernard Robin's comprehensive website, originated in 2004,
Educational Uses of Digital Storytelling
.