Districts are currently busy rolling out their re-entry/reopening plans for the upcoming school year. Regardless of where a school district falls on the blended learning continuum, one commonality is present in all plans: instructional technology.
How do we get the most value out of technology so that teachers can deliver high-quality instruction, and students can engage in meaningful learning?
When planning instruction, we sequentially identify: learning outcomes, assessments that will measure success, and instructional strategies to help engage all students. Then, the appropriate technology tool is chosen. This tool must enhance the learning process, and it's even better if the tool is the catalyst for learning.
We have an opportunity to be intentional in our planning and to make the most of online, distance, remote, blended or face-to-face learning.
Doing more with less
Schools are looking for tools that can do multiple things. Can my students respond with audio? Can they draw their response? Can they incorporate writing? Can they use video to show their thinking or present a concept? Can the platform help me manage tasks? Can students collaborate (share, send, comment, work together, etc.)? These are questions school leaders consider when choosing a tool.
What do we want students to do with the tools we're empowering them to use? At WeVideo, we know it's so much more than making videos. It's using our tool to help students make a difference in their school and community, prompting others to ask more questions, using creative processes to drive thinking and learning, building communication skills by using their unique voice, etc.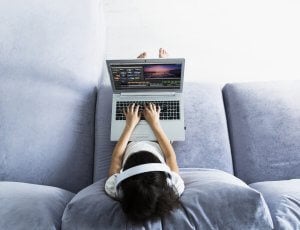 Reimagining assessments
Schools have been moving toward authentic assessments for a while. Now, it's imperative. There is also a concern about the validity of assessments. For example, at home (or at school), if students can Google an answer or ask their friends the answer, was this a high-quality assessment to begin with? We have an opportunity to show how our tool provides opportunities for students to explain, synthesize, justify and create. The most meaningful and relevant assessment process is creation. It turns out that this is also the highest level of cognition.
Differentiating instructions
In a traditional face-to-face setting, students were accustomed to receiving instructions and guidance from the teacher by listening and watching. When learning went fully remote, students had to interpret their own meaning from text directions. We know that students must be supported in ways that allow them multiple ways to access information. With video creation, teachers unlock opportunities for multimodal instructions, directions and guidance.
Creating instructional videos
Blended and remote learning requires innovative ways of delivering instruction. Teachers can deliver core instruction by creating engaging instructional videos. These are teacher-created videos made to engage students in learning core concepts and skills. Teachers have an opportunity to empower their students to create meaningful products in a personalized, self-directed and socially connected manner.
Expanding professional development opportunities
District Reopening plans will require high-quality professional development to ensure that blended learning is a success. To help support schools, WeVideo is hosting a Creator Community Summit July 28-30 and will feature sessions and keynotes tied to diversity and equity, blended learning, social-emotional learning, student creativity and student voice.
WeVideo is here to support your blended learning blueprint as you design core instruction and provide opportunities for students to create meaningful products, learn deeper through creative processes, and use their voice to make an impact on the world.