Great news, WeVideo educators – you can now add WeVideo directly to Google Classroom, using the new add-on feature. Here's the scoop.
What are Google Classroom add-ons?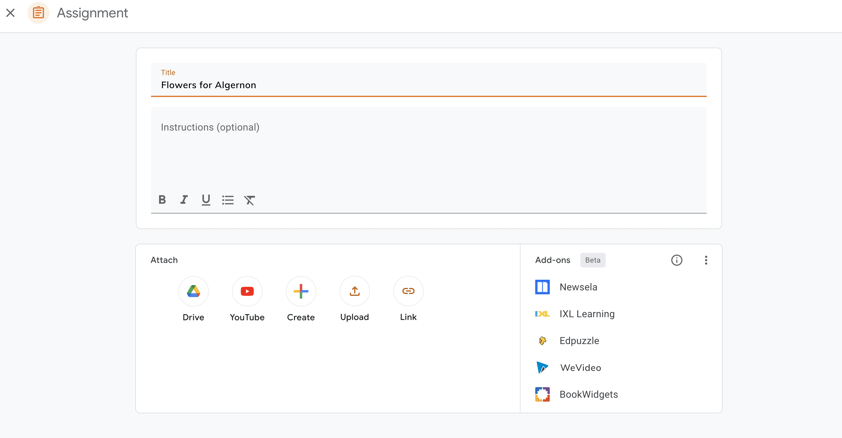 Adding WeVideo to Google Classroom assignments is now as simple as one click.
Classroom add-ons are Google for Education's latest initiative, helping streamline teaching and learning. With add-ons, teachers and students never have to leave Google Classroom when using other tools.
In other words, it just got even easier to use the WeVideo video editor with your students and infuse your lessons with impactful multimedia creation.
3 key benefits to using WeVideo's add-on with Google Classroom
1. Make the most of your teaching time
With a multitude of tech tools to manage (and passwords to remember), it can be hard for both you and your students to manage! Add-ons make it easier to get students creating faster.
2. One assignment to rule them all
Well, chances are you'll have multiple assignments, but now you can create them all in one place: Google Classroom. Just add WeVideo to your Google Classroom assignments and voila! Your students can get to work.
3. Grade WeVideo projects with Google Classroom's tools
Once students submit their WeVideo projects, you can grade them using Google Classroom's built-in assessment tools. See again: One place…for everything!
Using WeVideo as an add-on makes your classroom more efficient and maximizes students' time to flex their creative muscles, exercise critical thinking skills, and collaborate with peers.
Was that more than 3 benefits? We're not sorry about it.
How to add WeVideo to Google Classroom
Adding WeVideo to Google Classroom is like eating a slice of pizza: you know you want to do it, and it's super easy to do so.
For teachers: Create an assignment in Google Classroom
Note: In order to use the WeVideo add-on, it must first be enabled by your Google Classroom admin (see 'For Google Classroom admins' below).
Make an assignment in Google Classroom. Click the add-ons button and select WeVideo from the drop-down menu.
That's it! Once you've added WeVideo to an assignment, students can easily access it to complete their work. You'll be able to view their progress as it happens, plus grade assignments in Google Classroom once they're submitted.
New to WeVideo? Learn more about how to use our multimedia creation tools in the classroom.
For Google Classroom admins
Classroom add-ons will continue to be admin-enabled. Admins can set up add-ons from within the Admin Console, then set up individual add-ons for their schools.
An admin can set up add-ons for their districts using Domain install, where admins choose which add-ons should be available to their domains and set them up individually.
See Google's full instructions here.
Have more questions? See our support article on adding our video editor to Google Classroom: How do I use WeVideo as a Google Classroom add-on?