Teacher resources » Collaborative research experience
Overview
In a collaborative research project, students join teams to investigate and report on a phenomena, interesting idea, person, or other exciting topic. This project is broad enough to fit any age or grade level and can fit into all subject matter areas.
Transform a traditional research project into a documentation of process, a showcase, or use it to illustrate all parts of the research process. In this activity, students not only learn informational writing and presentation skills, but gain valuable technical skills while working in a collaborative, goal setting environment.
Keywords: STEM, Social Sciences, Showcase
Good for: Teams, critical thinking
Grade level: K-12
Skill level: Intermediate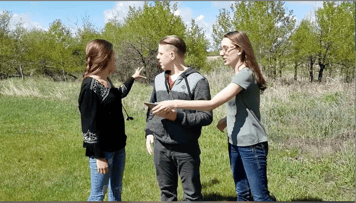 Student Instructions
Copy and paste the information below directly into the description box when creating your student assignment, or, use it as inspiration to make your own!
Design and create a video showing the results of your research project on the topic of your choosing. This video will be a showcase of what you learned during this experience and highlight the results of what you found during your research
Some things to consider:
What did you learn about your topic that you want to share with your classmates?
What is the most important thing you want other people to know about your topic?
Add a reflection. How was this experience for you? Do you now view your topic in a different way?
How will you make your video interesting in order to capture your audience's attention and help them learn about your topic? What editing features will you use to make this happen?