Teacher resources » Sell me something!
Overview
Become a creative innovator and design, build, and implement a new product idea! In this activity, students become designers, engineers, and entrepreneurs as they work in teams to create a video advertisement to pitch their idea.
Students will form design teams and brainstorm a product or invention that they will then create a prototype for. Using the Classroom editor, students will then create a quick, 2 minute video to showcase their product and pitch it to their classmates or wider school audience.
Open-ended, collaborative design challenges are a great way for students to practice contributing ideas in a group setting, problem solving, and flexing their creativity.
Keywords: STEM, Digital Literacy, Collaboration
Good for: Teams, expression
Grade level: K-12
Skill level: Intermediate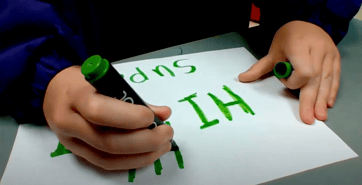 Student Instructions
Copy and paste the information below directly into the description box when creating your student assignment, or, use it as inspiration to make your own!
Working in your design teams you will be creating a short, 2-minute video to pitch your invention, idea, or product to your classmates. This video will act as a commercial to convince people that your product is worth buying or that your idea is super innovative! Use stock media, external footage, or a screencast to create your video.
Some things to consider when designing your product or pitching your idea:
Is there a need or a want for this idea or product?
How would people use this product in their lives?
Does your product solve a problem or provide a solution to an ongoing social issue?
A product can be a tangible object like a new household gadget, game, app or new medical device or less tangible ideas like a new transportation system or a new type of school.