Every year you buy your mom a little trinket, card and maybe some flowers to celebrate Mother's Day. You take her to a nice brunch and spoil her for the day. But, this year it's time to think outside of the box and do something different. With a little creativity, photos worth sharing and a WeVideo template, you can show your love and appreciation for any mother figure in your life.
You'll need a WeVideo account to help you create a video. Don't have one? Sign up for FREE, or pick a plan and log in.
Let's start creating:
1. Start from scratch or choose a Mother's Day template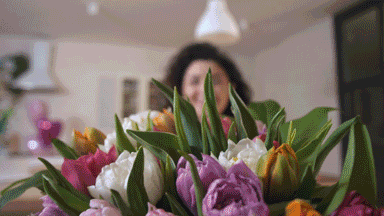 Looking for a little inspiration to get started? Find and use one of WeVideo's customizable Mother's Day templates. Each template comes ready to use with audio, sounds effects and text.
From your Dashboard, click Browse all > Library > Seasonal, and choose a template to work with. Customize to make it your own by uploading and using your own images and videos and changing text and sound effects to your liking. Once you have it the way you like, skip to step #6 and export your finished video.
Not using a template? From your Dashboard, start a new edit and choose from one of three formats or aspect ratios (square, horizontal or vertical).
Check out all of our video templates
2. Upload your media
Importing media to your WeVideo account is simple. You can upload directly from your computer or import from sites like Dropbox, Google Drive, Facebook, Instagram and more! If you're uploading from a mobile device use the WeVideo app for iPhone or Android to choose photos and videos. From there, you can continue your edit using our full-featured, cloud-based web app on your laptop or desktop.
3. Let's get animated
The simplest way to add motion to any slideshow is by using the Ken Burns Effect. Named for the award-winning documentarian, this is done by taking a series of photos in your timeline and adding pan and zoom effects. Photos take on the appearance of recorded footage rather than still images. After adding photos to your timeline, you can add the Ken Burns Effect to each photo individually or simultaneously.
4. Add some motion to your text
We've added some animation to your slideshow by using the Ken Burns Effect, now it's time to add some motion using motion titles. Choose from any of WeVideo's Mother's Day-themed motion titles or any of the others in our library. Add single or multiple layers of text to your video to send the perfect message to mom.
How to add text to TikTok videos
5. Find the right song for mom
Every WeVideo plan comes with a library of music sure to bring a tear to your mom's eye. Choose from our selection and add fun or sentimental music track that fits your slideshow. With a WeVideo Professional or Business plan, you can choose from a library of over 1 million stock audio, image and video files.
6. Export and share your love
Almost done! You've uploaded your media, added a motion title, picked the perfect song and some special effects, now your Mother's Day masterpiece is complete. All you have to do now is choose your resolution and decide where you want to export your video. You can export to Google Drive, YouTube or elsewhere. Once you've exported your video, download and share your video with a link, embed it on a website, share it on social media or send it directly to the mother figure in your life.