TikTok is the social media video sensation of the century (so far). Users range from teens showing off their unique dance moves to businesses showcasing their products using short videos to hopefully get these (thumbs up icon) and increase their $$$ flow.
A popular way to make your TikTok videos rise above the rest is by adding text. It's fast and easy to add headlines, captions, comments and bullet points to your videos. Here are two ways do so…
How to add text to video in the TikTok app
Here are the simple steps to add text to TikTok videos using the TikTok editor.
Step 1:
Open the TikTok app and click + to make a new TikTok, either by filming a new one or uploading a video from your camera roll on your mobile device.
Step 2:
Edit your video and when it's just the way you want it, press Next – the red tick in the right corner (??).
Step 3:
After uploading, tap the Text (Aa) button on the bottom of the screen and start typing.
Step 4:
Here's where you get creative – pick the font, colors, and backgrounds that suit your style. Make it perfect by adjusting text size and alignment.
Step 5:
Now decide where and when you want the text to appear and disappear over the video. Tap the text to see Edit and Duration options, then use the sliding scale to select the time code for making the text appear and disappear. Hit Play to check your edits. Tap the text again to make more adjustments.
Step 6:
After you've checked it, tap the checkmark in the bottom right corner of the screen to save and post your TikTok.
How to add text-to-speech on TikTok
Now, why would you want this? It's another way to enhance your TikTok videos and can be especially helpful for people who don't want to read the text on the screen or have visual impairments.
This is SO simple — just do the same 5 steps from above. After adding your text, tap it again, then tap the Text-to-Speech icon. Pick the voice you want and tap Done to process the text into speech. Try adding or changing punctuation (periods, exclamation marks, ellipses, etc.) and see how it affects the voice-bot inflection.
How to add text to video in minutes with WeVideo
It's even faster, easier and you have more styling options to add text to TikTok in the TikTok video maker. Let's go…
Step 1: Log in or Sign up
to WeVideo
If you don't already have a WeVideo account, it's free to try! Log into our online video editor to get started.
Step 2: Upload your photos & video clips.
Start from scratch by shooting a video or choose a video template to make it even easier. Add your own photos and videos, then drag and drop your media into the WeVideo video editor.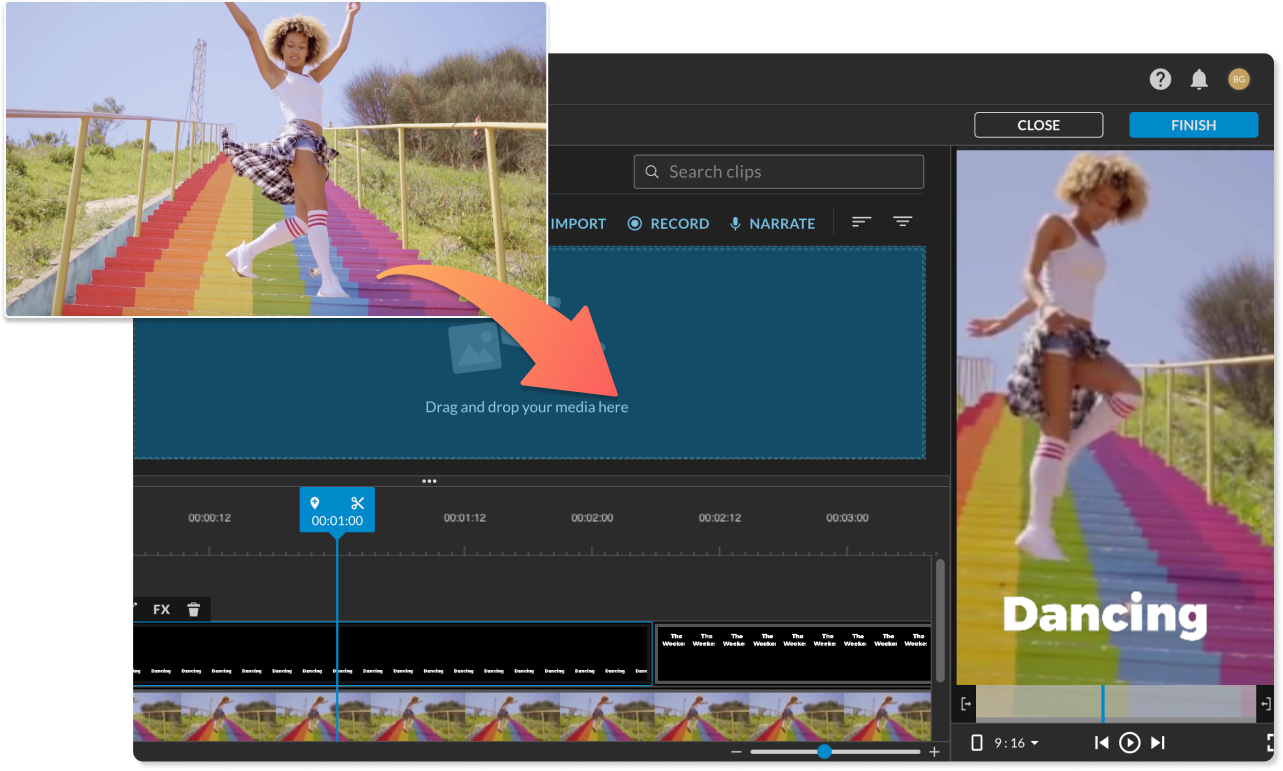 Step 3: Customize your video
Click the Edit icon and type your text in the text box. Use the simple, intuitive controls to choose fonts, colors, sizes and styles. Add your own logo or branding. Choose music and stock footage from the WeVideo library. Whether you keep it simple or customize every detail, WeVideo gives you the power to make it great.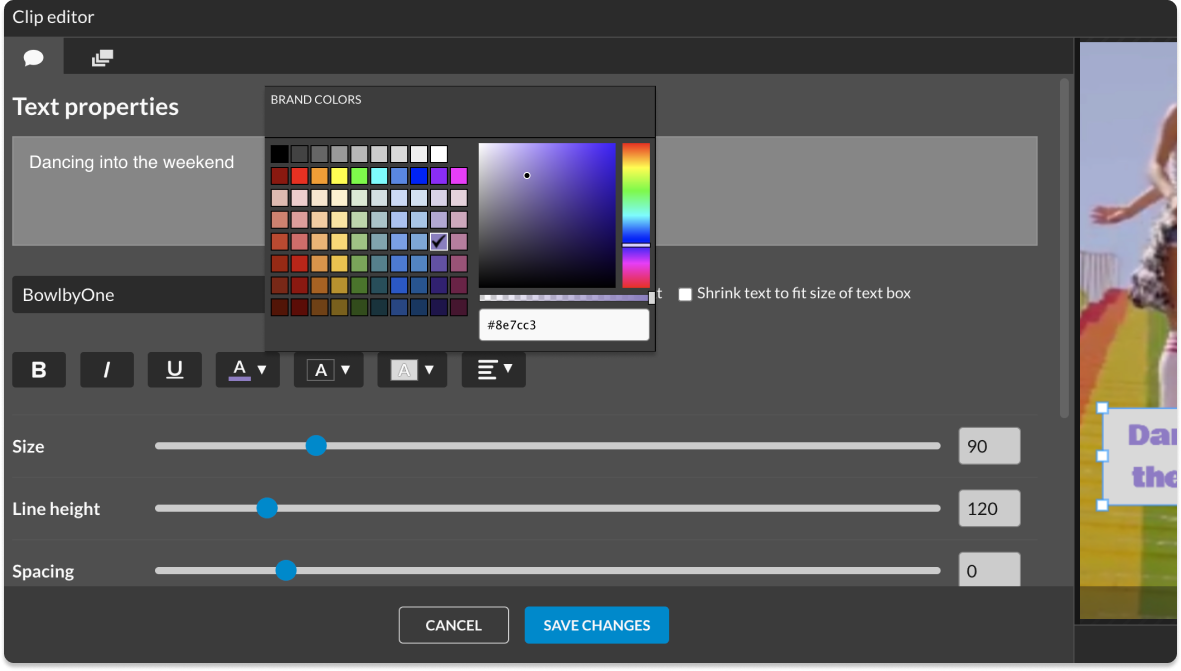 Step 4: Download Your TikTok Video
When your creation is perfect, choose the resolution and download it to save. You can then post to or share your video on your website.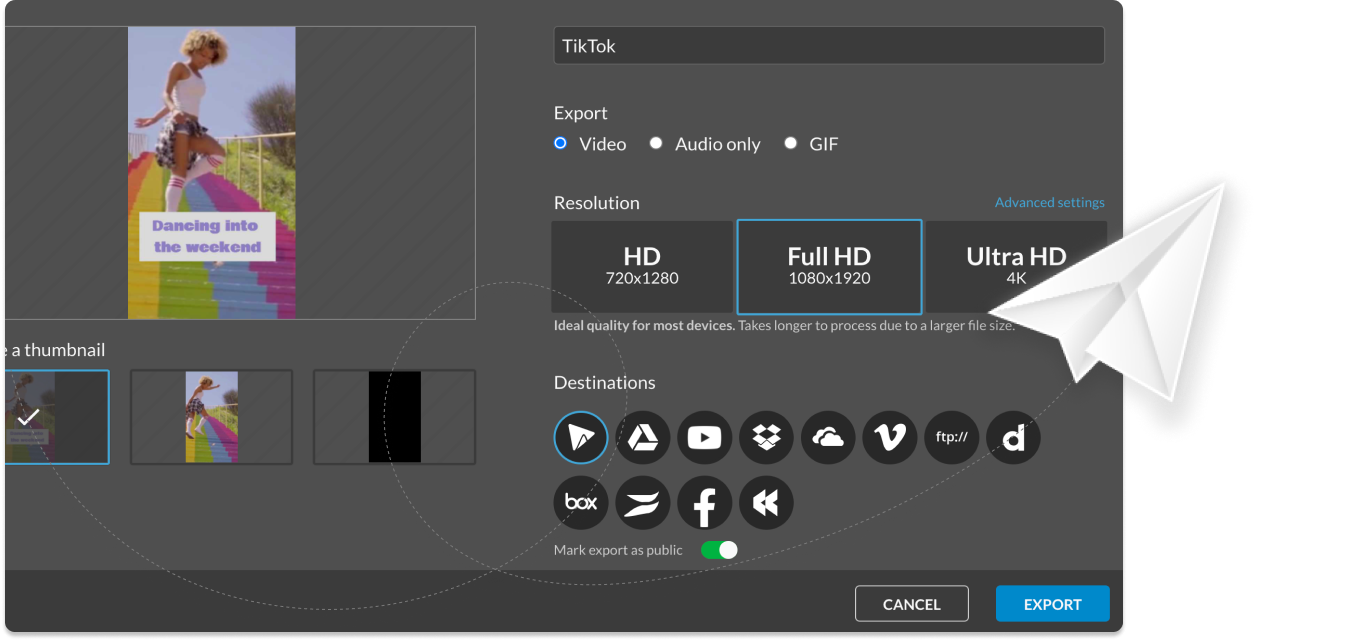 Why add text to your TikTok
TikTok isn't just for showing off your dance moves. It's great for building your brand – both for businesses and personal brands. Adding text helps you communicate more effectively to tell what you're all about or why people need your business products and services. Text takes your videos to the next level.
Show how your products work and illustrate some helpful features. Add text headlines and captions to highlight key points. Use text to show special offers or sales. Put testimonials from happy customers in text quotes over video of a product operating to help your TikTok multi-task the messaging in a very short time span.
Build your personal brand to increase followers with text urging viewers to "subscribe to my channel" or show your sense of humor using text to display your comments and thoughts while your video plays. Even use text to preview upcoming episodes and keep 'em hooked on your channel.
How WeVideo helps you increase TikTok followers
WeVideo's TikTok video templates and editor make it super fast and easy to crank out TikTok posts. It makes being creative a no-brainer with much of the work all ready to go. It's easy to repurpose TikTok videos for other social media platforms like Instagram and expand your audience.
See how Kat Norton, aka "Miss Excel," started using WeVideo for TikTok in the summer of 2020 and now generates six-figure revenue daily as a Microsoft Excel influencer. She uses WeVideo to reign as the Queen of Spreadsheets across social media with no staff, no agents, no fancy video gear — just her iPhone.