Reuben Hoffman
Grossmont Union High School District, CA
Twitter - @reubenhoffman
Website - reubenhoffman.com
Reuben Hoffman is a Digital Learning Coach for the Grossmont Union High School District. He volunteers as the Vice President of San Diego CUE (SDCUE), where he helps to promote Ed Tech goodness to San Diego educators. Reuben is recognized as a Google for Education Certified Trainer and Google Certified Innovator. He is also a WeVideo Ambassador and focused providing all students video creation opportunities.
Robert Petitto
Riverside School District 96, IL
Twitter - @rpetitto
Website - edtechify.com
After graduating NIU with a Bachelor's Degree in Music Education and Spanish Language & Literature, Robert received a position at his alma mater, Glenbard North High School teaching Spanish. In 2007, he returned to NIU to obtain a Master's Degree in Instructional Technology. All the while, he was a technological pioneer for GNHS, acquiring new interactive hardware, replacing outdated assessment methods with Web2.0 technologies, and developing curriculum that utilizes social media to engage students in and outside of the classroom.
Presently, Robert is the Instructional Technology Coordinator for Riverside School District 96. WeVideo has played a crucial part of the 1:1 program at Riverside. As students moved from MacBooks to Chromebooks, WeVideo was there to fill the gap left from the absence of iMovie and GarageBand. In addition to assisting teachers integrate technology in the classroom, Robert presents at local venues. He has presented at the 2013, 2014 and 2015 ICE Conferences, the 2013 and 2014 Connections Conferences and the 2015 Leyden 1:1 Symposium. Recent accomplishments include being nominated as a Symbaloo Spotlight Educator, as a SMART Exemplary Educator and as a Level 2 Google Certified Educator.
Greg Lawrence
Greg Lawrence is an Instructional Technology Facilitator for the Wentzville School District. As a former computer and vocal music educator at the middle school level, he has seen and is motivated by the engagement technology creates. He was a recipient of ISTE's Making IT Happen award in 2012. Greg is also a Google for Education Certified Innovator and Trainer and a co-leader for GEG (Google Educator Group) Eastern Missouri. Greg is amazed with the creativity that is brought out from staff and students when they are creating with WeVideo.
Jay Vean
Jay began his teaching career in 2000. His first 12 years were spent in Aurora (CO) Public Schools: five years as a 4th and 5th grade teacher and seven years as an Educational Technology Coach for the district. Jay is currently in his fourth year as a District Technology and Learning Coach for Cherry Creek Schools. "What if?" is his favorite question when it comes to technology in education and professional learning. Most importantly, Jay supports teachers and students with being more efficient and effective in an educational setting. Jay, and the rest of the colleagues on his team, have supported Cherry Creek Schools students with WeVideo implementation for the past two school years. He appreciates WeVideo because of its ease of use and for the possibilities WeVideo creates in a classroom setting. Students and teachers all love WeVideo.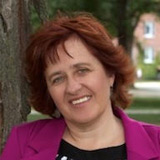 Lucie deLaBruere
Lucie deLaBruere has over 30 years of experience in educational technology working with students and educators in K-12 and higher education. Her 20 years as a classroom teacher always integrated leadership development through the use of emerging technologies. Her reputation as an ambassador for creativity and innovation in our schools lead her to developing Vita-Learn's IGNITE project - aimed at (I)dentifying (G)athering (N)urturing (I)nnovative (T)ransformative (E)ductaors. Through her leadership, Vermont schools have joined together to make WeVideo available to over 10,000 students. Lucie has also helped arrange professional development opportunities for using WeVideo to Vermont educators at regional and statewide events.
Her commitment to staying current with the latest developments in technology is evidenced by her Masters of Science in Internet Engineering and industry certifications including, Oracle-certified educator, Microsoft Office Certification, Raspberry Pi Certified Educator, and Google-Certified Innovator and Google Apps Certified Trainer. She holds a leadership role in several regional, statewide, and national organizations (including ISTE and Vita-Learn- Vermont's ISTE affiliate)
Kristin Wallace
Kristin Wallace is an Integrationist in the Westonka Public Schools located in Minnesota. Prior to her current position, Kristin was an English teacher for 20 years. Her love for video content creation began in the classroom teaching broadcast journalism and film production. When she went 1:1 with Chromebooks four years ago, WeVideo became her go to tool for student film creation. She also use WeVideo as an instructional tool for teachers. The collaborative and accessibility features on WeVideo are what make it an essential tool in her school district.
Eric Peterson
Retired from teaching at Nekoosa School District, WI
Twitter - @JeErPete
I recently retired from teaching after 32 years with the last 30 years teaching 6th grade math and computers while coaching basketball in Nekoosa, WI. I am now pursuing my passion of video production. I do sports highlights, music videos, documentaries, and enjoy sharing video production with teachers to use with their students. I have had kids use WeVideo to make book trailers, "highlight" videos, "how-to" videos, weather forecasts using a green screen, and music videos among many other projects. Kids need every opportunity to "create" in school. WeVideo provides that opportunity.
Joseph Letson
Lauffer Middle School in Tucson, Arizona. Over the past few years he has helped teachers at his school integrate technology into their lessons and projects. He has also supported teachers and students with multiple forms of digital curriculum. His school has had some great success incorporating WeVideo into their lessons this year and he looks forward to seeing how it can help teachers and students showcase their work in new and creative ways. He believes that WeVideo not only helps students create more rigorous projects, but it teaches them real-world skills that they will need in a 21st Century work environment.
Karen Jackson
Karen has been an educator for 21 years, and taught K - Adult students at various times. She loves learning and joining others in their journey to learn. Karen is one of five Instructional Technology Specialists in her district, Temple Independent School District. There are about 30 people in the technology department as a whole, who support approximately 9,000 students. They are in the midst of a technology roll-out of Chromebooks for students in grades 2 - 12 and iPad minis for students in PreK - 1. She also continues to be active in my state teacher association, Texas Classroom Teacher Association, (TCTA), because she believes teachers need to communicate with each other and be aware of current events. Karen believes the most difficult challenge educators face is to convince students they are in charge of their learning, the control of learning is in their hands. She says "many times students base their school experience on what the teacher "taught", not what they "learned". Personally, I truly started to enjoy success only after I figured out that I was capable of learning. This sounds so very basic, but it was important for me."
Christopher Evans
Christopher Evans is a Middle School Technology teacher in Texas. His background is in Radio and Television production with experience producing a daily news magazine with 6th graders. He has been using WeVideo personally for years and introduced it to his classes this year for their video unit: "we use exclusively Chrome devices so WeVideo is the perfect solution".
Joshua Reyes
Grossmont Union High School District, CA
Video - Watch video
Josh is a Social Science and Technology teacher at West Hills High. He has been using WeVideo in his 1 to 1 classroom for three years. For the past year he's been leading training sessions on WeVideo for Grossmont Union High School District. He has a MA in Educational Leadership (PLNU), a Mobile Learning Certificate from USD, and have recently become an official Google Ninja through his district.