Even after 3+ years of pandemic-related remote instruction, many teachers and school administrators are still asking themselves how to engage students in online learning.
Along with the many challenges inherent to engaging students online, remote learning fatigue has officially set in, leaving teachers and students alike zoomed out and burned out. But it doesn't have to stay this way!
To improve online student engagement, start with the 10 practical strategies below. Even when your learners seem like they've seen it (and been bored by it) all, you can turn those blank stares into confident smiles of achievement.
Note: By "online learning," we really mean the use of any kind of digital tools — whether you're teaching asynchronously and fully remotely or synchronously in a traditional classroom. Trust us: the same tools + the same engagement strategies can unlock academic gains, no matter the environment!
1. Build well-organized courses
One major challenge of remote learning is the fact that teachers can't just stroll around the classroom to proactively check in, provide guidance, and redirect attention. Instead, learners have to manage the responsibility of navigating class materials themselves.
That's why it's so important to create clearly organized courses that students don't have to struggle to follow. Designing a well-organized, student-friendly online course could mean:
Creating a

tutorial video

on how to navigate the course platform
Adding a clickable table of contents
Dividing course materials into logical sections and subsections
Writing a brief introduction and summary for each unit
Incorporating "jump links" so that students can easily go back to previous material
Especially for fully asynchronous learning, the less that students have to muddle through the course navigation itself, the more brain power they'll have for meaningful engagement.
2. Personalize the course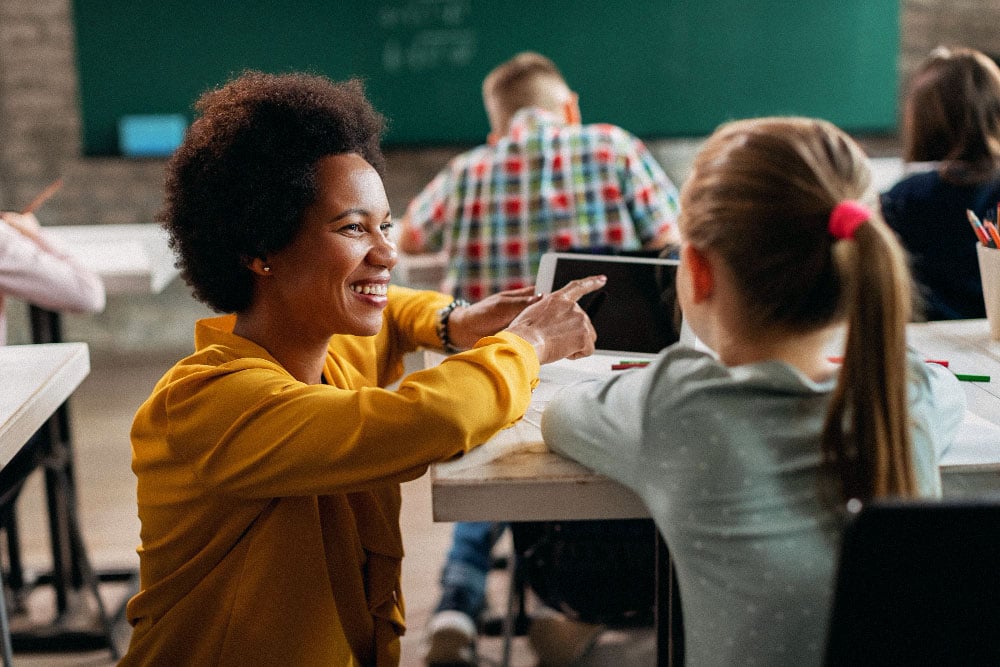 We've all experienced that "face in a crowd" feeling that so often arises from digital interactions, and it's not the most comforting or conducive to learning.
So is it any surprise that improving online student engagement means getting rid of that perceived distance?
Maybe you record a quick welcome video introducing yourself and what to expect. You could establish a weekly ritual of sharing personal wins or funny stories with the class. Or you might provide video or audio feedback on assignments rather than leaving comments by text — allowing students to hear the empathy in your voice.
However you do it, personalizing the course experience will help build a feeling of real human connection.
3. Mix up the content
A decade or so ago, online courses meant pretty much one thing: pages and pages of dense text with maaaaybe a few stock images thrown in. Thankfully, there's so much more available today!
There's surely a time and a place for text, but the most engaging online classes will incorporate a wide variety of content types beyond plain words on a page. (And naturally — same goes for traditional classroom environments.)
In addition to text-based content, consider:
Bite-sized GIFs
Visual aids such as infographics
Live presentations by different people
Online games or quizzes
Audio files such as speeches,

podcast episodes, or music
The very best online courses won't just have a healthy mix of content types to appeal to different learning styles; they'll also make those varied content types interactive. Which leads us perfectly to…
4. Make it interactive
Again, if you think back to the early days of elearning, one of the most striking (and snooze-inducing) features was the complete lack of interactivity. Students could read a piece of text and check the box to move on — no critical thinking required.
To start engaging students online in a more meaningful way, we need to turn these static pieces of content into more dynamic opportunities for interaction. For example, you might:
Add pop-up questions (multiple choice, fill-in-the-blank, etc.) throughout course videos
Encourage students to use the chat feature in your video conferencing platform
Incorporate an

audience response system

so students can participate in live polls
Create a discussion forum for students to post reflections and share their thoughts with one another
These strategies are perfect for remote instruction, but they're equally useful when you've got your learners all together in a computer lab! Either way, you'll be building digital literacy alongside conceptual knowledge.
Pro tip: Custom interactivity may sound like something you absolutely don't have time for, but you don't have to create your own materials. With PlayPosit by WeVideo, you can add interactive assessments on top of any video on the internet — with ready-made templated interactions to make it even quicker. (And if you do want to create your own materials, we've got a video editor to help there, too!)
5. Flip your classroom
Flipped classrooms can work just as well for remote/online learning as they do in a traditional classroom environment.
Record instructional videos (or gather other materials, like PDFs) before you meet and then use the time you're all on video chat to clarify, analyze, and discuss. For the synchronous portion of class, you might query students with a live poll, ask individual students to present live to the class, or host an open forum for real-time commenting.
6. Learn in groups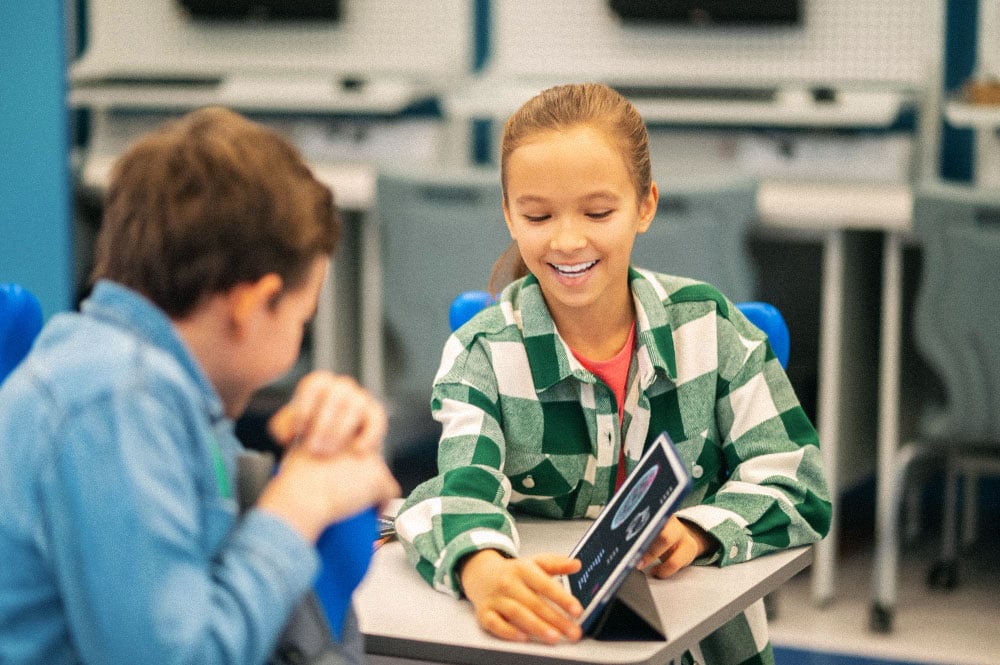 Group learning may look a little different when everyone's chiming in via video, but it's still possible — and it's definitely important to fostering online student engagement.
There are tons of ways to divide up online classwork into group learning opportunities, including:
Using breakout rooms (if available in your video conferencing platform) for small group discussions
Assigning creative group projects, like

video creation
Having groups of students collaborate in the same online document, spreadsheet, or digital whiteboard
After the groups have worked on their own, invite one representative to share with the class. If you have a smaller class or prefer smaller groups, you can adapt these same online methods to traditional think-pair-shares.
Pro tip: Students are often more willing to participate when they know they may be observed. As the educator, try to cycle through the different groups to show that you're actively involved and available for support.
7. Call on students' creativity
At the end of the day, the best answer to the question of how to engage students in online learning is fairly simple: engage them!
That means avoiding passive, rote assignments and one-way lectures where everyone can stay off camera and on mute. Instead, offer active learning opportunities in which students are challenged to use higher-order thinking to evaluate information and synthesize ideas.
For example, you might ask students to:
Try these assignments out as part of a fully remote course, or incorporate them into your in-person classes for independent learning centered on digital literacy.
8. Assess in different ways
Students who expect their understanding to be tested in different ways are often more motivated to engage with course materials — so say goodbye to basic assessments and instead engage those critical thinking skills.
Even fully asynchronous courses can take advantage of all kinds of formative and summative assessments:
Written reflections, either sent to the teacher or shared on a forum with the class
Quick comprehension checks for text, audio, or video content
Live speeches or presentations with real-time audience participation
Peer evaluations

and assessments on projects
Learner-recorded audio or video submissions
Pro tip: Synchronous or asynchronous, in person or remote — why not allow students to choose how they'd like to be assessed? Providing a sense of agency and control is yet another means of engaging students online through digital tools.
9. Stay connected through feedback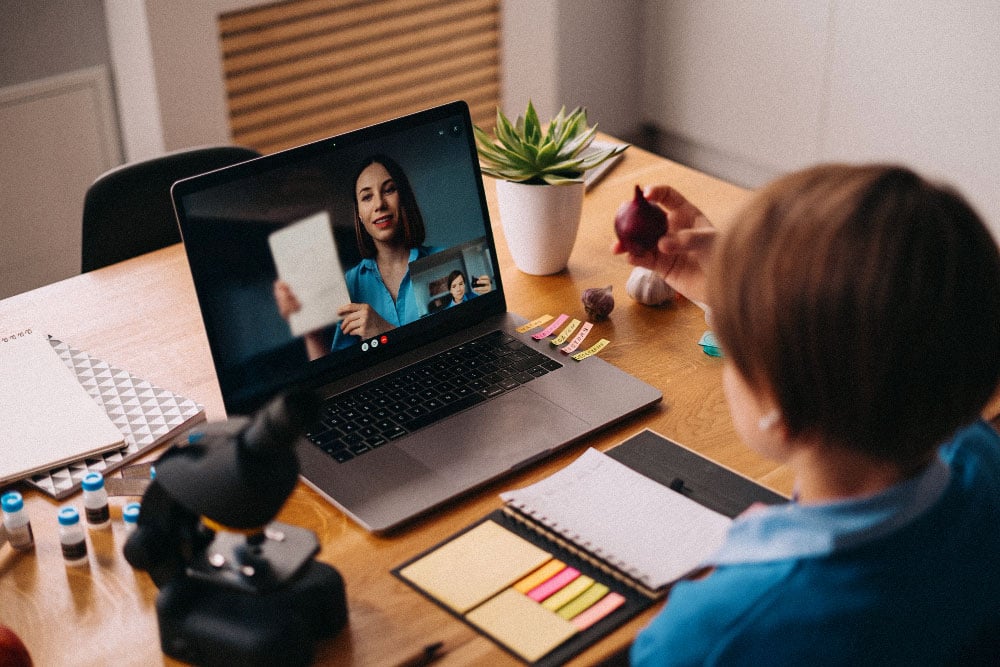 Like we discussed above, building student engagement online comes down to removing that sense of distance that computer screens naturally create. Just as you're working to make course materials more personal, try to make feedback more individualized, too!
Personalized feedback can take many different forms:
Regular emails or chat messages to check in with each student
Live one-on-one meetings throughout the course
Open office hours where students can book times for feedback
Personalized video feedback on assignments and exams (which, bonus, is often

much

quicker than traditional handwritten notes!)
By giving personalized feedback on a regular schedule, you'll help learners feel seen and heard. Keeping an open dialogue will also allow you to gather feedback from students on what's working perfectly and what might need some adjustment in the course.
10. Monitor & adjust
Speaking of what's working…that's something you absolutely need to know in order to engage students online! The strategies above are a great starting point, but it's ongoing monitoring that will ensure your strategies continue to achieve results, semester after semester.
The good news is that PlayPosit by WeVideo has exactly what you need!
Monitor online student engagement in real time through behavioral and performance-based data. Get detailed analytics at both the learner and classroom level, and then use those insights to tailor your curriculum moving forward. If students aren't engaging as expected, you'll know it's time to course-correct.
Even better news? WeVideo and PlayPosit have you covered on ALL the strategies mentioned above, too! From interactive assessments to a collaborative video editor for students, we give you all the EdTech essentials to reach students wherever they are: in class, at home, or halfway around the world.
The bottom line is this: your students and your district can achieve academic excellence through online learning! All it takes is the right innovations in instruction.