One of the greatest joys in my job is working with teachers and students. Whether it's for big projects or small ones, I love every minute. I started my career in a 5th-grade classroom, moved to 7th and 8th grade and now I am a technology integration specialist for the Ross Local School District, serving our two elementary schools. I work with teachers and their students both on a regular basis and also when special projects arise.
Recently, I worked with a 4th-grade teacher on one of these special projects. The teacher, Laura, saw the below photo on Twitter and shared it with her students. As you might imagine, it sparked quite the conversation in her class! Her students not only connected with this photo, but they had many questions as well. We've been in-person most of this year, with only a couple of weeks of remote, so their experience of remote learning is still very fresh in their minds. The students, Laura and I were all shocked to find out these students were learning around the radio in 1937 during the polio outbreak. (They also didn't know what that "thing" was in the back! They were shocked to find out it was a radio.)
I've been sharing this amazing picture on Zoom class visits — kids remote learning during a polio outbreak in the 1940s. Schools shut and teachers read lessons on the RADIO. We're facing such challenges today, but as I tell kids, we've faced them in the past and gotten through. pic.twitter.com/IOV6MNPE6a

— Lauren Tarshis (@laurenTarshis) January 24, 2021
This conversation led to more questions and quickly became a research opportunity Laura knew she couldn't pass up. She saw the excitement in her students' eyes and heard it in their voices. Her students had such an interest in learning about the history of polio and comparing it to COVID. Laura came to me, shared her class conversation and asked for my help.
Laura told me she wanted her students to have a choice in how they shared their learning but also wanted to be sure she could manage the options. She wasn't sure which tools would work for any of these options, so could I help out? Absolutely! We talked for a bit so I could be sure I was clear on her expectations. We both agreed the students should come up with ideas for the "how" to share their learning. And from there, I assured her, I would present options and pros and cons for various tools.
Seven things I've learned from remote learning
A couple of days later, Laura approached me again. Two of her girls, Addison and Stella, really wanted to do a news broadcast and make it feel as real as possible. Their wish was to have a hospital in the background as one reported and the other interviewed a doctor. Laura wasn't sure how to make this happen, so I suggested using WeVideo.
Let me be honest, I was a tad nervous. We'd both used WeVideo, but neither of us had used it with students. I talked with the girls, sharing the idea of using WeVideo to see what they thought. I explained they would record their report in front of a green screen, which I had never used personally, and then import it to WeVideo, and use the replace background with a hospital scene. But I assured them I knew of at least one teacher in the building who had and we would figure it out together. I could tell the girls were excited, but a little nervous. We all agreed to move forward.
Can I say how much I loved working with these students on their project? These girls worked together, wrote out scripts, thought through and planned the "look" of their news report, and the sequence of the reports. They used green bulletin board paper hung on a tack strip as their green screen and recorded their reports so by the next time we met, we created a project in WeVideo they could collaborate on and we uploaded their videos.
I very much enjoyed sitting with these two as they dropped their videos into the timeline, explored the backgrounds - found the ones they wanted, and replaced the green screen. I explained how they could add transitions, text, music, and use the layers. As intimidated as I was the first several times I used WeVideo, these two showed no hesitation, navigated WeVideo, and created like pros!
Inspired entirely by a photograph, Laura's students dug into researching a disease that disrupted the lives and schooling of students nearly 90 years ago (very much like COVID did for us). Stella and Addison chose a news broadcast and used WeVideo to bring their project to life. Not only did they learn about COVID and polio, they learned how to create, design and record a news broadcast and used WeVideo to bring it to life.
What a perfect example of student-led learning. What a perfect experience for Laura and me to trust the process, each other, and let these girls spread their wings. Where will they go in the future? I'm excited to see.
---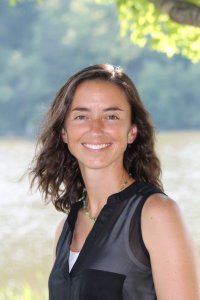 Sarah Kiefer is a Technology Integration Specialist who loves educational technology & helping teachers & students include technology in meaningful ways. She is also a Google Certified Innovator, Trainer & Educator, as well as a wife, mom to 3 girls, and 2 pups. You can read her blog www.TechYouCanDo.com which she tries to publish weekly. Be sure to check out the TYCD: Resources section … a weekly share out of various resources for you to try. Sarah & her colleague, Beth Kingsley created www.TemplatesForTeachers.com to share out their Google templates for ALL teachers. Finally, you can also find Sarah on Twitter & Wakelet (@kiefersj).