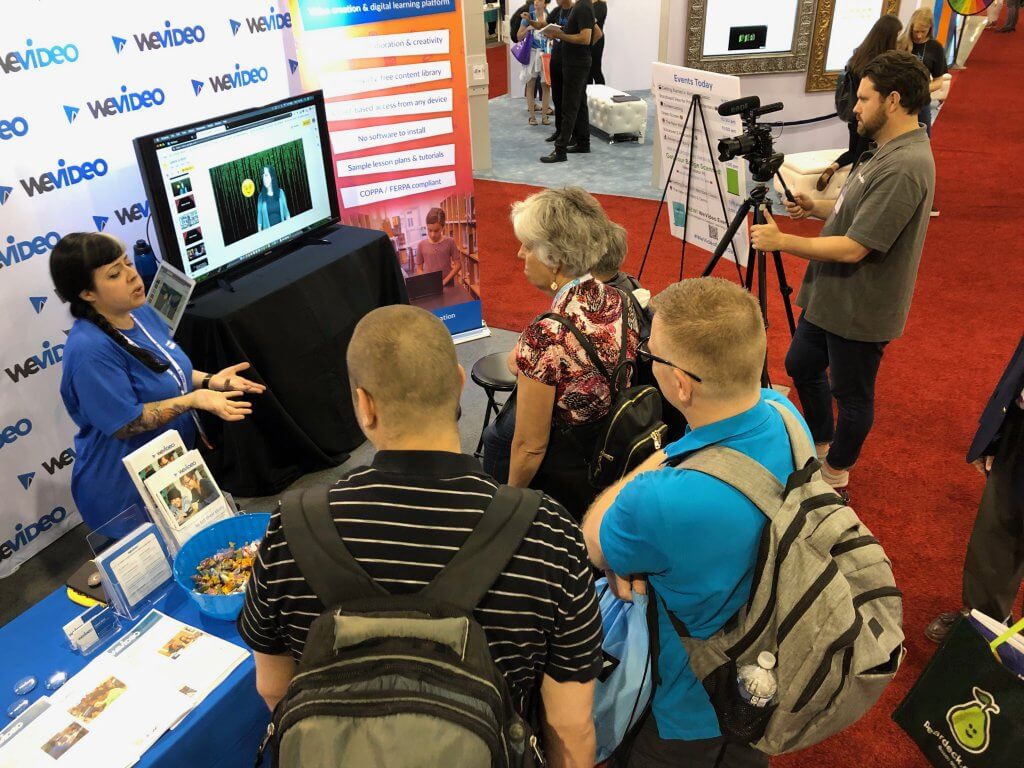 A lot of teachers are afraid to record themselves, or simply don't want to watch themselves on video. But how can we ask our students to do something that we ourselves aren't comfortable doing? I'm going to share eight reasons why recording yourself on video is not only important to do, but super advantageous!
SUB PLANS
Recording a screencast of yourself (with or without webcam) talking through an assignment while you're out (or even recording yourself giving a lecture in front of the class like you were there!), is a great way to ensure that students get exactly the information that you want them to receive while you are out of the building. It's a great way to let the substitute know what's going on in class, too!
ABSENT STUDENTS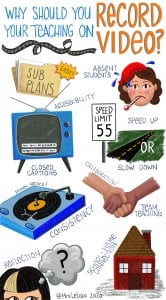 Maybe you have a student who is on vacation or is out due to an extended illness. Because you have recorded your lessons on video, students can easily makeup work from home or catch up after they return to school, because you will be able to show them a video of what happened while they were out. I know that I have found this especially helpful as an art teacher, when I would pull out all sorts of materials and give a demonstration for students, only to have to repeat the whole process the next day for only one or two students who were absent the day before. Problem solved!
ACCESSIBILITY
I uncovered this gem by accident! I have students with hearing impairments, and a student watching one of my videos turned on the closed captioning (this is something auto-generated by YouTube). The student was able to seamlessly follow along with the rest of the class! This feature can also be used in Google Slides by turning on the closed-captioning feature, and screen recording your presentation. Easy!
DIFFERENTIATION
When you record your lessons on video, students can watch them back at a speed that best fits their needs. Maybe you have a student who doesn't need a long, drawn-out explanation, and can watch her video at one and a half times the normal speed. Or conversely, you might have a student who needs a longer processing time, so they can watch your videos at a slower speed, or even go back and rewatch sections as needed in order to provide a more clear understanding of the assigned tasks.
CONSISTENCY
As someone who teaches multiple classes of the same subject level in one day, I often forget whether or not I've included all the information consistently across my classes. Did I remember to tell them about that one thing they might have difficulty with? Well, because I record my lessons in the WeVideo video editor, I don't need to worry about that anymore. Each class gets exactly the same message in the same amount of time and in the same manner. No more worrying about forgetting any details when you're using a video!
COLLABORATION AND TEAM BUILDING
Whether you have a team of teachers that you work with in the same building, or across the district in several buildings, recording your lessons on video is a great way to show other teachers what's happening in your classroom. Maybe a teacher wants to borrow your lesson and needs to see how you deliver it to students. Maybe you are having trouble with a class, and are looking for advice. Recording your lesson is a great way to show what's going on in your classroom in order to do some collaborative problem-solving!
REFLECTION
When I was completing my National Board Certification process, one of the tasks to complete is to record yourself teaching a lesson and to write a reflective paper about your teaching. What worked? What didn't? I found this incredibly helpful. We don't know what we look like in front of the classroom unless we actually record it, look back at ourselves, and reflect on what we see! You might notice that you have a habit of talking with your hands, or constantly clearing your throat, or, in my case, using laughter as a nervous coping skill! I might have never noticed that about myself, had I not watched myself presenting on video. This one can be difficult to do, but the information that you gain is so incredibly valuable.
SCHOOL-HOME COMMUNICATION
Video is a great way to enhance the school-home communication channel. Maybe you can create a weekly newsletter (or your class can!) using video, and sending an email out to parents. Maybe you could record a quick 30-second video announcement with reminders and upcoming calendar events. Putting yourself on video helps personalize your message, and allows your parents to get to know you better!
In conclusion, I think that teachers need to overcome their fears of videotaping themselves by just jumping in and doing it! Take a chance. I can tell you from experience that the more you do it, the easier it gets, the more self-confidence you will gain, and being on video won't feel so strange anymore. Jumping into video recording and creating content in a video editor is a great example of modeling for your students: suddenly, you're not asking them to do something that you yourself wouldn't do!
About Jen Leban
Jennifer Leban is a 2020 IL State Teacher of the Year Finalist and 2019-20 Teach Plus Illinois Teaching Policy Fellow. A National Board Certified Teacher, Jennifer teaches creative technology and visual arts classes at Sandburg Middle School in Elmhurst, IL. In 2018, Jennifer was accepted into the LAX18 Google Certified Innovator cohort. Her Innovator project, called Reset EDU, is a YouTube channel that strives to motivate, empower, and inspire teachers to embrace new ideas for learning and teaching. Jennifer has presented throughout the United States at education events and conferences such as ISTE, AMLE, and CPS Googlepalooza. Jen also works with friEdTechnology as a Learning Guide for professional development services and is an education ambassador for WeVideo. Jennifer earned her BA in Arts Education with honors from Elmhurst College and completed her MA in Educational Leadership through St. Xavier University.