Christmas morning is a great time to capture special moments and memories with your family. With smartphone cameras as powerful as what Hollywood uses, it's normal to turn those memories into videos to share. Thanks to video editors like WeVideo, you can shoot, edit and share those Christmas memories before lunch.
Here are some quick tips for making a great Christmas video.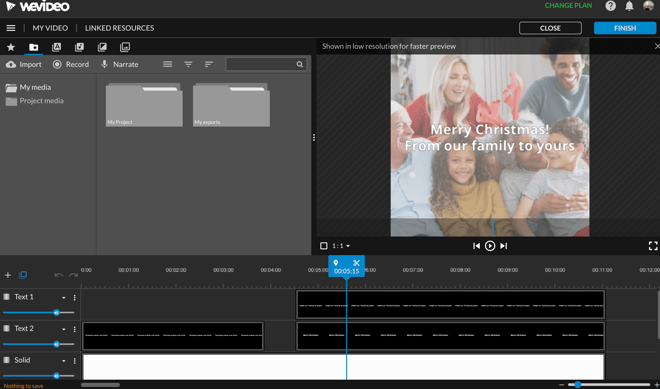 Christmas morning
Record the early moments

If possible, try and capture some shots before the kids wake up. Get some glamour shots of the presents, the tree in all its glory and adults sipping coffee as they enjoy the "calm before the storm."

Capture every tradition

Whatever traditions your family enjoys during the holidays, make sure to capture it on video. If you don't have then this could be the year you consider starting one. One idea is to go around the room and ask each family member what they enjoy most about the holidays.

Don't film everything

While it's tempting to throw the camera on a tripod and let it record the entire morning of present-opening, you must fight that temptation. Nobody wants to watch every single gift being opened and the reactions they bring. Get a quick shot of presents being opened and the initial reaction then move along.

Share some tales

Once the frenzy of the presents being opened has subsided, ask a grandparent or an older family member to retell one of their favorite holiday memories. It can be stories of Christmas past from their own childhood as a parent, a fun memory from years past or a family tale from generations ago.

This isn't a documentary

When you're watching a movie you don't want to hear from the person behind the camera, right? The same goes for your family videos. Don't narrate what's happening, film and let the people on camera tell what's happening. Ask people what they're doing and what they want to say to people who may be watching.
Tips when editing
Get in the spirit with music

WeVideo has plenty of holiday-themed music built right into the editor. Plus, with certain plans, you'll have full access to a stock media library of over 1 million images, videos and audio tracks. Pick the right song for your video and really get into the holiday spirit and mood.

Add holiday text

With an array of motion titles, static text and thought bubbles there are countless ways you can add text to your video. For example, one use case is the first time you show one of the children and you add a lower third graphic that shows their name and age. If someone received a really great gift that you want to feature, add a text bubble describing what it is, like "iPhone 13" or "Nintendo Switch." Don't forget to add a quick title at the start that says something like "Christmas 2021."

Use a template

Want to cut down on your editing time? Select a professionally-designed WeVideo template to get started and you'll have to do is add in your own videos and change the texts to read whatever you want.
Bonus tip
Don't create at the expense of the holiday
Filming shouldn't keep you from being an active participant. Make sure to enjoy time with your family and remember to have fun. If you're lucky, you'll capture some magic while you're at it!