Still looking for a thoughtful, unique Valentine's Day gift? If the thought of buying candy hearts or a generic stuffed bear makes you cringe, keep reading. There's still plenty of time to give a personalized, meaningful gift that isn't made for the masses.

In less time than it takes to drive to the store to buy a card, you can make a Valentine video that looks professionally made. Whether you're sending your sweetheart a video valentine, making a sweet slideshow for a family member or sending a note of appreciation to your customers, video is a versatile gift you can give to anyone in your life. Ready to capture some hearts? Here's how to make a Valentine video in minutes:
1. Choose from images you already have
You don't have to record new video footage to make a heartfelt video. Use photos from a fun vacation, wedding or birthday celebration to relive special memories. Or, for a more fun and upbeat video, candid photos work great. Simply scroll through your camera roll or computer drive and choose a few photos you can combine to make a video slideshow.
Quick video tip: 3 easy ways to import your media into WeVideo.
2. Set the mood with music
What's the vibe of your video? Romantic and swoony, fun and casual, silly and sweet? Or maybe the two of you have "your song" that goes well with just about anything. Upload your own music or choose from WeVideo's library of included songs to fit any mood. Nothing sounds sweeter than a song personally picked by you.
3. Add a Valentine's Day motion title
What better way to show your Valentine some love than with a totally on-theme motion title? Motion titles are a great way to add both text and movement to your video. They also give your video a professionally-made look and feel. Check it out!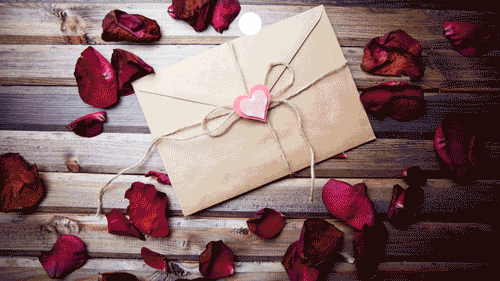 4. Add finishing touches
Feeling fancy? Take your video to the next level with commercially-licensed stock video clips, images and audio with WeVideo Essentials. Open your video edit and search Essentials for "Valentine's Day" or "hearts" to add Valentine's Day themed media to your video. You can also add transitions between images for that extra wow factor.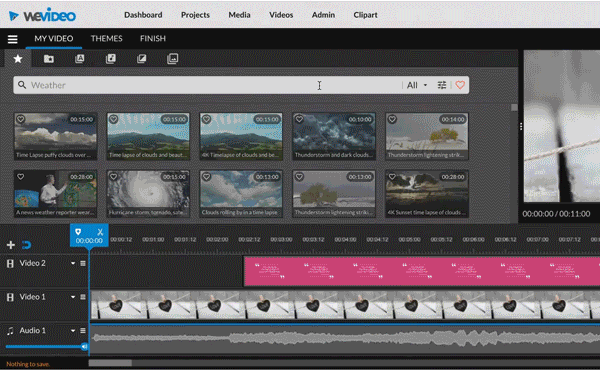 5. Review your masterpiece
You've added photos, the perfect song and all the finishing touches to your video. Now all that's left to do is review your work! Sit back, relax and hit the play button to make sure everything looks great. Export your file and wait for your Valentine to be blown away by your masterpiece. How easy was that?