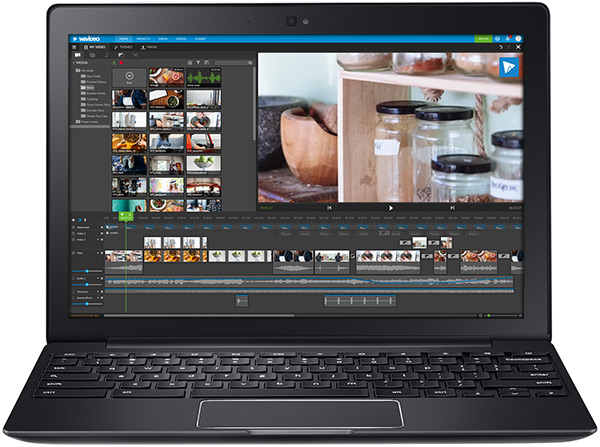 Over the past year we've been focusing on the transition of our video editor from Flash to HTML5. Today we say "Bon Voyage," to our old editor and "Hello!" to a brand new era of better, faster, and more secure video editing.
Why move to HTML5?
It's no secret that Adobe's Flash player is being phased out by the end of the year. Five years ago, Flash gave us the opportunity to make WeVideo a browser-based video editor that has been used by over 15 million creators like you. Over the past year we've re-written our video editor from the ground up. Everything from the player to the timeline and storyboard and everything in between to a new technology that will help us make an editor that is:
Faster and more responsive
The video editor dashboard now loads 80% faster! Clips can be moved around effortlessly, and they snap quickly to the next clip or track and all the controls have a more responsive feel. No plugins or desktop apps to install—just open any modern browser and you're ready to start editing video with multiple layers, special effects, music and real-time preview without rendering.
Safer & More Secure
Security was one of our main reasons to move our video editor to HTML5. Because it has been so popular over the years, Flash has some known security issues and vulnerabilities that our new video editor won't be exposed to. We want to make sure that every video creator, school, business, and family can edit video online in a secure environment.
Expandable
HTML5 provides us with tremendous opportunities to rapidly add new features, tweak current ones, and help us make your video editing experience the best it can be.
So what is in the upgraded experience?
At first glance you'll be able to tell that our video editor has the same functionality that you know and love with a sleek new look. But when you get started, you'll see that we also added some great new features and improved some old favorites inspired by the way you create!
Universal video tracks
Based on user feedback, we standardized all timeline video tracks. This means that instead of having separate "Main" and "Supporting" tracks, all timelines have the same capabilities and video editing features. You can now leave spaces between clips on all layers without the need to keep clips connected. It will be easier to precision-time clips or draft your story, because now you are in better control of exactly when and where clips move to. Need to quickly close the gaps? Select the clips and choose the option from the right-click menu. Learn more about the new timeline mode.
Multi-select clips
To easily select multiple clips and move them around tracks we've added multi-select to Timeline mode. Easily rearrange two or more clips while maintaining them connected, for example green screen clips.

Advanced Scene Transitions
Transitions can be added anywhere—every video track, between clips, and even on the clip edges. Edge transitions are a great way to create an intro for your clips or to create an effect across multiple tracks. Plus we've added 15 new transitions to our library! Learn more about transitions.
Flexible layout
Most of you create videos on smaller screens. To give you more real estate where it matters, we've added a control to resize the track's height. The collapsed view is perfect for text graphics or tracks you don't interact with often. The expanded view displays the audio options of the track and the audio waveforms per clip. The preview window can also be adjusted to give you even more track visibility.

Fade and volume adjustments
Two of the most commonly used features in video editing are the audio controls and the transparency of a scene for transisions and overlays. As a result, we made the audio and opacity controls more accessible so you can do things like quickly create fade in/out effects directly on a clip. Simply click on the (brand new) level icon and open the controls. Use the checkboxes to add a quick default effect, or play with the green and blue lines to adjust the levels as you please.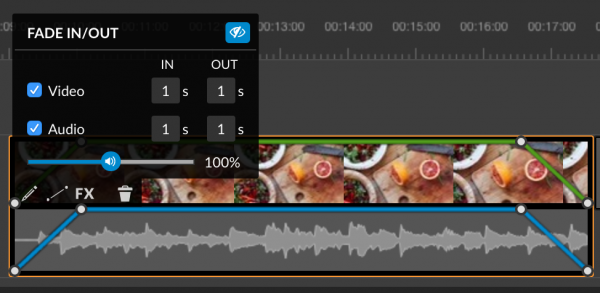 Updated Green Screen & Chroma Key
This new version of our chroma keying tool is easier to use! Color or green-screen backgrounds can now be removed and replaced more evenly to with much better results.


In-editor Media & Asset Management
Organizing media in your video editor dashboard is now easier than ever. We've relocated the upload, record, search, and filter buttons above the library for easy access. Plus you can find clip actions like rename and share on right-click.
More text formatting options
Text spacing, line height and text highlighting were added to our expanding text controls. Give your text some personality by playing with these new options!
Thumbnail sequence on the track layers
You'll notice that now your clips in Timeline mode will be represented by a sequence of key-frame thumbnails rather than just one. Your story now is much more visual and easy to follow and edit.
PDF support
Easily import Google Slides or any other presentation by converting it to PDF and uploading it to WeVideo. We'll take it from there—each slide is uploaded as a media clip and ready for you to drop it to your story.
Exports as media
For those video creators in teams, we've added a new folder called Finished videos. Now you can reuse videos that you created in the WeVideo editor without having to download and re-upload them. New videos that you finalize, will appear on this folder in the editor so you can use them as a regular clip. Reuse an intro in every video, or stitch together pieces of a story, even if they were created by different teammates!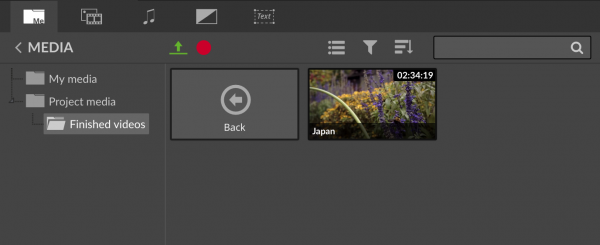 You inspire us!
This update was heavily influenced by your feedback and suggestions. We spent the whole summer talking to you through our community, social channels and our ambassador program. This team of power-users helped us test some of the early-stage features and helped us make sure this update would be seamless and empowering for all of you!
Here are some of the few early comments we received from them:
"I am very impressed with the new editor. The green screen effects in particular are really improved.I look forward to using the new editor with my students as we make some outstanding videos this year!" Joseph Letson
"Nice crisper look. Best cloud based video editing software out there." David Grossman
"I have been using WeVideo for the past 6 months and this beta version is awesome! We are planning to purchase for our entire school division so I am hoping this will be rolled out to all users very soon - kids from grades 1-12 love this editor. Thanks for making it even better."
"LOVE this interface so much more! Much smoother workflow, colors are nice, everything is easy to use, and I LOVE that you got rid of the MAIN layer so I can put transitions on video layers! Excited to use this with my students soon!"
Thank you from all of our team. Please keep sending us your feedback and together we'll continue making WeVideo the place where you share your stories. This new version of the editor will be slowly rolled out to all accounts this August.
Happy creating!