Everyone loves videos, but not everyone has enough time to sit through a whole video. Images work, but you want something to really catch your audience's eye. Where do you turn, and what do you do? That's where GIFs come in!
Whether you pronounce it GIF or JIF, it's a great way to engage and entertain audiences, students, family, and friends. If you want to share your stance, feel free to comment below.
When scrolling through any social media channel, you'll see an abundance of GIFs, and now you can join in on the fun with WeVideo! With our GIF Creator, you can take any video clip(s) and turn them into GIFs in your timeline. This feature is available on all plans for all users.
From your dashboard, click on the GIF Creator icon. Once in your editor, select an individual clip or multiple clips and drop them onto your timeline. You can edit and add effects to the clip as you would any video you would create. Add animated texts or effects or start with a clip from our stock library.
For a more in-depth tutorial on GIF Creator, click here.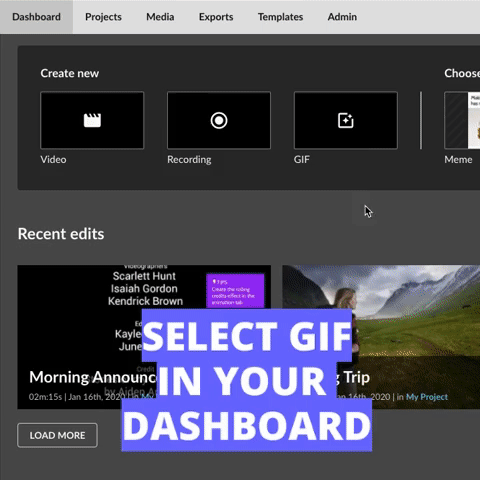 This tool makes it easy for businesses and marketers to create a quick, fun piece of content for emails or social media posts. Teachers will love engaging students with GIFs that can double as memes. You can also make text, social media, and email threads for entertaining with friends and family.
The WeVideo team has been hard at work to make WeVideo easier and more interactive for all of our users. Not only have we added GIF Creator to our feature set, but we've made it easier for our users to use screen recording, record their webcams, and simultaneously record both. On your dashboard, there's a new button for Quick Record. Just hit the button and select what you want to record and get started.
For more on this feature, read our Product update: Making screen recording easier and quicker.
Our product and development team didn't stop there! We added the same quick start buttons we added for GIF Creator and Quick Record, we've done for podcasting. From your dashboard, click on the podcast button, and you'll be dropped into your timeline. Hit record and start talking. When you're done, you can export the audio and get your podcast up and running.
WeVideo continues to expand and bring new features to make your creating experience easier and more fulfilling. There's more to come. To get started and make the most of your video creating experience, choose one of our plans.