With Labor Day upon us, it's the perfect time to fire up the grill, pack a picnic or just soak up the sun as the summer comes to a close. Among other things, Labor Day is known for the influx of sales, special promotions and marketing campaigns that come with it. And while summer might be ending, Labor Day is merely a kickoff for even more sales and promotions to come in Q4. Here are some of the more popular e-commerce holidays coming up, along with marketing ideas to help you crush your quota.
Halloween – October 31st
Halloween is notorious for lavish costumes and spooky attire, making it a perfect holiday for a themed campaign. Many small businesses decorate their stores or spruce up their websites with haunting features. Why not stand out from your competition with a spooky-themed video? WeVideo offers a variety of scary motion titles to give your next video ad a little Halloween flair.
Veterans Day and Remembrance day – November 11th
Veterans Day, for those in the US, is a day to recognize and thank veterans and military personnel who have served our country. Remembrance Day, which falls on the same date, is a day the British, Canadians and Australians commemorate those who have fallen in armed conflict. Marketers and business owners should be sensitive when aligning a promotional discount around this holiday. While intentions might be good, it's easy for a campaign to be perceived as a publicity stunt. Try keeping it simple with a message of thanks from your brand. As always, video works great here.
Quick tip: In the WeVideo Essentials library, use search keywords like "troops", "veteran", and "honor" to find appropriate, high-quality video content for the holiday.
Thanksgiving – November 25th / Canadian Thanksgiving – October 11th
Thanksgiving is a time to be thankful for friends, family and good fortune. For marketers, it's the start of a swift succession of e-commerce campaigns that follow. Not to be confused with Canadian Thanksgiving, celebrated on October 11 by our friends up north, Thanksgiving is another great holiday to create a themed video around (just make sure you've segmented the right geographic). Need a place to start? WeVideo has you covered with a wide variety of fall-themed stock content and motion titles.
Black Friday – November 26th
Black Friday, a day notorious for putting retailers "in the black", is one of the biggest sale days of the year. To ensure your Black Friday campaign is a success, start preparing and promoting early. Make sure your merchandise is well-stocked and you have plenty of staff on board to support the holiday rush. Consumers expect great deals the day after Thanksgiving and often do their research way ahead of time. One idea is to have at least one doorbuster sale to entice and bring traffic into your store. Once you have consumers inside your store, it's likely they'll make additional purchases as well. List your upcoming sales on your website, in store, and via email and social media channels at least two weeks in advance (many brands get started as early as October). According to a study by Salecycle, businesses claim that social media was the most important channel for Black Friday promotions at 29%. Video creation tools like WeVideo make it easy to optimize your videos for every social channel by allowing you to easily switch formats (square, horizontal and vertical).
Small Business Saturday – November 27th
Founded by American Express in 2010, Small Business Saturday is dedicated to funneling consumer traffic into small businesses and communities. As a show of support for the holiday, credit card giant American Express created a wide variety of "#shopsmall" marketing materials any small business can take advantage of (banners, social and email copy, badges, flyers, etc.). The only thing they don't provide is a handy, easy-to-use video editor...but you know who's got you covered there ?.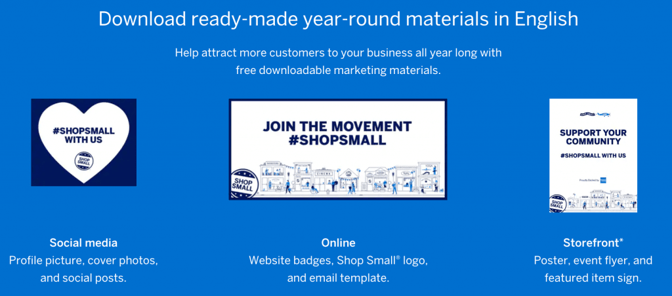 Cyber Monday – November 29th
Cyber Monday is the Black Friday for online retailers. Instead of dealing with long lines and pushy shoppers, consumers can purchase online with just a few clicks from the comfort of their couch. As online shopping continues to outpace brick and mortar stores, there seems to be new cyber sale every year (we're looking at you, Amazon #PrimeDay). To prepare for Cyber Monday, make sure your website is mobile-optimized and can handle the influx of visits without crashing. Compared to Black Friday or Thanksgiving sales, Cyber Monday deals sell out and end the fastest. As a marketer, a great way to convey a sense of urgency is by using a countdown timer. Studies show that including a countdown timer on your page increases click rates, conversions and sales.
Green Monday – December 13th
Green Monday, also known as Cyber Monday #2, is the second biggest online shopping day of Q4. Green Monday, founded by eBay, started as a day where shoppers began to panic about gifts that wouldn't be delivered in time for Christmas. The day got its name when analysts at eBay noticed an increase in sales, putting profits "in the green". Since then, many brands have joined the trend by contributing to online promotions. For brands, this is a great opportunity to re-promote or apply additional discounts to products that didn't sell out on Cyber Monday and Black Friday. Having an abandoned cart email workflow in place can really help capitalize on purchases that were started (but not completed) on Cyber Monday.
Free Shipping Day – December 14th
Free Shipping Day got its name for being the last day to order gifts with a guaranteed arrival before Christmas. Since it began, more and more companies have joined in offering this incentive, resulting in its own e-commerce holiday. Studies have shown that 9 out of 10 customers are more likely to shop online if free shipping is available. With the increased online traffic spurred from the holiday, this is a perfect time to run a sitewide online promotion. There are different types of videos you can create for a short-term promotion like this. Offer videos, in particular, tend to very well here due to a heightened sense of urgency. Want to create lots of offer videos over time? Try using templates in WeVideo to save time.
Free Shipping Day typically wraps up the last of the e-commerce holidays for the year. Sure, there are even more holidays we didn't mention here, but generally, business tends to slow down for the remaining weeks as families and friends unite to celebrate the holidays. Why not take a moment this holiday season to capture your own memories and celebrations with WeVideo?