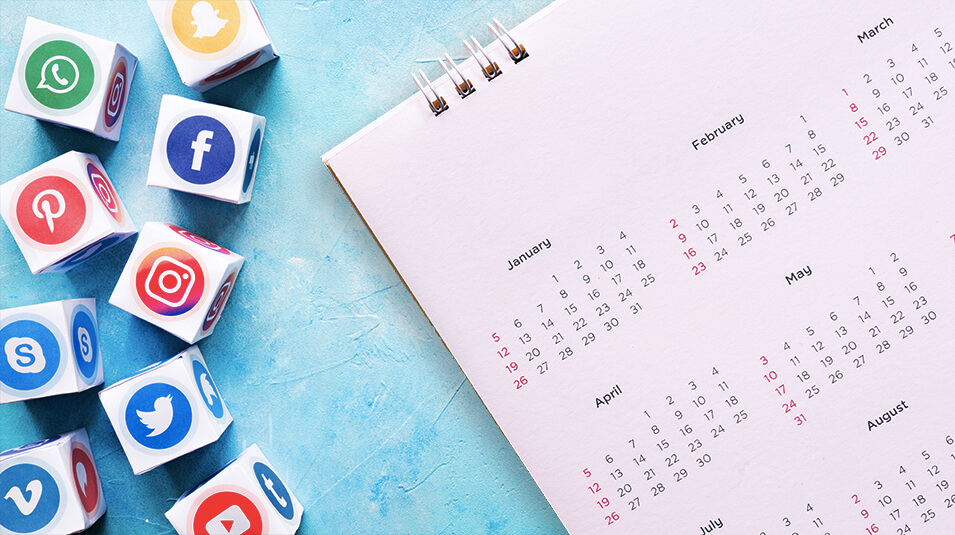 Putting together a marketing plan usually takes time, planning and collaboration. A successful social media marketing plan is no different... for the most part.
When most of us think of social media we think about "real-time" posts. These are usually thoughts we have in the moment, images or videos of what's going on around us and any live update of an event or function we may be at. Those are all great, engaging and can play an important role for your brand. But, when you're a marketer you need to go a little further.
The best part of having a calendar to schedule your posts is that it takes out the guessing game of when or what to post online. There are few things to keep in mind when creating a calendar and posts that you want to schedule.
To run successful social media marketing channels, you need to have a plan. Not just a plan to know when and where to post, but also what to post.
When planning your social media marketing calendar, here are some things to keep in mind:
Establish your goals
What do you hope to accomplish on social media for your business? Increase sales, spread brand awareness, drive people to your website, engage with customers, etc. Whatever your goal may be, you want to be able to track how effective the content you create is in helping you reach them.
Brush up on hashtags (and geotags!)
Hashtags and geotags play just as an important part in your success as the content you post. These play a pivotal role in connecting you with audiences and keeping you up on current trends. Using hashtags create visibility for your content and connect with audiences that are following those hashtags. Geotags share your location and can allow your audience to find you if you're local to them or where they are. These are perfect for small, local businesses looking to grow and expand their base.
Build campaigns around themes or holidays
Knowing what themes are important each month and what events are happening should be kept in mind as well. For instance, you definitely want to build social media campaigns around upcoming days like Black Friday and Cyber Monday if you have a product to sell. If you're a nonprofit, you want to build and plan content around Giving Tuesday. Don't forget social holidays like Thanksgiving and Christmas. You may not be in the office but you can plan and schedule content for those dates. Here's our calendar that lists a bunch of social holidays throughout the year.
Brainstorm the content you'll share
It's not just what you share, but how you share it. Think back to your social media marketing goals. If your goal is to drive sales, maybe you want to create social media video ads. If your goal is to engage your audience, post a poll or survey to get your customers' opinions. Consider the types of content you'll share as well. Photos, videos, etc...
Know when to post
When you're planning out your schedule and creating a social media calendar, it's always best to know how often to post for each channel. According to Hubspot, a majority of marketers have found that posting 1-6 times per week on social media is optimal. When it comes to each channel, the frequency differs.
For Twitter, the frequency is less important than the content as publishing more is better since posts show up in chronological order. On LinkedIn, Tuesday-Friday is seen as the most reliable time to post for engagement. Facebook doesn't really have an ideal day since only really good content gets regularly surfaced. The same can be said for Instagram. Neither channel has a chronological order in their feeds and depends
On top of that, each platform has its own guidelines, formats and video specifications that have become industry standards. We've laid out all the specs by platform here: The comprehensive guide to social media ads.
It's always good to know how often to post and having a calendar will help you do so. You won't feel like you have to scramble to post something, scheduling out your content helps keep you free to focus on anything that may pop up and you're able to handle it all.
If you're looking for a guide or calendar to help you start scheduling posts, look no further than the WeVideo Marketing Calendar.