Company culture is one of the single most important aspects of any organization. A positive culture will help employees feel valued, respected, and personally committed, while a negative culture often eats away at morale, undermines trust, and lowers productivity.
Getting your company culture exactly right is hard enough — don't make it any harder by failing to publicize that culture once it's established! With the right company culture videos, you can put into concrete words and memorable visuals what may otherwise feel intangible or even invisible.
To help you create an effective corporate culture video, we're covering:
What is a company culture video?
Image by Vanilla Bear Films on Unsplash.
The term "company culture video" is pretty loosely defined; it isn't just one single thing or one specific approach. Instead, company culture videos can really be any kind of video that captures the essence of working for your company.
Some company culture videos will focus strictly on their employees. Others might drive home the fun, laid-back atmosphere by highlighting in-office perks. Still others might keep it serious and speak only about corporate values.
No matter the specific content focus, all great company culture videos answer the same basic questions:
What is it like to work for you?
What values drive and unite the team?
What is the organizational hierarchy like?
How are you similar or different to other companies?
And for the most important yet hardest-to-pin-down of all… what's your vibe?
You can answer these questions in many different ways, and we're sharing some great examples from well-known enterprise organizations next.
What we can learn from 10 of the best company culture videos
1. Apple
Apple's company culture video is a montage of 68 different employees and begins with a single word that summarizes the entire culture they work to build: "open."
Rather than interviewing these employees, the video shows a series of portrait-style close-ups with a single voiceover running throughout. The end result is a company culture video that, like all things Apple, feels artistic, cinematic, and expensive.
2. Plaid
Plaid takes a similar approach to Apple in terms of highlighting a diverse group of team members, but the employees are directly interviewed. They're able to speak for themselves and share in their own words what Plaid's values are all about.
Some of the authentic awkwardness has also been retained in the final footage, like interviewees' eyes darting around the room and some natural stumbling over words. As a result, the overall vibe is more casual, off the cuff, and (one could argue) believable than Apple.
3. Netflix
Netflix's company culture video starts out especially strong by naming a snappy and memorable theme ("freedom and responsibility") and then explaining, via interviews, what that theme means to different employees. By having some interviews with management and staff seated together, Netflix gives a subtle look into an organizational hierarchy that prioritizes candor and transparency.
4. Atlassian
A lot of company culture videos focus on the in-office experience, but changing workplace norms (and of course COVID) have shifted the meaning of culture significantly. Software development firm Atlassian has responded by redefining company culture as something that can be built even remotely.
By embracing the realities of working from home (dogs, babies, beds in the background, connectivity problems), Atlassian emphasizes a culture that is empathetic, human, and undeniably modern.
5. Southwest Airlines
Southwest Airlines uses this company culture video to put a spotlight on diversity and inclusion. The company does a great job of pulling in employees of all different ages and backgrounds, and they've included captions in the video to make it more accessible to everyone. (Clearly inclusion isn't just a vague value.)
Pro tip: You can easily recreate this style of video by shooting in front of a green screen and then doing your post-production edits in our online video editor.
6. REI
REI's company culture video is part storytelling, part education, and part advertising.
It gives a brief history of REI, explains what a co-op is (lightly), and highlights the core values that unite the members of REI—a group of people who "love mountains more than money." This culture video is less focused on recruiting employees than it is on new co-op members.
7. Dropbox
Similar to Atlassian's video example above, Dropbox's company culture video is designed to embrace the new reality of remote work. To help position the company as a "virtual-first" leader, this video illustrates how employees of all backgrounds and lifestyles are able to prioritize their personal lives while still thriving at Dropbox.
8. Kabbage
Kabbage's company culture video begins with a one-sentence explainer of what Kabbage does—an approach that would be great to replicate for companies that don't have the privilege of instant name recognition.
To build its identity as a small, close-knit team, the video starts with an interview from its co-founders who are named only by first name, Kathryn and Rob. It goes on to showcase their company volunteer efforts, wellness programs, office perks, and other benefits.
9. Spotify
Spotify weaves together dozens of employee interviews, many of which were clearly taken over video chat or were even recorded selfie-style.
This approach feels a bit more genuine than videos with extremely high production value. It makes the subtle statement that Spotify doesn't need anything fancy—just a team of driven people.
10. Crunch
One of the shortest company culture videos on this list at just 30 seconds long, Crunch's video explains right away what you can expect from working there: a party.
This energetic video highlights the longevity of the brand as well as the family-like atmosphere and the passion of its team members. This is the only video on the list to include words in another language, too!
Why should you make a company culture video?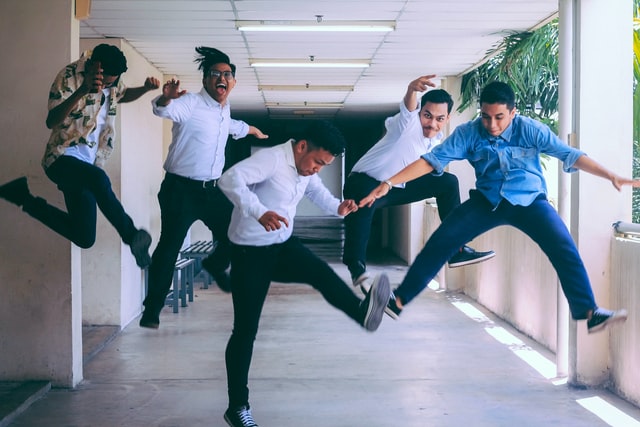 Image by Husna Miskandar on Unsplash.
As the examples above show, company culture videos can wear many different hats for any business small or large. They can be used to:
Recruit qualified and passionate employees, especially if you're in a competitive industry
Introduce potential employees to your physical workspace or remote working norms
Highlight your company's mission and values as part of your

company training program

Make employees feel part of something bigger, which is critical for job satisfaction
Humanize your brand and make consumers as well as employees feel more connected to you
Earn some good PR (and maybe even go viral on

YouTube

?)
Because company culture videos can do so much, it's tempting to use them for everything. But the smartest strategy? Keep your company culture video short and instead pair it with other videos dedicated to specific needs, like recruitment videos or employee welcome videos.
As a Business user with WeVideo, you can save a custom Brand Kit to make sure every video captures the right look and feel.
3 tips for writing your company culture video script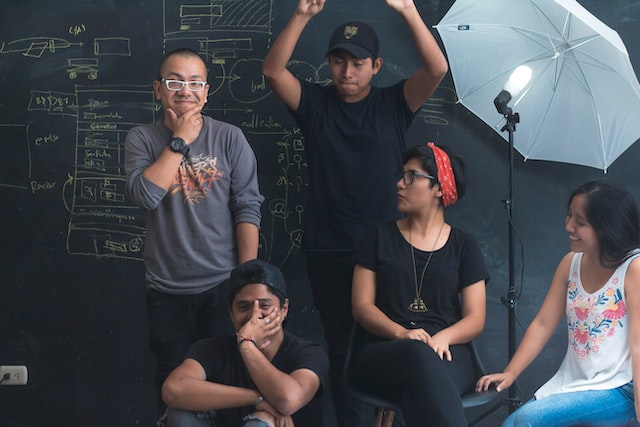 Image by jose aljovin on Unsplash.
There are so many different ways to tell the story of your company culture that it would be impossible to provide one framework for every situation. But there are some tips that do apply, no matter the content, storyboard, or structure of your video.
Here are the top three.
1. Be honest and accurate
The point of a company culture video is to provide a truthful look at your organization. Of course it should maintain a positive tone, but it should never be falsely positive or falsely trendy.
If your company isn't a super-chill, hoodie-wearing, skateboard-friendly startup, then don't set that expectation. Be yourself above all.
2. Let your employees speak
While video narration can help guide the storyline and set the tone for your company culture video, try not to rely on a narrator alone. Instead, bring in some of your real employees and let them do the talking! This approach will generally feel much more authentic, welcoming, inclusive, and personal.
3. Avoid jargon
Are you a team of agile rock stars who unpack wicked problems to deliver innovative, data-driven solutions? Hopefully not.
Nonstop corporate speak won't do anything to attract talent or to make your company stand out. Wherever you find one of these most hated buzzwords in your script, replace it with something that real people actually say, outside of the office.
How to make your own company culture videos
If the steps to make a company culture video seem too complicated, expensive, or time-consuming, let us assure you: they don't have to be. As we saw from Spotify's company culture video in the list above, you don't even need professional videography.
Whether small business or large organization, here's how you can do it in just a few steps:
Use the tips above to write your company culture video script and map it out scene by scene.
Shoot your footage, either on your own or with the help of a pro videographer if it fits your budget.
Upload your footage to a new project in the WeVideo video editor and add all the professional finishing touches like motion titles, background music, narration, and subtitles.
Save your video to your computer or publish it directly to your company's Vimeo, YouTube, or Google Drive account.
Now all that's left is getting your company culture video out there. Good luck!