Looking to bring the most qualified candidates to work at your company? Of course you are! But with an increasingly skilled, competitive, and mobile workforce, old-fashioned recruitment methods simply won't cut it.
Boring, long-winded job descriptions with bullet points on bullet points? No thanks.
Today, the most attractive (and applied-to!) job postings are engaging, expressive, and emotionally resonant. That's why recruiting videos have become the gold standard for businesses large and small.
If you're new to recruiting videos, you'll find out everything you need to know in this quick guide, which covers the top FAQs:
What is a recruiting video?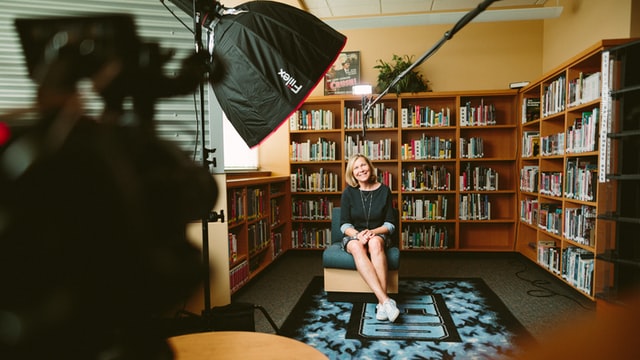 Essentially, recruiting videos are commercials for your company. / Image by Sam McGhee on Unsplash.
Simply put, a recruiting video is a short video designed to attract qualified job candidates.
You can think of a recruitment video like a commercial for your company—only instead of focusing on the benefits you bring to consumers, you're focusing on what you offer to employees.
In just a few minutes, your video should answer the top questions that any job applicant would have:
What does your company do?
What values are shared among your staff?
What kind of person succeeds in your workplace?
What's attractive about working with you?
Why should I work for you over any other company?
Will this be a meaningful opportunity for me...or just another job?
Ultimately, the best recruiting videos do two things.
First, they give potential applicants an idea of whether or not they're a good fit for your company. Second, for those who are a good fit, they create a lasting emotional connection.
Through a combination of imagery and words, effective recruitment videos inspire the right job candidates to take the next step and apply to your position.
What should be included in a recruitment video?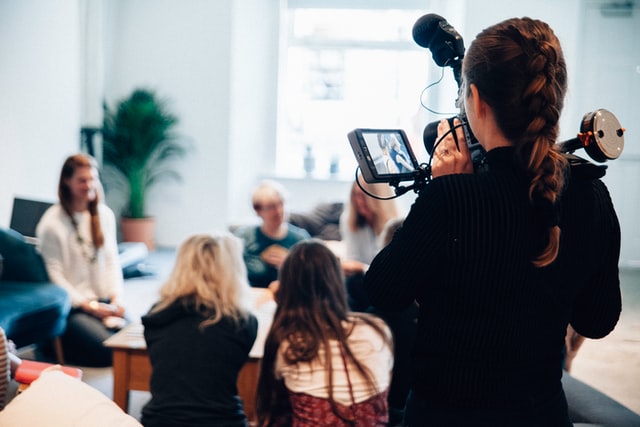 Essentially, recruiting videos are commercials for your company. / Image by Vanilla Bear Films on Unsplash.
Based on the questions above, here's a quick checklist of what should be included in your recruitment video:
A brief introduction to your company
A snappy explanation of what you do
A walkthrough of your facilities or locations
Interviews/testimonials of at least 3-5 employees of different backgrounds
Some kind of statement about your company values and work culture
Some kind of statement about what employees find meaningful about your workplace
A clear call to action for how to apply
Now…how you actually showcase these elements in your recruiting video is completely up to you. This is where creativity comes in!
5 creative recruiting video examples to follow
Representing some of the world's biggest brands, the recruiting videos below illustrate just how many different ways you can incorporate the same information to massively different effect. Take notes because these videos are all terrific for very different reasons.
1. Google
Video via Google.
It never hurts to start with one of the most coveted workplaces in the world, right? Google's recruitment video takes a fairly standard approach by showcasing a series of interviews with employees from around the world.
Each interview works to highlight Google's pioneering philosophy and its many benefits for employees, including encouragement to try new things and endless opportunities to learn and grow.
While there's nothing too out of the box here, everything is done very well in just over 2 minutes.
2. SodaStream
Video via SodaStream.
SodaStream's recruiting video starts with a bang as the company's CEO frees himself from a cage of plastic bottles—a shot that not only strikes a tone of absurd humor but also serves up the perfect visual representation of plastic waste.
The rest of the video embraces the same sense of humor and has the CEO looking straight at the camera while delivering his remarks (a style perhaps most associated with Old Spice's famous commercial from the 2010s).
In about 2.5 minutes, this video manages to be witty, memorable, and on-brand.
3. KPMG
Video via KPMG.
Global consulting firm KPMG's recruiting video stands out for its unique format. Rather than a montage of employee interviews interspersed with shots of the office, this video is styled as a sort of group discussion.
While the video was almost certainly scripted and does have post-processing edits like transitions, it manages to retain a more authentic feel. It's also a bit longer than many recruiting videos, clocking in at about 4.5 minutes.
4. Discord
Video via Discord.
A longtime favorite app for streamers and gamers, Discord is another example of a recruiting video done differently, this time in a listicle-ish format titled "35 Reasons to Work at Discord."
While the script of the video doesn't exactly follow the 1-2-3 of a basic listicle article, it does list out a whole bunch of reasons why Discord is an awesome and unique place to work. The script and the shots both reinforce Discord's diversity of interests, passions, skills, and job opportunities.
The script carries a humorous tone throughout but, by the end, shifts from pure humor to a somewhat more serious look at the company's values. All that in about 4.5 fast-paced minutes.
5. Audible
Video via Audible.
Audible takes an interesting approach to recruiting videos in that they have tons of them. In fact, they have an entire YouTube channel dedicated to working at Audible!
This channel covers everything from company values and global locations to "day in the life" videos of different employees. Videos are organized by category to make it easy for potential applicants to find anything they might want to know about working at Audible.
Except for the TV interviews, most videos are bite-sized and fall somewhere between 1–2 minutes.
5 quick tips for better recruitment videos
Looking at the examples above, it's clear that there are a few guiding principles to making an effective and engaging recruitment video. Here are our top five.
1. Be yourself
This tip comes first because it's the most important. Above all, your recruiting videos should capture your company's unique personality. Just as important as any factual information you share is the feeling that you evoke.
That feeling should drive all of the creative decisions you make, from the script's words and narration style to the audio clips in the background and the types of cuts between scenes.
Fiverr's "Another Generic Recruitment Video" is a great example of brand personality in action. Through its hilarious script delivered in a grandiose, movie trailer-style narration, Fiverr parodies the status quo and expresses a fresh and witty brand voice.
Video via Fiverr.
2. Show, don't tell
Another key tip is to visually represent your ideas as much as possible. After all, there's a reason you're making a video and not a text-heavy website page!
The old adage of "show, don't tell" applies to all stages of the video process.
During planning and production, be intentional about every aspect of what you shoot:
Who will be featured? Who will be in the background?
What are the locations? Which spaces within those locations are best to showcase?
What hours of the day will have the best lighting for each shot?
What subtle ways can you weave in your brand? (e.g. staff members in branded hoodies, shots of branded wall signs, etc.)
Then in post-production, consider how you can use video editing techniques — such as well-timed animations, filters and overlays, and selectively blurred backgrounds — to drive home your main message.
3. Keep it short
The basic gist of a successful recruiting video is this: short, memorable, and unique.
Most recruiting videos hover somewhere between 2–3 minutes, though some are as short as 60 seconds. If you go too much longer, you'll risk losing viewers' interest.
4. Tailor videos to different applicant types
As any good marketer will tell you, the more specifically you can speak to a single audience, the more effective your message will be. This same idea carries over to your recruiting videos — especially if your company is hiring for positions of vastly different qualifications, pay scales, and skills.
Starbucks is a fantastic example of creating recruitment videos for different audiences. This video is aimed at potential baristas…
Video via Starbucks.
…while this one is all about corporate positions.
5. Just do it
Do recruiting videos sound awesome but also out of budget? They don't have to be.
If you have the capacity for a full-on shoot with stage lighting and makeup, then by all means, go for it. But if you don't, any modern smartphone is capable of creating polished, high-res video footage. You can even do green screen affordably these days!
Big-budget or DIY, the secret to great video is really in the planning and the post-production anyway. Take the time to map out your video's script and scenes and, once you've shot them, use our online video editor (from any device!) to take your footage to the next level.
How do you use recruiting videos effectively?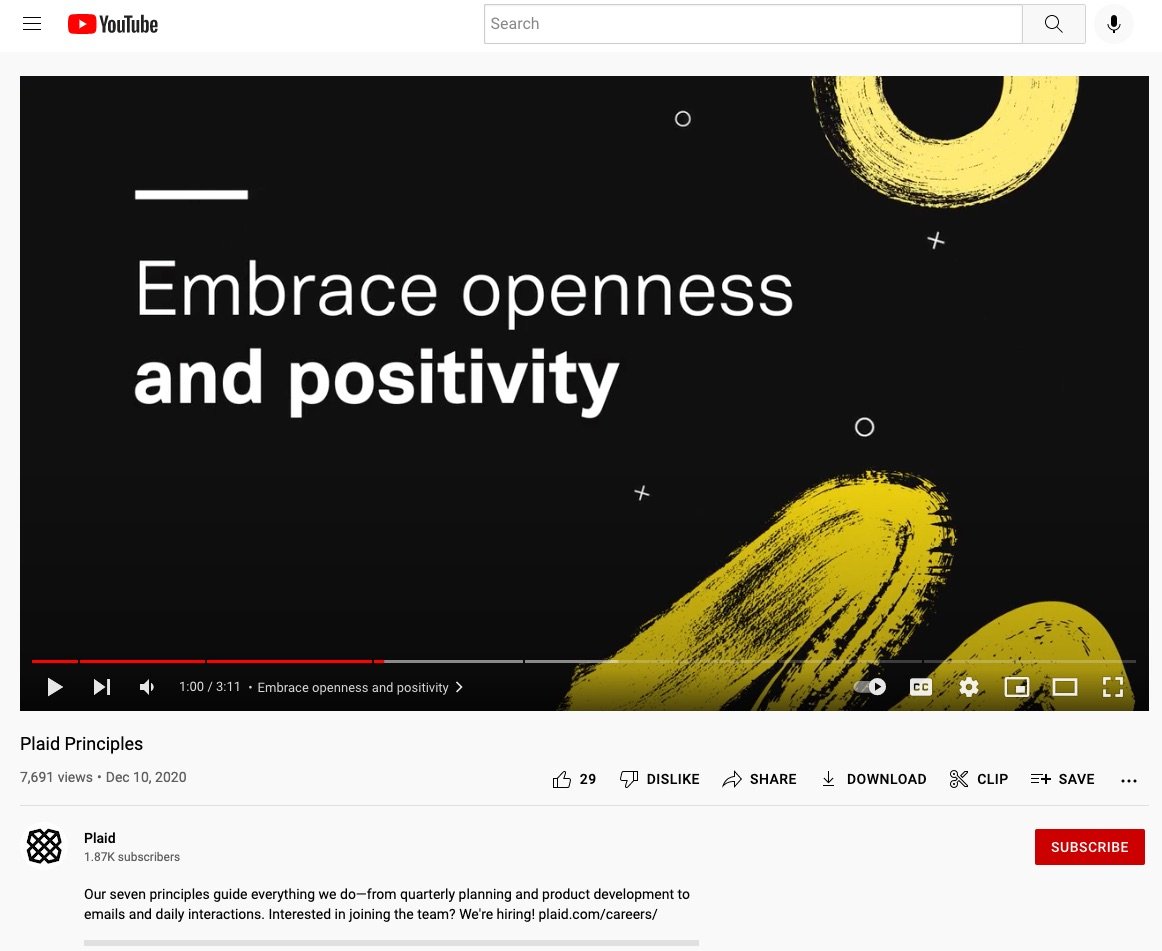 Plaid puts recruitment videos on YouTube with a link to current jobs on their website.
Once you've written, shot, and edited your video to perfection, the final step is knowing how to use recruiting videos to actually attract talent.
Most companies utilize their recruiting videos across many different platforms, including:
Organic social posts on LinkedIn, Facebook, Instagram, Twitter, etc.
Paid job listings on hiring websites like Indeed, Monster.com, or ZipRecruiter
The careers section of their websites
As part of asset packages shared with professional recruiters and headhunters
In individual email communications with potential applicants
Another free and easy way to utilize recruiting videos is to post them on your company's YouTube channel. To drive people to apply, write up a video description that includes a link to your current job postings.
There are endless ways to put a recruiting video to work, but they all start in the same place: by making one! Use the tips and inspiration above to shoot your recruiting video; then, whether you're a small business or large organization, make your pro video edits in the WeVideo video editor. No fancy equipment, big budget, or motion graphics experience required.