Scrolled through Facebook recently? Well, if you have then you'll definitely have come across an ad or two. Advertisements are all over social media platforms. Facebook in particular provides businesses with a platform from which they can reach out to and engage with prospects.
Offering standard picture ads, carousels, and videos, Facebook is now a staple component of most social media marketing plans. Video ads, in particular, are becoming increasingly popular. Given that, it's important to get your video strategy just right. Today we're going to help you start making videos with eight fantastic video Ad best practices that you can roll with right away.
What are Facebook video ads and why are they important?
A Facebook video ad is a type of social media ad. Facebook ads are branded videos that appear on a Facebook user's personal interface. These advertisements are different from the videos you and your friends might share on your timelines.
Facebook video ads are paid-for advertorial placements.
Facebook video ads are becoming an increasingly important part of businesses' digital marketing strategies. Facebook provides businesses with a platform where they can share branded content with a vast audience and promote engagement.
Plus, video as a medium is extremely compelling because it generates an audio-visual narrative around a particular product or service. In turn, this allows brands to generate buzz around products and encourage users to engage, like, and share the content.
Video content gets the message across quickly and succinctly. Given our famously low attention spans, that's the ideal format for marketing products to today's consumers. Plus, data shows that video content consistently reaches more users than static ads. In fact, Facebook's video ad revenues soared from 674 million to 9.58 billion US dollars between the years 2015 and 2021.
8 Facebook video ad best practices
Clearly, Facebook video ads are effective. But how can you create a top-performing ad? You'll need to make sure you're checking off a few essential features first. Let's get down to it.
1. Demonstrate the value of your product
By displaying what your product can do for your audience, your video should be able to illustrate the value of your products.
For example, if your ad is about audio conferencing software then make sure to highlight key capabilities (such as online meetings) and top features such as Microsoft PBX in your video content.
Make sure your video isn't only entertaining if you want viewers to take action after watching it. Otherwise, they'll potentially just keep scrolling in search of the next piece of content to watch for entertainment purposes.
Make videos that demonstrate your product's capabilities and the challenges it can solve. This will provide the audience with a better understanding of how your product can benefit them and exactly why they would want to buy it.
One technique to do this, perhaps for a software company, could be to get users to create videos using the software and showcase how to use the product. But there are many ways that you could demonstrate the value of your product.
Birra Moretti, for example, teamed up with Vice to make a Facebook video. The video showed Italian culture and how having a drink with friends and family is an important part of life. By living like an Italian, and drinking a Moretti beer, you will be on your way to living a more relaxed life.
2. Attract the viewer's attention straight away - and keep it short
Word on the street is that homo sapiens now have an attention span of only 8.25 seconds.
In comparison: a goldfish can focus for 9 seconds. Whether or not this is scientifically true, this statement strongly relates to our media consumption. When users scroll through their social media feed, they do so at top speed.
This means you need to find a way to grab your audience's attention immediately - and keep it. You can create a thumb-stopping video by asking triggering questions, using bold statements or eye-catching colors and graphics. You keep attention by telling a compelling story. Don't just showcase your product or service but really capture your audience.
As mentioned above, people scroll away from your ad faster than you can say "video advertising". Therefore, Facebook advises you to keep your videos as short as possible. The social media platform recommends a length of only 5-15 seconds for in-stream video ads. Newsfeed video ads can run up to 240 minutes, but we recommend keeping it short since data shows that shorter videos have better completion rates.
A short time span also forces you to think about brand placement. Consider mentioning your brand as early in the video as possible. A study by Facebook IQ observes that consumers are 23% more likely to remember a brand if it's featured in the first three seconds of a video ad.
3. Monitor your campaign regularly
Once you've launched your campaign, don't take your foot off the pedal just yet. In order to ensure that your Facebook video ad is performing well, you'll need to monitor its progress against a set of predetermined key performance indicators (KPIs). Your video analytics will show you how your ad is performing and flag up any areas that might need improvement.
There is a wide range of metrics available for Facebook advertisers. These include:
two-second continuous video plays

Cost per two-second continuous video play

two-second video plays

Cost per 3-second video play

ThruPlays

Cost per ThruPlay

Reach

Amount spent

Video plays at 25%, 50%, 75%, 95%, and 100%

Video average runtime
Using a combination of targeted metrics can help you segment your demographic and target your ideal viewer with more personalized video content. You may also want to include some long-term metrics like app retention rate to gauge the impact of your campaign months down the line.
When monitoring your ad campaign consider factors like the time or day your video gets the most traction, when most viewers seem to drop off, the level of audience interaction with your ad, and the percentage of viewers who actually click through to your business website or other platforms.
4. Keep things clear and concise
Facebook video ads shouldn't be taken as an opportunity to create the next blockbuster. So keep those Hollywood dreams at bay and focus on keeping everything as clear, concise, and engaging as possible.
Your target audience? A swathe of scrollers with short attention spans.
Video ads should only be a few seconds long (up to 15 seconds, as previously mentioned, is about right). Shorter videos are more likely to be watched in full and research suggests that concise videos are actually more memorable than in-depth content - not surprising given that 65% of all Facebook video views are generated by mobile users.
5. Assume viewers will watch with the sound off
Speaking of mobile users - take a step back and have a think about what you do when you're watching videos out and about on your mobile phone. Do you watch with the sound on or sound off? The majority of Facebook videos are viewed with the sound turned off.
That's why it's super important that your video ad comes with closed captions or a burnt-in text overlay so that silent listeners can still receive your message and understand your video fully. (Don't worry — you can make this edits quickly in any quality video editor!)
This gives viewers the chance to watch your video wherever they are, whether that be on public transport, on a park bench, or under the conference table during a boring meeting. In turn, businesses can reach a far wider pool of potential viewers beyond those just listening on their devices at home.
6. Take a mobile-first approach
As you may already have noticed from the previous two tips, taking a mobile-first approach to your Facebook video ad campaign is essential. Making your ads mobile-friendly means that you're expanding your potential pool of viewers.
As well as keeping things concise and adding accurate captioning to your videos, mobile-friendly design also requires you to think about aesthetics. We're talking aspect ratios here. Your ads need to look good and be easy to watch on the small screen.
For smartphones, the best aspect ratio is a vertical 9:16 or 1:1 (aka a square frame), both of which are available from the WeVideo video editor. In fact, research suggests that square and vertical videos get more engagement. This is mainly due to the fact that these ratios take up more space on the user's feed than landscape orientations.
7. Get your thumbnail right
Vamping up your ad with compelling visuals and teasers is a great way to generate more interest and keep viewers sticking around for longer. Ensure that your ad has a great thumbnail image that makes users want to play the video. Remember, you don't have to settle for the auto-generated thumbnail — you can make your very own.
8. Write killer copy (and include a CTA)
Finally, always give your written copy as much attention as your video. Words sell. Whether you're going to repurpose blog content or write completely new copy, words are a great way to highlight the key message you're trying to get out there. Finish off with a killer CTA encouraging viewers to find out more.
Ready to launch your ad campaign?
Wondering how to get customers clicking through to your webpage? Facebook video ad campaigns can help you achieve just that.
Remember, video ads need to be short and concise, mobile-friendly, and supported by equally compelling copy if you want to see impressive results.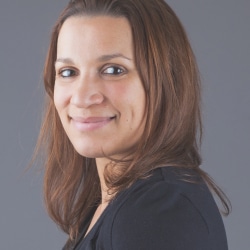 Author bio
Severine Hierso is EMEA Senior Product Marketing Manager for RingCentral Office, the leader in cloud communications and ACD systems solutions, and is passionate about creating value, differentiation and messaging, ensuring a better experience for customers and partners.