Quick, what size is a TikTok video? If you don't know the answer, no problem — that's what this guide is for. But may want to consider boning up sooner than later, because TikTok? It's kinda huge.
The social media platform, with its stunning one billion active users, has an enormous influence on our culture, and not just in the form of hit-making dance challenges. The app is home to viral cooking demos, beauty tutorials, product reviews, quippy explainers, inexplicably addictive lip-sync videos, and more. (Want to find out if a cleaning hack really works? #HackTok has you covered.)
For brands, TikTok presents an unparalleled opportunity to reach a captive audience of Gen Z and millennial customers (in the United States, nearly 50% of users are under the age of 30) — but only if brand leaders know what they're doing.
In this guide, you'll learn everything you need to know about TikTok video sizes, including:
What size is a TikTok video?
TikTok isn't as polished as Instagram. Some of the platform's most popular videos are crudely shot and edited, and therein lies their charm. But when it comes to TikTok size, there are set rules to follow: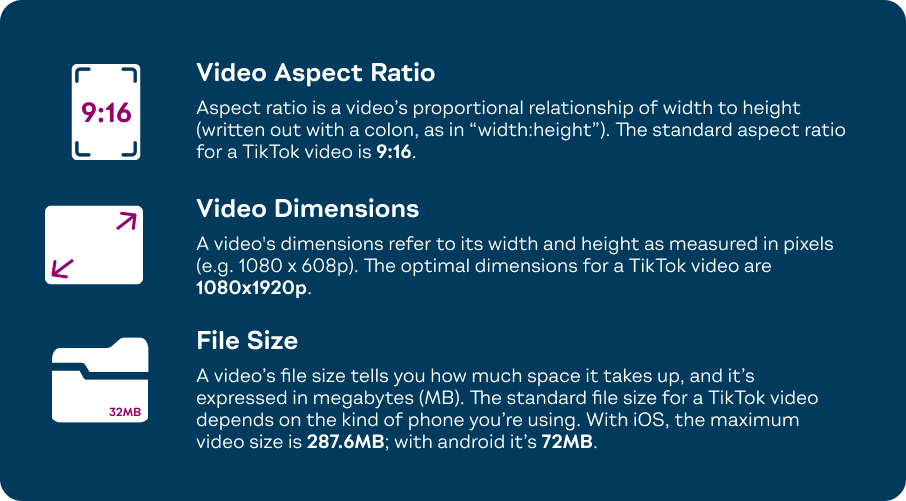 In addition to understanding TikTok video specs, it's important to know the platform's accepted file formats: MOV and MP4. There are a handful of differences between the two file types, but the main one is that MOV was made by Apple for use with QuickTime whereas MP4s are made to fit an international standard.
Can a TikTok video be horizontal?
The short answer: Yes.
The slightly-longer-but-still-short answer: It can be horizontal, but it shouldn't be.
Like Instagram, TikTok is designed for mobile use, which means vertical or "portrait" video content performs best.
If you upload a landscape video to TikTok, the in-app editor will automatically convert it to the 9:16 aspect ratio, but it'll do so by slapping black bars at the top and bottom of your post, and that look isn't ideal for the platform's immersive, full-bleed experience.
Rotating a horizontal video to make it fit the screen is an even worse solution. You don't want users to turn their phones when they're in the middle of mindlessly scrolling, do you? That would only break the spell.
Given the option, you should always shoot and post vertically. According to TikTok data, videos shot in vertical format see a 40.1% lift in impressions compared to videos that have a square or horizontal aspect ratio. (By the way...if you create in our video editor, you can easily switch between all of these orientations!)
What is the maximum length of a TikTok video?
A good TikTok holds your viewer's attention no matter what the length. Via Unsplash.
Once upon a time, a TikTok video could be just 15 seconds long. Brevity was part of the app's early appeal — it offered short, entertaining videos that kept users swiping for more (even when they had to be up for work in, like, five hours).
But the 15-second time limit only lasted for about a year. In 2017, the app, which is owned by the Chinese company ByteDance, upped its max video length to one minute; in 2021, it expanded its cap to 3 minutes. Now, it's rolling out a 10-minute version that's already available to some but not all TikTok users. (Make sure your app is up-to-date before assuming you don't have the long-form option.)
Keep in mind that just because a video can be 10 minutes, doesn't mean it should be. Users still love bite-sized content — a hallmark of TikTok — and the algorithm favors content that people actually finish watching. Think carefully about the length of a video before posting it, and consult your TikTok analytics to see what's working for your brand. Maybe that #LongTok you have scheduled is better as a YouTube video.
READ: TikTok vs. YouTube: What to Use for Your Business?
What size are TikTok ads?
You'd be a fool not to consider advertising on TikTok. It's the social media platform of the moment and its users are spread across 154 countries.
There are a number of TikTok ad types to consider, but for purposes of this size guide, we'll focus on in-feed video ads, which appear between user videos as you scroll through your For You page, and which you can create yourself using the TikTok Ad Manager interface.
Each standard ad includes a video, a display image, your brand name, ad text, and a call to action. The specs are as follows: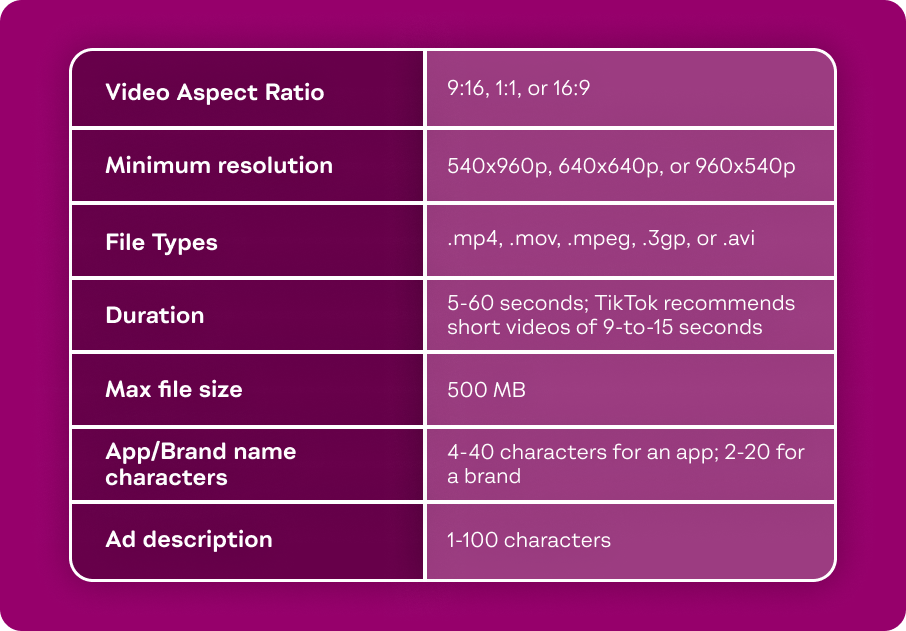 How WeVideo makes TikTok creation easier
Many TikTok creators exclusively use the app's built-in features to edit their videos, but those who want to jazz up their content might try using an advanced video editing software like WeVideo's TikTok video editor. (One thing influencer Kat Norton loves about using WeVideo that you might, too? You can consolidate your social media content creation into one platform instead of jumping back and forth between YouTube, Instagram, Facebook, and TikTok.)
With WeVideo's online or mobile video editor, you can:
Resize any clip to fit the 9:16 aspect ratio (but remember: vertically-shot video is always best).

Add text

and apply exclusive filters & trendy effects.

Record yourself lip-syncing and edit in hilarious, well-timed sound effects.

Work on Mac, PC, iOS, or Android.
Start with a video template and then pull from our library of one million assets, including motion titles, transitions, music tracks, video clips, and more.
Bottom Line
TikTok is a cultural force to be reckoned with. If you want to stay relevant, you need to stay up to speed on its ever-changing size limits. This handy guide should help.