When it comes to online video, there's no doubt that YouTube is king.
With over two billion daily users and counting, YouTube is the go-to destination for anyone looking to watch videos online. And as a business owner, you know that if you want to reach your target audience, you need to have a YouTube channel.
But creating videos isn't enough - you also need to create an effective YouTube description that convinces viewers to watch your videos and take action.
So how do you do that? I'll cover seven secrets to writing great YouTube video descriptions that convert!
Why does the YouTube description field matter?
YouTube descriptions are important because it's one of the first places people look to learn more about a video and its creator.
Effective YouTube descriptions will not only summarize what the video is about but also include a call to action that encourages viewers to take action.
This can include anything from subscribing to your channel, clicking on a link, or even buying a product or service.
Your video description copy is similar to the pitch you make in your title to convince someone to watch your video.
In addition, a well-written video description can help you rank higher in YouTube search and get more views by incorporating certain keywords that people search for.
So if you want to maximize your reach and engagement on YouTube, make sure not to forget writing great YouTube descriptions, which we'll cover next!
The secrets to writing YouTube descriptions that convert
Now that you understand the importance of video descriptions and YouTube SEO, let's look at the best marketing tips for writing copy for your YouTube channel that will boost your rankings, get more views, and drive conversions.
1. Be valuable in your YouTube descriptions
One of the easiest ways to grab someone's attention is by offering them value right away. A great way to do this is by summarizing the key points or takeaways of the video in your YouTube description without any fluff.
The viewers will appreciate it immensely!
This means you'll have to do some brainstorming before writing the YouTube video description! It should not only include all the relevant keywords that you're trying to rank for, but it also needs to be compelling enough to get someone's attention.
Another way to provide value is to introduce yourself and your brand, ask interesting questions, or even share some personal stories that relate to the video.
By injecting a bit of your personality into the YouTube video description, you create rapport with the viewer by building trust and credibility.
This not only builds relationships with more viewers but also encourages them to check out what you have to offer outside of YouTube.
2. Work with the YouTube algorithm, not against it
Why do you think that YouTube constantly recommends other YouTube videos, especially related topics?
The number one thing that Youtube wants is to keep its users on YouTube for as long as possible.
It will serve up other videos for each user based on their watch history, subscriptions, searches, and more.
If the recommendations sound just like a marketing strategy, that's because it is!
YouTube and Google make a good chunk of their revenue through advertisements, and the longer people stay on the platform, the more they profit by showing more ads.
This should always be in the back of your mind when crafting descriptions for your YouTube channel. Always include other videos from your channel in your description, and it's even more powerful if you mention this in the video itself.
The more videos people watch from you in succession, the stronger the signal for YouTube to recommend more of your content. Thus increasing exposure, clicks, views, subscribers, and revenue.
3. "Above the fold" is your most important real estate
Here is the deal, people are inherently lazy and as humans, we love to take the path of least resistance.
YouTube does not show the entire description right off the bat, only the first 150-200 characters before you need to actively click on the "show more" button.
Don't expect every viewer to click it.
It's for the same reason that copywriters spend more time on the title of an article than the content itself, people need to be persuaded into opening it in the first place!
If the first thing that you see is not immediately sparking curiosity or a call to action, then no one is even going to bother reading the rest of the thing.
Therefore the first 200 characters are perhaps the most important two-row sentences that you'll ever write in your YouTube descriptions, make them count.
4. Don't forget about the keywords when writing video descriptions!
This ties in closely with the previous point which is that you'll want to include your most relevant keywords in the "above the fold" section.
You've perhaps noticed that if you do a search on YouTube, you'll see videos being recommended with the thing that you searched for highlighted in the two-row description. This is SEO in play and why it's so important to optimize around it.
It's enough to insert your target keyword once, forget about keyword stuffing. Google and YouTube are smart, and they can detect if someone is trying to game the system.
For the rest of the description, try to think about semantically related topics to your video and insert a few here and there without overdoing it.
For example, if you made a video about "how to sunbathe on the beach", you might want to include related keywords such as; "ocean, spray, sand, water, volleyball" etc.
This helps the algorithm understand what your video is all about, helping it rank in the correct places.
5. Include a call to action in the YouTube description box
I've probably mentioned this a few times by now, but always include a call to action, preferably above the fold as well.
The YouTube description is your chance to tell viewers what you want them to do after they watch the video. So make sure your call to action is clear and direct!
Your video's description should include a strong call to action that encourages viewers. If possible, try to focus on how you can be most helpful so people understand why they need to take the next step.
This could mean clicking through to a landing page, reading the rest of the YouTube video description, or just subscribing to your channel.
Once you have an idea of what kind of copy would help people the most, go ahead and experiment with different types of CTAs to see what works best.
Just remember that most of the time it needs to be coherent with what your video is about, specifically if you had a call to action in the video itself. Regardless of what CTA you use, make sure it's clear and direct so viewers know exactly what they're supposed to do next!
And, by the way, just because you've included the CTA in the video description doesn't mean you can leave it out of the video itself! Using an online video editor like WeVideo, add a CTA within the video, too — either in your spoken script or as a video annotation.
6. Include links to social media channels
Reaching out to new audiences is one of the best ways to gain loyal followers, so why not let viewers find you on other platforms?
Brian Dean actually has a great video regarding cross-pollination, and by building up a following on other platforms you can in turn let them know whenever you drop a new video, bringing more people to YouTube watching your videos.
These links are a no-brainer and can be as simple as including them at the end of your YouTube video description. Include a link for your Twitter, TikTok, Instagram, or whatever you're most active on.
7. Include relevant tags for your video SEO search results (but don't stuff keywords)
And finally, make sure you're using relevant tags for the search results that accurately describe your video content.
While YouTube suggests some tags automatically, make sure to also include relevant keywords that you want to show up for, and help YouTube know what the video is about.
While including some important keywords in your description is an effective way to boost rankings, overstuffing your tags with too many keywords can actually confuse the algorithm.
Keep it simple:
One main keyword in the YouTube video title.
One main keyword in the YouTube description above the fold, semantically related keywords above the fold.
One main keyword in the tags, 2-3 semantically related for the rest.
Of course, these guidelines are not written in stone and you're free to experiment, but simplicity wins most of the time and less is more, especially in copywriting.
FAQ
How long should a YouTube channel description be?
A YouTube video description can be as long as it needs to be, but remember that most people who click on your video are there because they want to watch the video itself first hand.
The technical limits for the description are up to 5000 characters but that's overkill. Focus on the "above the fold" space and really spark curiosity or a call to action, all while including your target keyword in the process.
The rest of the content can essentially be replaced by YouTube description templates that you craft which can include social media links, related videos, YouTube keywords for the search engine, etc.
How do I insert timestamps in my YouTube video description?
To add a YouTube time stamp in the video description use the following format:
"hh.mm". "Description"
For example:
00:00. Introduction
00:26. Why Apples Are Red
05:33 Why The Sky is Blue
Add the timestamps either at the beginning (below the fold) or at the end of your YouTube video description. Make sure it's visible but not overbearing.
If you have long YouTube video descriptions, space out each timestamp so they are easier for viewers to spot.
And if YouTube suggests a timestamp for you, go ahead and use it but edit the YouTube timestamp to fit your needs better.
How to write a good YouTube description efficiently?
To summarize what we went through in this article:
Keep your YouTube video descriptions as short as possible and as long as necessary to get your message across.
Include attention-grabbing, curiosity sparking, or call to action sentences above the fold so it's easy to read and understand the first 1-2 sentences without scrolling.
Include a YouTube-specific keyword in the first 200 characters of your YouTube description.
Use YouTube timestamps to break up long YouTube video descriptions into chunks that are easier for people to find and watch.
Don't stuff your YouTube tags with keywords.
Connect to your social media channels by including relevant links.
Use a YouTube description template to speed up the process.
Wrap up - The future of YouTube marketing
The YouTube video description should never be an afterthought! Youtube has evolved to the point where it focuses on what, when, and how people are watching YouTube videos.
YouTube's algorithm ranks videos based not only on total views but also on watch time.
In short YouTube marketing success hinges not only on the number of views but also on how much time people spend watching each video from the same channel, especially in succession, AKA binge-watching!
And the YouTube description is a great opportunity to direct the attention of your audience to either the next video, your social media, or anywhere else for that matter.
Learn even more about everything related to your YouTube channel!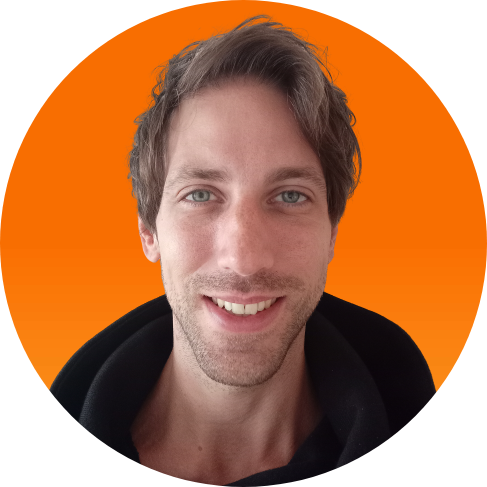 Author bio
Chris is an engineer turned synthesizer, combining tech expertise with content marketing. Chris writes and carefully curates the best tools for new technical trends, content creation, and marketing.