We have Leonardo Da Vinci to thank for the first documented resume dating back to 1482. Since then, resumes have been refined with specific word counts, spacing, keywords, layouts, and even relevant color schemes. Today, the video resume is on the up and up, putting formerly rigid and monotonous formats to bed.
Modern times call for modern measures and the video-resume fusion was inevitable. Now, both prospective employees and employers alike are eager to make and review video resumes. But how?
With only two minutes to show off personality, professionalism, and proficiency, here we'll address both how to master the making of these submissions, as well as what to look for within them.

The official breakdown? We'll tackle:
Let's start from the top.
What is a video resume?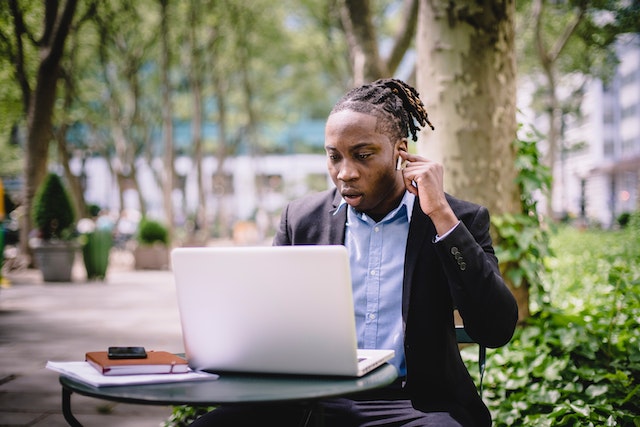 Draw in prospective employers with a video capturing your background, experience, and personality at once. Image via Ketut Subiyanto.
Video resumes are short videos used to introduce and describe yourself to prospective employers or recruiters, submitted in addition to paper resumes and cover letters. Video resumes let you illustrate particular aspects of your story with narration, text, graphics, custom transitions, and other video assets.
Employers only spend 6-7 seconds on a paper resume and it's become increasingly difficult to stand out in that period of time. The most successful ways to grab attention have always been visual: with large fonts, position titles, captivating colors, and a lengthy history.
Since visual components inform a first impression, why not take things a step further? And in a way that guarantees longer engagement?
Though the delivery method differs, video resumes hold similar intentions to paper resumes and should include the following:
Introduction
Demonstration of passion(s)
Personality
Explanation of experience
Contact info
Brevity
Videos demand attention (especially when you make them a pro-level video editor like WeVideo!). Video resumes are the most direct experience prospective employers have before officially meeting you. Make sure to represent yourself well and convey exactly what you want (and need) folks to know.
People are 95% more likely to obtain information by way of video than text. For video resumes, compared to those mere 6-7 seconds, employers are far more likely to not only watch your whole video, but to remember you more.
Since video resumes should last between 30 seconds and two minutes max, you'll want to be clear about what to say as well as how to say it. Let's start with the former.
What should I say in a video resume?
You know that old school writing rule, show don't tell? Well, resumes tell who you are and videos show it. When it comes to the professional world, however, you want to do both effectively.
Ultimately, video resumes aren't just a verbal reiteration of your paper resume; they have their own criteria. When making yours, consider:
Specifically addressing the company you're applying for

Ex. "Hi ____, my name is Paige and this is my video resume for the position of ____."

Honing in on something that needs explanation, like how you accidentally ended up co-hosting Good Morning America as a tech intern
Telling a unique story about you, like how a life a travel has made you adaptable, adventurous, and bold
Highlighting the most important professional experiences that qualify you for the job
Naming personality traits that are conducive to the position
Demonstrating a task
A call to action, which usually includes contact information
Employers should seek this information, too. If there's something you're looking for specifically, craft a specific prompt or theme for applicants to build from. While there's flexibility in every video resume, they should express clear intent and value.
When done correctly, video resumes have multiple benefits. For applicants, they:
Make you stand out
Promote creativity
Demonstrate skill
Highlight personality
Give you the edge over those who don't submit one
For employers, video resumes:
Transform the application process
Encourage creative and intentional applicants
Reflect company philosophies and values
Show interest in every candidate
Weed out those who aren't serious about the job
As an employer, consider what you can do to make folks feel good about expressing themselves. Remember, applicants also know that most employees don't spend much time on paper resumes, which creates a disheartening dynamic even before they begin.
Video resumes can transform the hiring and recruiting process. Even if you decide an applicant isn't right for the role, they'll have a reusable submission for other jobs. At the end of the day, those who feel appreciated for putting in the time and energy makes for respectful connections and respectable application processes.
If your organization is open to video resumes, having a *Video resumes welcome* option can encourage folks to go the extra step to impress.
Now that we've established the mutual benefits of video resume submissions, let's explore the various types of videos one can make.
5 video resume examples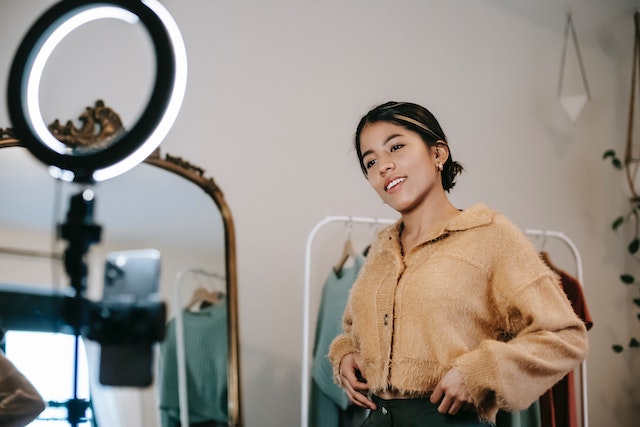 Pair strong content with the right type of video resume to become a must-have employee. Image via Liza Summer.
Video resumes are no place for the bare minimum. Since this is an add-on submission, it has to amplify your persona. If employers are on the fence, you don't want your video to be the reason for a no.
Video resumes should give you a leg up. And while you don't have to be a video making expert, it does require that you make the right type. Balance how you want to deliver information with what makes the most sense for the position and company.
Need help getting started? Check out these diverse video resume styles.
1. Balanced elements
Illustrate who you are, what informs your expertise, and why you'd be a good fit for the role. Via Daisy Suralaga.
This 2:12 minute video resume provides ample time for Daisy to both show and tell her story. Since video resumes are a bit more informal than paper resumes, it's okay to bring in a couple tidbits about your personal life where appropriate. This example offers a holistic picture of this person's energy, capabilities, and strengths.
Stylistically, the video includes several dynamic elements that make it work:
Daisy's participation
Background music
Graphics
Relevant video clips
Narration
Repetition
Typography
You'll notice Daisy mentions her role in the beginning and end of the video. When emphasizing particular points, she uses text to write them as she narrates. Overall, she uses video clips to show and text to tell, making the storyline cohesive and easy to follow.
Each type of video resume should have multiple elements for optimal engagement. By the end, prospective employers should understand you better, know if you'll fit on the team, and next steps for your application.
Overall, this video is: warm, welcoming, balanced, and sweet.
2. Kinetic typography immersion
Top off your submission with a 60-second can't-miss clip. Via Alessandro Maggiolo.
Not narrating your own video resume sounds like a disadvantage, but this example proves otherwise. The black and white theme, momentous music, and overall aesthetic shine together, not to mention how impressive it is to synthesize your life in 60 seconds.
Note for video resume makers – not every employer would consider this video resume appropriate, so be discerning about your field. Creative positions like graphic design, marketing, fashion, music, and art are likely to resonate with this type of compilation.
Given that human energy is exchanged nonverbally, Alessandro's personality is strongly represented here. By the end of the video, the slightest risk remains that we haven't heard him speak or how he acts. Still, depending on the company, this could work to his advantage.
Overall, this video is: powerful, expressive, playful, and captivating.
3. Professional embodiment
Don't show that you're applying for a position, but that you are the position. Via Jean Kate P.
In this video resume, Jean Kate embodies her role. It's evident there's no distinct gap between her personality and professional role which is ideal for prospective employers. The nuanced graphics and pop-up text also add a level of video proficiency to her submission.
Even though Jean Kate sits in front of the camera the whole time, she stops and starts her clips to differentiate segments. Plus, the nuanced graphics—both those stagnant on the screen as well as the pop-up graphics—add a layer of intentionality.
Tip: Work to bridge your paper and video resumes together by design. This video uses subtle geometric graphics that suggest they'd pair well with a certain resume layout.
Overall, this video is: bubbly, refreshing, authentic, and natural.
4. Contemplative film
Make your audience feel the impact of your skill set with an emotions-focused production. Via Mattias Larsson.
Video resumes are the perfect time to sport a relevant talent or skill. Even if you're not applying for a filmmaking role, using divergent skill sets can help folks learn more about you. Most employers seek to hire multifaceted and versatile employees—traits that effective video resumes embody.
Plus, a central benefit to using videos is that they evoke feelings. If you can prompt a positive emotional response, you'll become—and remain—memorable.
Overall, this video is: personal, contemplative, impressive, and beautiful.
5. Cohesive narrative
Tell your story from start to finish with a calm background and understated video assets. Via Arthur Coppens.
Nature backgrounds are advantageous in video resumes, as they offer an immediate sense of calm and stability. (Plus, natural light is always on point.) This video resume requires heightened engagement from the audience. Without background music, folks must hone in on the intermittent sound effects, pop-up graphics, text, and emphasized camera angles.
So long as your video offers a sense of visual movement, the content will be better absorbed. This video is charming and conversational at once. As a result of the even keel presentation, Arthur's narrative is natural and unrehearsed, which makes for an authentic representation.
Overall, this video is: smart, artistic, composed, and clean.
Are video resumes a good idea?
Use a quiet background to amplify your voice and passions. Image via Blue Bird.
It's hard to imagine a downside to video resumes after seeing the aforementioned examples. At the same time, no one wants to risk making a boring, confusing, or disorganized video. And you definitely don't want to be unprepared or blindsided if your dream job asks for one.
If your video adds new information that your paper resume otherwise wouldn't, then by all means. If you're on the fence or feel it weakens your resume, we'll help you learn how to refine a bit later with WeVideo.
Ultimately, giving employers more ways to learn about you is helpful and desired. Currently, 60% of recruiters use video resumes and 22% are considering them, so the majority of professionals consider them valuable.
Plus, with the rise of remote and hybrid work, it only makes sense for video resumes to be an integrative part of these applications.
So here's the final word: Yes, video resumes are a fantastic idea. If not requested, use your best discretion. Knowing the trajectory of video resumes in the workplace, yours could inspire the 18% not yet considering them.
For businesses that want to work video resumes into your hiring process, just be sure to give applicants an idea of what you're looking for. As mentioned, prompts, themes, and guiding questions can help decipher quality applicants.

Like college applications have multiple components—application, formal essay, letters of recommendation—jobs can use paper resumes, video resumes, and cover letters for thorough consideration.
How to make a video resume in 5 quick steps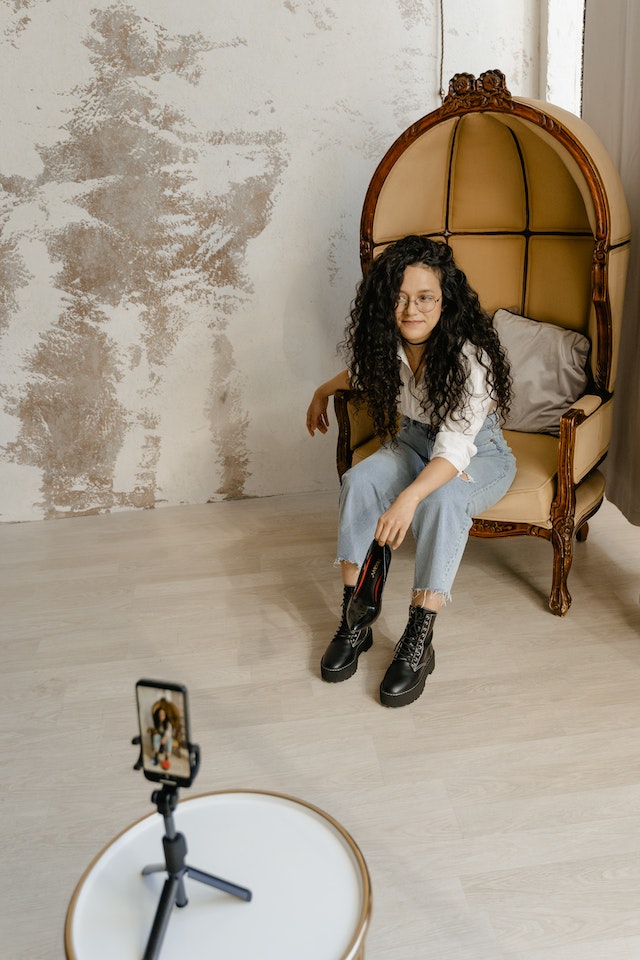 Bring a 2D paper resume to life with an interactive and immersive video resume. Image via MART PRODUCTION.
For those feeling ready to jump in, we've got six helpful steps to get you started.
Write a script. Memorize, read off cue cards, or plan how to recite your story. If using kinetic typography instead, type out your script first.

Find your filming space.

Take note of proper lighting and account for potential noise obstructions. If you don't have a conducive space, we recommend using a

green screen editor.
Record the video

.

Whether you're speaking into the camera or pairing narration with clips, record in one fell swoop.

Arrange your video elements in WeVideo.

Layer visuals with

background music, add text,

camera transitions, narration, sound effects, and more.
Wrap it up. Finish with a video title, select the resolution and destination, then export to share with your potential employers.
Obviously, if you're in search of a job, you don't want to be spending thousands on video resume production (nor should you!). Invest in a cost-effective video editor that helps you tell your story in a visually appealing way — no experience required. Repurpose and customize for any position, company, or environment.
Video resumes do more than put faces to names. In the professional world, where the most commonly asked question is, How do I make myself stand out? this is it. For applicants, ask yourself these overarching questions before you begin:
How do you capture your true essence on camera?
What helps you shine?
In a sea of other video submissions, what about you is memorable?
Your answers to these questions may inform your script, style, and the details in between. When sitting behind a camera, it's easy to forget you're not the only applicant. For that reason, get clear about your strengths and why you know you're the person for the job.
What's meant for you won't miss you; put your best foot forward so that when you get the offer, it's an easy yes.
For employers, you'll also want to get clear on exactly what you're looking for. Consider:
What makes an applicant stand out?
What type of personality traits work for this role, team, or company?
What makes for a memorable video resume?
Your answers to these questions will inform your easy yes.
The application process is a process for a reason — for both parties. When employers and applicants have a clear ask-and-receive dynamic, there's no reason for all involved to not get what they're looking for.
Stellar video resumes jumpstart the beginning of your working relationship, so cross your t's and dot your i's from the get and you won't go wrong. Good luck!