Got a strong presentation concept but no supporting design? That struggle ends today. 65% of any group — that's two out of three people in an audience — are visual learners. Without an engaging presentation design, you risk losing most of your audience. Don't let that be you!
Presentation design can be as minimal or maximal as you need. Where should you start? Easy. Establish your concept, master the design, polish the delivery. Done!
Feeling hopeful yet doubtful, still? We'll walk you through it. By the end of this tutorial, you'll know everything about:
Let's get to it.
Engaging presentation design concepts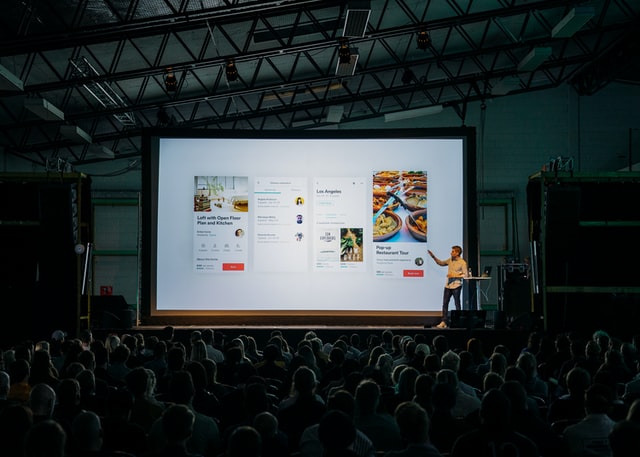 Capture any audience with an info-packed, design-strong presentation. Via Teemu Paananen.
Ultimately, a presentation design is the catalyst for your content delivery. It helps organize ideas, information, text, images, and slides to tell stories and engage audiences.
Before scrolling through never-ending templates and theme ideas, focus on your project, first. Ask yourself:
What are the central themes of my presentation?
What colors best represent this story?
What layout makes this information most digestible?
If I were a listener, how would I envision the delivery?
What types of mixed media methods serve this presentation?
How can I diversify this presentation?
How can I simplify this presentation?
Just as a perfect plate of food balances salt, fat, acid, and sweet, an effective presentation can highlight both diversified and simple elements. If you can achieve that, you're golden. And we're here to help.
All presentations come down to three umbrella concepts:
Concept
Presentation design
Delivery
If one of these areas is lacking, prepare for imbalance. Since we're focusing on presentation design to achieve a strong delivery, we hope you've shown up with some TEDx Talk-worthy content. And if not, don't sweat. Some people start with presentation design concepts to inspire, first. Whatever way you create, work with it, not against it.
Presentation design for business
The right presentation design can amplify the most mundane and obscure concepts. Even common topics like exploring leadership, the do's and don'ts of cold calling, and proper workplace etiquette should have compelling designs.
In a society where daily screen time consumes 38-43% of one's waking hours, presentations are advantageous for those who expect and require visual stimulation. But how do I pull it off, you wonder? Start with these presentation ideas to work out your creative muscles.
1. Go minimalist
If you're presenting dense information, keep things light with a minimalist presentation design. Simplify your delivery with select colors, text, and images on each slide. Minimalist presentation designs are clean and expected, since most slides will look similar.
Strategically, these presentation formats make it easy for the speaker to navigate the information for the audience. Less visual stimulation steers focus towards auditory processing methods.
2. Collage layout
For the non-tech-savvy folk, collage presentation designs are an easy way to drop in background images, or fill cells with textures, colors, text, or statistics. Diversifying colors or leaving alternating cells blank lets the audience spend more time on each.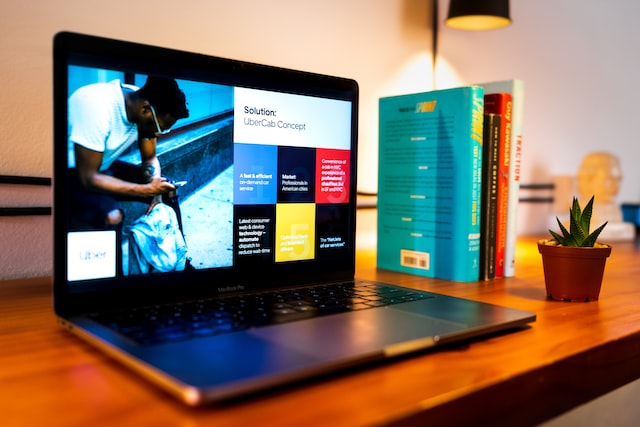 Collage layouts offer a clean and complex look. Keep sizing uniform or modify for an unconventional style. Via Slidebean.
3. Relevant color schemes
Historically, intentional color combinations have been used as a strategic marketing tool since always. Knowing that colors affect how you feel, be strategic about the tone you want to set with your colors. Go blue for calm, red for passion, and yellow for attention or intensity.
Of course, there are infinite shades to play with on the color wheel. Tune into the energy of your content and pair it alongside colors that will prompt a particular reaction.
4. Utilize background images
Balancing background images with your presentation design is crucial to avoid stimulation overload. Instead, using background images as the presentation design is a consistent way to deliver information. Most people associate presentation design with layered templates, but it also consists of how you structure your content.
While you'll still want to pair background images with a color scheme, you won't want tons of additional visual elements, like geometric shapes, graphics, or text.
Know that every stylistic choice you make will have an impact. If it makes sense, have a slide with just an image on it to bring your point home. If not, try two-cell layouts with images and associated text next to each other.
5. Incorporate geometric shapes
If you're not looking for bold colors, choose subtle accents instead with geometric shape designs. If you live in the world of tech, mathematics, coding, or science, these background elements can elevate and solidify your content. Make your content easy for an audience to understand, and there's a good chance your presentation will be well received.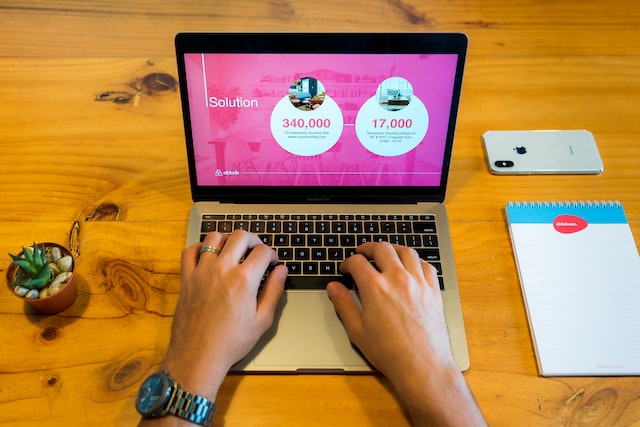 House mind-expanding statistics in geometric shapes for an elevated accent. Via Slidebean.
6. Add background music
Editing software companies like WeVideo (AKA: us!) offer easy-to-use slideshow maker tools. Use them for a variety of customization options, one being to add music to your slides. While you may not want music playing the whole time, you can splice clips and adjust slide transition time to emphasize certain parts of your presentation.
7. Black and white but full of color
Black and white themes have always been (and will forever be) a classic design choice. Among the hex-code abyss of black and white shades, you can make your presentation design muted or bold. Play with the concepts of opposition and inversions by switching up background blacks and white text, then vice versa. Even between just two colors, there are worlds of nuance.
8. Insert video(s)
Using videos in presentation design is one of the easiest ways to engage — and maintain — an audience. Diversify video clips with soft or stimulating background music, captions, and editable camera transitions for added impact.
Similar to color science, every music genre impacts the brain differently. Like jazz stimulates, classical calms. If you're leading an upbeat, interactive experience, you might even use an anthemic, universally-recognized song.
If you're going the meditative route, consider a rhythmic compilation. WeVideo's audio library houses music clips to evoke inspiration, happiness, relaxation, etc. Just be sure to use conducive file sizes so as not to create tech stress during your make-or-break moment.
9. Provide handouts
Content delivery is a broad topic and we've discussed how presentation design isn't just about what's on the screen. All aspects of a presentation are innately part of its design. If you want to really engage your audience, offer handouts or associated materials for a lasting-impression. That way, folks can revisit your work long after.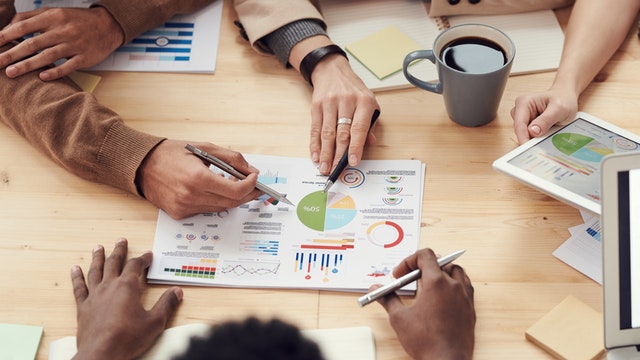 Combine your digital presentation with interactive handouts to appease all processing styles. Via Pexels.
10. Go maximalist
Believe it or not, maximalism does have a place in the business presentation world. Still, and always, it's important to stay relevant to your field. Utilize louder background themes for witty, playful, or intense presentations. High-energy fields like fitness, personal coaching, interior design, or creative spaces may be most comfortable using this method.
Feeling less doubtful yet? We have no doubt you're ready to compile a pro-level presentation. But first, just a few quick tips.
Quick presentation design do's and don'ts
Do: Create visual hierarchy. Emphasize your most important concepts by structuring them from top-to-bottom, left-to-right, or with sizing, graphics, and color options.
Don't: Overwhelm your slides (or audience). Balance white space for easily digestible information.
Do: Use strategic font pairs. Select two main fonts that capture your brand, topic, or delivery.
Don't: Go font-crazy. More than two fonts can deter focus, look messy, and distract the audience.
Do: Ditch the bullet points. Break up the slides with relevant graphics or icons instead.
Don't: Write all your text on the screen. No one wants to read an essay during a presentation.
Tip: Use your presentation to emphasize brief and succinct concepts only. Speak to the audience directly. Aid with notecards, memorization, or go off-the-cuff (if you enjoy that kind of thing).
Do: Enhance flow between slides with transitions. Try WeVideo's Ornamental Form for drama or Paper Plane for subtle, playful accents.
Don't: Pull out all the stops at once. Don't go overboard just because you can—a few design elements are all you need.
Do: Embed videos into your presentation. Emphasize ideas and tell lasting stories with short video clips.
Don't: Use videos bigger than 50-100 MB. The last thing a presenter needs is to press play on a tech malfunction.
Presentation time
Some of the most powerful presenters educate others on the art of it. Master your mindset with creative visualization, positive affirmations, and neuro-scientific evidence to support your power. Acknowledge limiting beliefs and give them their space. Ask what they need. Support them. Rewire the brain towards positive outcomes and you'll receive those outcomes.
Alright, a quick review: Polish content, compile effective presentation design, memorize content delivery. Once you have your design elements — copy, images, audio, and music — jump into WeVideo and build your story. And don't forget those camera transitions for the ultimate finishing touch. See you on the other side, presenters!