You know that feeling when you have approximately 32 unread emails, 17 unread direct messages, and 45 new comments and pings in your project management platform? All in a single morning? Yeah, your employees do, too.
And as helpful as all these different tech tools might be, there comes a point where keeping up with internal communication feels like a full-time job on its own. A point where employees feel less informed than overwhelmed.
Sound familiar? Then you need a better internal communication strategy. Whether you're creating a new strategy for the first time or revamping one that's been sitting on the shelf for years, this quick guide has what you need to know. Find out:
Note: The language here focuses on businesses, but the same basic principles would apply to any organization: nonprofits, K-12 schools, or public agencies. If you're on a team that interacts regularly, you absolutely stand to benefit from an internal communication strategy.
What is an internal communication strategy?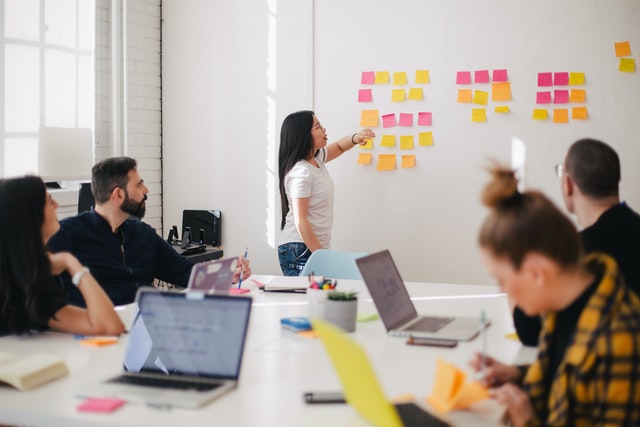 Image by Jason Goodman on Unsplash.
Like the name implies, an internal communication strategy is a plan for communicating with your employees. It outlines a formalized process for how information flows through all levels of your company.
At its core, a good internal communication strategy will outline the basics:
Who communicates to whom?
What is being communicated?
When does the communication take place?
Where does it take place?
How does it take place, both in terms of method and tool?
Why is this piece of information important to the recipient?
By having a standard operating procedure for how your staff communicates, it's easier to make sure key touchpoints are occurring regularly and in an understandable, predictable fashion. When there's a plan in place, it's simpler to understand whether or not that plan is working—and how it could be improved.
Why do you need an internal communication strategy?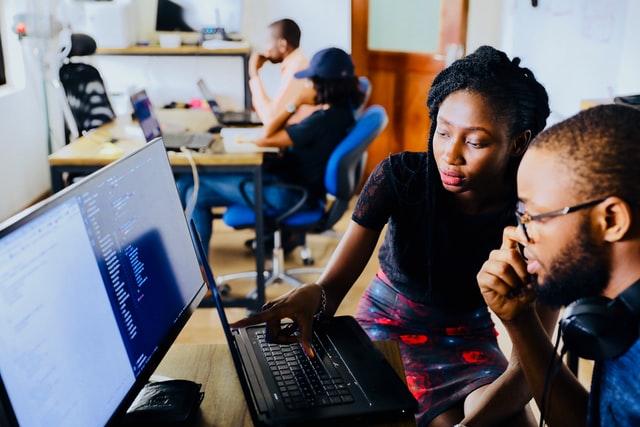 Image by Mars Sector-6 on Unsplash.
Simply put, a carefully considered internal communication strategy will make your business run better. With an internal communication strategy in place, you'll find:
Better alignment: Employees can understand the current priorities of the company and will have the ability to ask questions whenever roles or messages are unclear.
Better morale: Many

toxic workplaces have poor communication at the root

. Feelings of exclusion, frustration, distrust, and even anger can be addressed with better communication.
More productive staff: By reducing unnecessary, unhelpful, or unclear messages, you'll empower staff to manage their own time better. And

happy employees are productive employees

!
Less friction: Team members are no longer surprised by decisions on which they should've been consulted or by frustrating changes that should've been communicated earlier.
More cohesion: Employees feel more connected and engaged when they understand what's going on and feel heard—which helps to retain employees longer,

especially managers

.
Greater resiliency: In case of a PR crisis, a change in leadership, or a significant world event, an internal communication strategy can guide the company and its employees through it.
What's the bottom line?
Nearly every aspect of your employees' day-to-day jobs can be done more efficiently and more satisfactorily when communication is clear, relevant, and empathetic. Especially as remote work becomes the norm, businesses simply can't afford to leave internal communication to chance.
You need an engaged team, and strong communication is what creates it.
How to create an internal communication strategy in 6 steps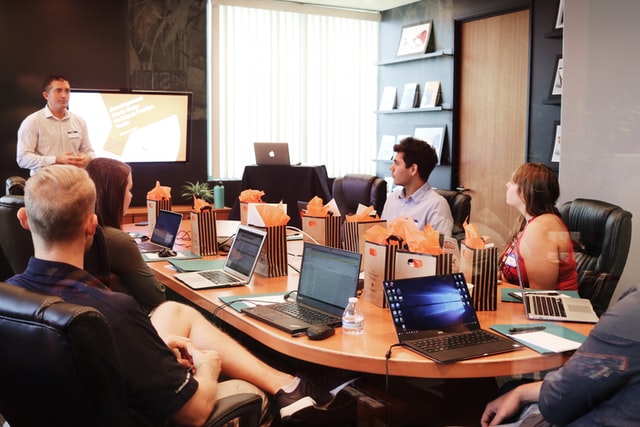 Image by Campaign Creators on Unsplash.
1. Know your goals
Better communication will have wide-ranging effects for your team, but when you're creating or revamping your strategy, it's important to start with some specific goals in mind.
What would you like to accomplish through your revamped (or newly created) internal communication strategy? Or put another way: what problems are you currently facing that would be solved by clearer communication?
For example:
Are team members frustrated by confusing policies or contradictory instructions?
Do employees feel isolated, undervalued, or even expendable?
Are you wasting employees' time (and company dollars) by having to redo work too late in the process?
Are you facing high turnover because employees don't know what to do or don't feel engaged enough to do it?
Are key pieces of information not being read, resulting in critical delays or mistakes?
Are customers being told the wrong information because employees are not aligned to your company's mission or values?
You'll want to take these problems and then reverse them to identify some specific objectives. If you're facing high turnover, then one objective for your internal comms strategy would be to reduce turnover.
Pro tip: Use the SMART framework to create objectives that are well identified and can be measured over time.
2. Survey your team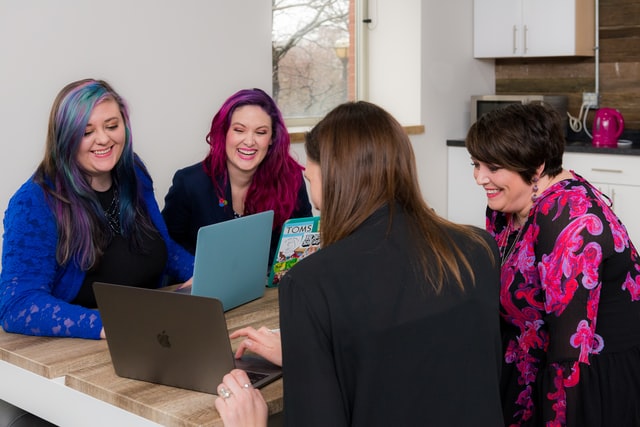 Image by Kylie Haulk on Unsplash.
Another way to understand your current communication strengths and weaknesses is to ask your employees. Find out how well you're doing now by requesting feedback from staff—preferably anonymously and from all levels of the organization.
In a pulse survey or other quick check-in, consider asking questions like these:
How often do you read company-wide emails? Department-wide emails? Direct emails?
Which internal communication tools do you find most helpful? Least helpful?
On which devices do you most commonly engage with company communication tools like email, chat, intranet, or social media?
How easy or difficult is it to get answers to questions you have on the job?
In an ideal world, how would you prefer to receive information from the company? (e.g. chat, in person meeting, virtual meeting, email, video?)
Do you wish you received more or less communication from management? Why?
Who would you prefer to receive important or time-sensitive information from? (e.g. C-level staff, department heads, direct managers, peers?)
Pro tip: To get your strategy to stick, it's very important to get your various managers on board. Consider hosting a focus group or a more dedicated feedback session with leadership so that you can get better insights and can show that you truly value their feedback.
3. Lay the groundwork
By combining your data from the two points above, you can start to actually create your internal communication strategy. You'll know which problems you want to solve from your perspective AND which problems you need to solve from your employees' perspective.
Using this information as a guidepost, set the foundational elements of your internal communication strategy:
KPIs: Which

internal comms metrics

will you track to help gauge success?
Timeframe: What is a realistic timeframe for adopting your new strategy? Should it be rolled out in phases or all at once?
Budget: What financial or human resources are needed for this strategy?
Leadership: Who "owns" your internal communications? Who has the authority and responsibility?
Approvals: What is the process for creating and approving content to share? Which types of internal communication require approval and which do not?
Evaluation: When will you evaluate your comms strategy? Who will be involved?
4. Create your roadmap and checklist
The best internal communication strategies are more of a general guide than a super-strict regulation. You want your comms strategy to provide strong guidance without limiting the decision-making ability of team members on the ground.
To make this kind of flexible strategy work well, it's helpful to create two pieces to guide your strategy over time: a roadmap and a checklist.
Roadmap of all communication
You can consider this a rough calendar or timeline of your upcoming internal communications. Think about what needs to be communicated when based on key company dates, public holidays, major project deadlines, fiscal years, and any other important dates in your industry.
Over time, this basic roadmap can even expand to include ideas for types of content to share—a sort of internal communications content marketing strategy, if you will. This might include:
Company news
Press releases
Product releases
Industry trends
Department updates
Staffing updates
Employee spotlights
EOY reports
Video content
Awards and recognitions
Social events
PR talking points
Checklist for each communication
Next, create a very basic checklist for each individual communication to make sure you're covering the who, what, when, where, how, and why. Your checklist could be as simple as six questions:
Is the main message clear?
Does the main message tie into a company goal, objective, or priority?
Is the communication as succinct and easy to read as possible?
Is it clear what action, if any, needs to be taken by the recipient?
Is this being sent to the correct audience? Can it be segmented?
Have I explained the "why" behind this information?
Every time you send out an internal communication of any kind, pull out this list and run through it. Doing so will help ensure you're sending clear, timely, and relevant messages that fit your overall internal comms strategy.
5. Choose your internal communication tools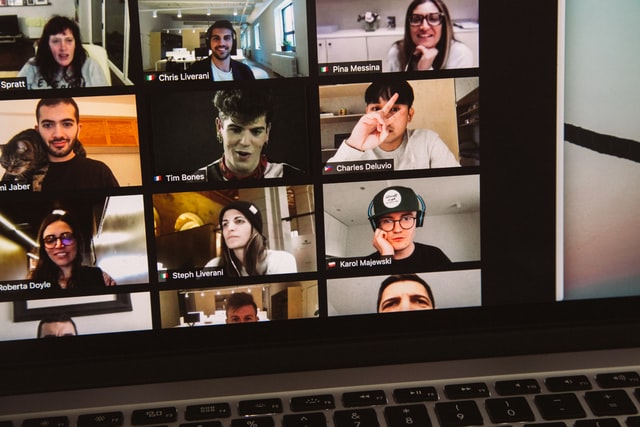 Image by charlesdeluvio on Unsplash.
Last but not least for the planning stage, you'll want to pay attention to the "how" of your internal communication strategy. How will various pieces of information be communicated? Will you need to adopt new tools? Do you need to change how you use existing tools?
There's no right or wrong answer for which internal communication tools to use. It all depends on the size of your team, your budget, your company culture, and possibly any legacy tech systems already in place.
Some of the most common internal comms tools include:
Chat apps like Slack or Teams
Email
One-on-one meetings (virtual or in person)
Group meetings (virtual or in person)
Company-wide meetings (virtual or in person)
Project management tools like Basecamp, Asana, or Monday
Video
Internal social media
Each of these tools can be useful for different scenarios.
Internal social media, for instance, can be great for fostering a sense of community in extremely large organizations, but probably not for announcing a significant change like a merger or downsize. Video content can be amazing for software training, employee onboarding, or product demos, but won't be as suitable for topics requiring real-time feedback.
Pro tip: When choosing internal communication tools, try to match the message to the medium and consider the data you previously gathered from your employees. Proactively avoid overwhelm by keeping overlapping tools to a minimum and by establishing norms for which tools are used in which scenarios.
6. Give it a try
With your internal communication strategy in place, all that remains is to give it go! It's only through some real-world data that you'll be able to assess whether or not your strategy is working.
If something isn't sticking, consider whether it needs more time for adoption or whether it should be scrapped altogether and sent back to the drawing board. There's nothing wrong with reevaluating your plans or your tools; just be sure they've had enough time to generate meaningful data to work with.
Pro tip: As your internal communication strategy unfolds over time, make an effort to get feedback from all levels of the organization. Then try new things and get feedback again, repeating until you've found the right fit for your unique team.
Internal communications: A worthwhile challenge
Internal communication can be difficult for organizations of all sizes, but it's absolutely worth the time and effort to get it right. Think about it like this: What could you accomplish when your team is more aligned, your complex projects run smoother, and your employees are happier?
That's the power of a great internal communication strategy.