The holiday season is by far the biggest revenue generator globally. From October to December, there are days to celebrate and sales to be made for businesses small and large. It is essential to be able to reach consumers, new and old, and a video marketing plan can do just that.
This comprehensive guide will provide you with resources, tips and more to help you get started with video marketing for the holidays.
In this article, we'll discuss:
Why holiday marketing?
According to the National Retail Federation, the world's largest retail trade association, holiday sales have experienced a steady growth of 3.5 percent over the past five years, including an increase during last year's pandemic. NRF expects this year's holiday season to be no different and could see a significant boost as 2021 retail sales are forecasted to exceed $4.44 trillion this year.
Last year's holiday sales were expected to take a hit but came out better than expected thanks to huge eCommerce gains. The early outlook for the 2021 holiday season should be better despite economic conditions. Market research company eMarketer forecasts US holiday sales will rise to $1.093 trillion while the season's eCommerce sales rise to $206.88 billion. They expect some behaviors of last year's holiday season to carry over and some may strengthen in this post-pandemic economy.
Making sure your business makes a splash and doesn't miss out on that holiday spending can be tricky, but that's where video marketing comes in.
Importance of holiday video marketing
Video is a powerful tool to help your business spread brand awareness and it should sit right at the top of your marketing funnel. In a world where information comes at us fast and furious like a Vin Diesel movie, what's better than a short and engaging video?
Adding video to your marketing strategy is a quick and easy way to increase conversion rates, improve SEO results and engage mobile users. If you're still deciding if a video marketing strategy is right for your business and brand, here are a few things that you should keep in mind.
Landing pages with videos see an

increase in conversion rates

by up to

80%

, which means video leads directly to sales.

74%

: That's the percentage of users who bought a product or service right after they watched an explainer video.

92%

of mobile video consumers share what they watch with their network of friends on social media. This gives you a chance to spread your brand in a short amount of time.

Mobile users LOVE videos!

51%

of all videos are played on mobile devices and that number continues to grow.

Not only is it good for SEO to upload your video on YouTube, but a video on your landing page is also

53%

more likely to rank on Google's first page.
Plan your holiday marketing campaign
You've decided to start planning your holiday marketing campaign, but when do you want to launch it? How do you get started? And, how do you use your holiday marketing videos? We have you covered.
Start your holiday marketing now
If you're wondering when it's time to start your holiday video marketing, the chances are it's now! Consumers are starting their holiday shopping earlier and earlier, while companies start planning holiday deals even earlier. Just take a look at this Statista chart of a Deloitte holiday retail survey: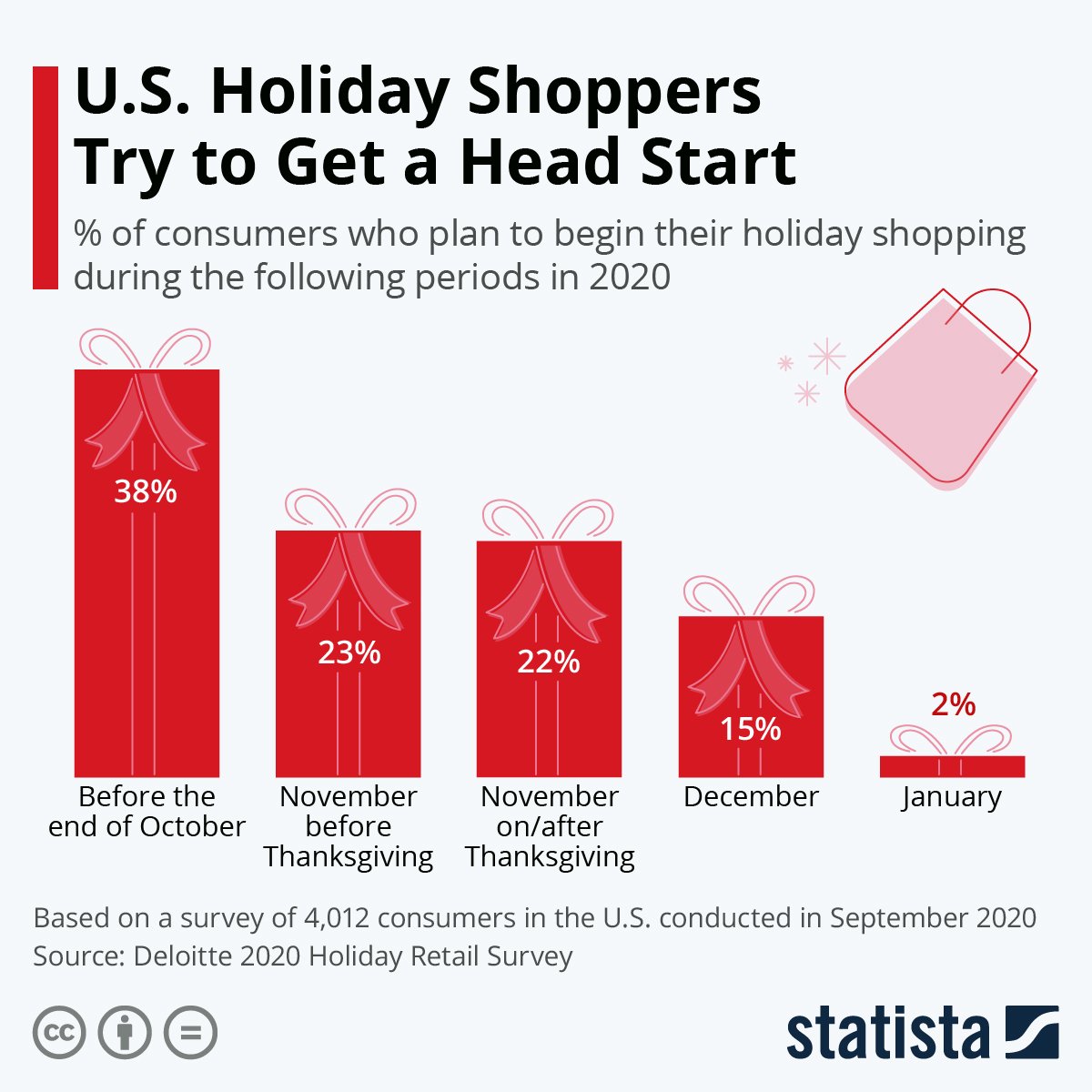 You will find more infographics at Statista
According to this chart, 61% of consumers started their holiday shopping before Thanksgiving in 2020. That trend will be continuing in 2021 and beyond. To get ahead of the competition, creating your holiday marketing campaign planning during summer is vital. We're talking about the holidays and it's not even September yet.
Holiday video marketing ideas and templates
You know when to get started, but still wondering how. If you get stuck when creating video marketing, we have holiday video templates to help you get started. From Black Friday to New Year and every holiday in-between, we have a template for every occasion during the holiday season.
Black Friday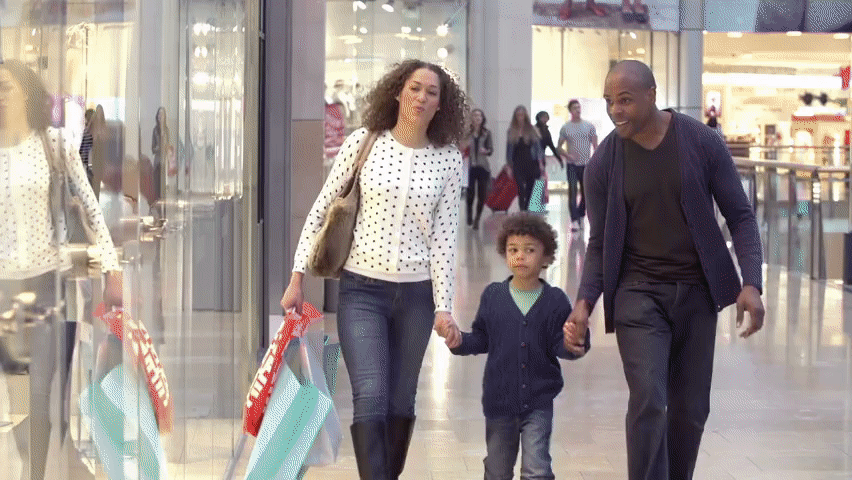 According to Forbes, Black Friday was the busiest in-store traffic day in 2019 and has routinely been one of the biggest shopping days every year. In 2020, consumers spent $9 billion, which was up 21.6% from the previous year. Create stellar Black Friday promos to not miss out on any of those earnings.
3 essential marketing tips for Black Friday
Holiday sales promotion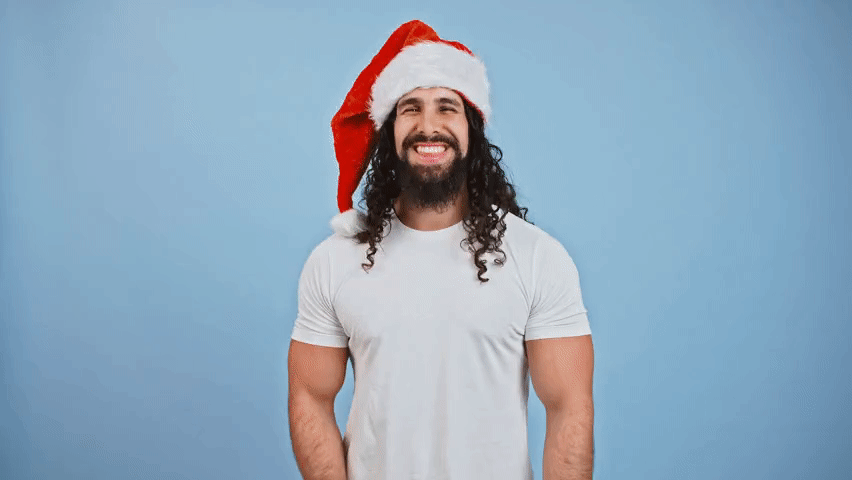 Promote the very best deals your business has this holiday season. Easily create a promo using this professional template to use on landing pages, emails and across all social media.
Gift giving guide

Show customers, new and old, why your business has every gift your friends and family could want this holiday season.
Showcase charitable efforts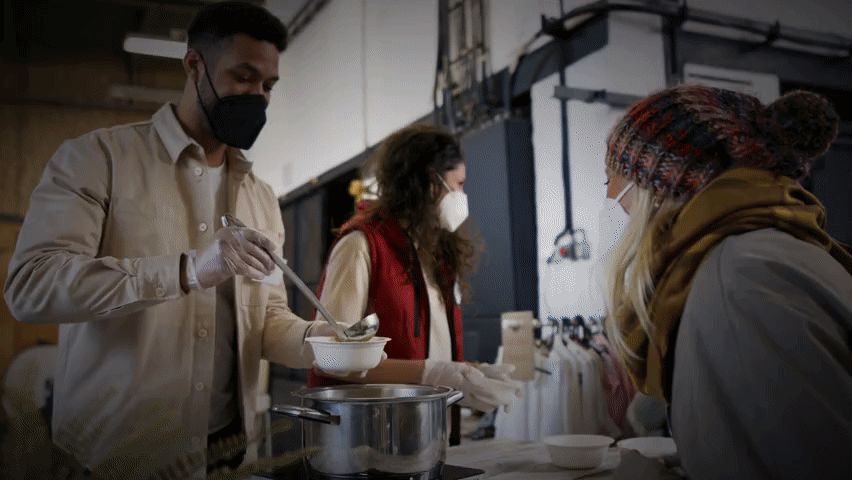 The holiday season is about more than gift-giving. It's also about sharing and giving to those in need. Highlight efforts your brand is taking to help those less fortunate near and far.
Last-minute gift ideas

Even the best, most thoughtful shoppers sometimes wait until the last minute to buy gifts. Use this template to let customers know you have what they need in-store and can ship directly quickly and for cheap.
Check out our holiday templates page for even more holiday-themed video templates.
Using your holiday marketing videos
You've planned your holiday marketing, created videos using templates and now it's time to put those creations to use.
Social media
Social media has gone from being a way for people to connect and share information to much more. Brands and businesses, small and large, not only connect with consumers but can promote deals and sales they may have. This is the perfect way to highlight holiday deals you have that can then be shared by your current customers to their friends and family who could then be new customers.
The comprehensive guide to social media ads
Email
According to BombBomb, emails with video get a reply 81% of the time, convert 68% more leads and get 56% more referrals. Not only are holiday emails a great use of video to send greetings but to also showcase products and services. Some things to keep in mind to maximize open rates and click-through rates:
Include "video" in the subject line. This lets people know what's inside and makes them more likely to open the email

An attractive thumbnail with a play button can do wonders! Besides being good to look at, it can entice more clicks.

If possible, opt for a short GIF over a static image. Moving images capture more attention than still images.
Website
As mentioned above, a video on your landing page is 53% more likely to rank on Google's first page. A video on your website can be a great way to convert visitors into sales. These videos can be product demos, explainer videos or promotional videos. Highlight products perfect for the holiday season, explain the benefits of them or showcase special offers you're running for the season.
YouTube
The king of video. YouTube is in another atmosphere when it comes to video play. It is a must to publish any holiday videos, especially ones that include gift ideas. You'll show up in search results for all of the holiday shoppers that turn to video for gift ideas, but make sure to optimize your metadata (titles, descriptions and tags).
Create a holiday marketing video
You still may be wondering how to get started or worried that getting started will be difficult. Use our Holiday Video Marketing tool and some tips below to help you get rolling.
Holiday video production tips
Be original! Stock footage is great and easy to use but try to shoot as much original content as possible in a single shoot.

It's the holidays so get holiday footage. Any and all generic holiday footage is needed to make those holiday ads.

Center what's important. Keep the most important content in the center of the frame so you can use it in vertical and horizontal videos.

Hi-res is the only res. This is great if you need to pull stills from your video. Also, if you can afford it, hire a photographer to take photos for you to use across your social and website.

Establish a holiday theme with props like wrapped gifts, snow, Christmas trees and don't forget holiday lights.

Keep in mind if you use Christmas lights go for LED. They show up best on-camera and make sure the set is well-lit to avoid shadows.
These are just tips during production. In post-production, include holiday music, effects and more to really hammer home that holiday theme.
With these tips and resources, you should be able to create holiday videos and a holiday marketing campaign to drive sales and boost your brand this season.