Good news, educators! Classroom? Classic? Both? Now you won't have to choose!

We're excited to announce a major change to our creation experience, one that will streamline your teaching and learning workflows and give you access to ALL of WeVideo's user-favorite features.

We've taken the best of WeVideo— Classic and Classroom — and combined them into one streamlined Next-Gen experience. No matter which platform you typically use, you'll definitely see some immediate benefits as a result of this change.

Get ready for expanded opportunities to teach and learn through multimedia!
Quick summary: What's new for everyone
Here's what you can expect in a nutshell: a single experience (WeVideo Next-Gen) with all the bells and whistles built right in. No need to choose between Classic and Classroom — you'll now have access to all of the features of both platforms in one.
You'll notice the first change as soon as you log into WeVideo. Instead of seeing a page with tiles to choose your editing experience, you'll be brought directly to the Home tab (as shown below).

What was previously called the Classroom editor is now Next-Gen. Until the two editors are fully combined (on January 18, 2024), you'll be able to toggle between the Next-Gen and Classroom editors through the menu in the upper left.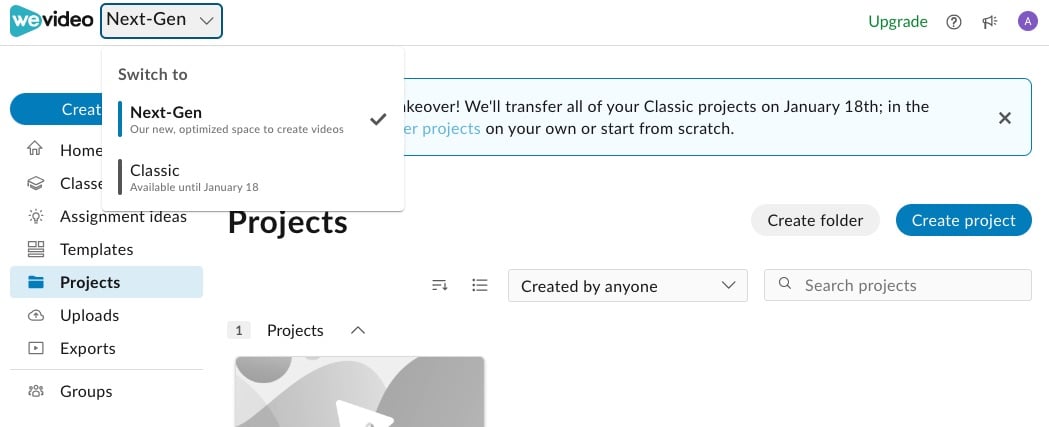 And don't worry, your normal workflow is not drastically changing. You'll see some new features and a few new labels, yes, but the overall workflow and functionality will feel very familiar to anyone who's used WeVideo before.

Note: All WeVideo educators will retain access to both Classic and Classroom until January 18, 2024. After that date, you'll see only the unified Next-Gen editor. Don't worry — you'll be seeing lots of email reminders from us before anything changes!

So what specifically is changing? That depends on which space you're accustomed to using. Read on to find out what Classroom and Classic users will gain from this update.
What's new for Classroom users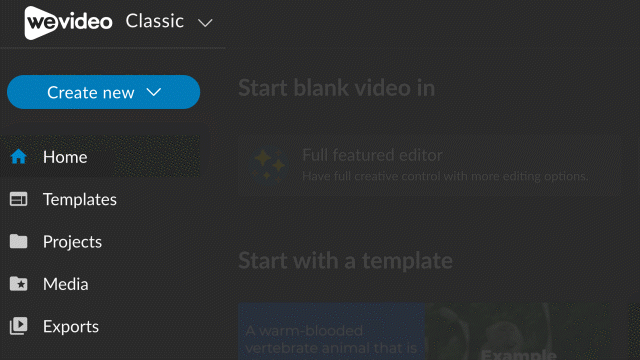 If you most often use the Classroom experience, here are the biggest upsides you'll receive from our newly unified editor:
More access: Access all projects, media, exports, and user-created templates to get even more opportunities to create.
More collaboration: Join a group and share projects or media — perfect for collaborating with other educators within and across subject areas.
More project types: Now you can export GIFs and podcasts that you've created.
More video settings: Export videos with the right resolution and FPS so that your work looks crisp on any channel.
More sharing: Directly share videos to Google Drive, OneDrive, Youtube, Canvas, Schoology, and our interactive space, PLUS share links to WeVideo-hosted content.
Classroom users will not need to take any action to maintain their previous projects. Everything you've created will still be accessible within the Next-Gen editing experience.
What's new for Classic users
Are you primarily a Classic user? Our unified experience has lots for you to love, too:
More access: Access Classes and Assignments so it's quicker and easier to bring multimedia into your curriculum.
More collaboration: Use real-time collaboration tools to give in-editor feedback to students or to empower group video creation, even remotely.
More accessible videos: Automatically generate subtitles so that your instructional videos are accessible to learners of different abilities and learning styles.
More assignment ideas: Plan multimedia lessons quicker than ever with our Assignment Ideas library! Browse pre-built lesson plans, customize them, and assign them in minutes.
All projects within the Classic space will be automatically transferred over to the Next-Gen experience once the two editors are unified on January 18, 2024. If you want to get organized sooner, though, you can manually move them to the new editor at any time.
As shown in the GIF below, it's super easy!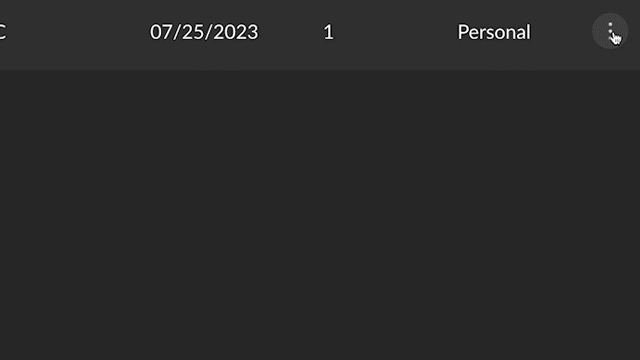 A few changes in terminology
As we mentioned above, you won't experience any disruptions to your usual multimedia workflows; however, some labels are changing:
Projects in Classic are now called Project Folders in Next-Gen.
Edits in Classic are now called Projects in Next-Gen.
Markers in Classic and Feedback in Classroom are now called Comments in Next-Gen.
FAQs about our next-gen experience
1. Why are you combining spaces?
We're always looking to streamline the multimedia creation process for educators, and having two spaces with slightly different feature sets added a layer of complexity that just wasn't necessary.
By bringing Classic and Classroom together, we're giving you access to all the features you know and love within the same space. And with the modernity of our Next-Gen space, we'll be able to develop new features and fix any bugs at a faster rate. We're excited, and we hope you are too!
2. When will this change take place?
The two editing experiences will be officially combined on January 18, 2024. (Don't worry — you'll get plenty of reminders from us before the switchover!) Until that date, you will continue having access to both Next-Gen (formerly Classroom) and Classic.
3. Will I lose any of my work?
Nope! While some features will be lightly recategorized or relabeled, all of your current work will be saved, including projects, edits, feedback, exports, and user-created templates. When the two editors are officially combined on January 18, 2024, we will seamlessly migrate everything for you; you don't need to do anything.
However, please be aware that if you convert to a free account, your saved work may be affected. If you convert to a free account on Classic, you will have access to all the templates, media, and exports on your account. Classes, assignments, or projects created in Next-Gen (or originally in Classroom) will be deleted once you have converted to a free account.
Classic users who want to go ahead and get organized in the new space now, however, are free to start transferring projects at any time. Just follow the prompts in the editor to complete the transfer process.